Digital Version of Fantasy Graphic Novel, Fae Archaic, Now Free
Kirt Trik has something big happening on IndieGoGo , I think it was around 2011 when I decided I was going to make a Hal Foster inspired adventure strip. For those of you unfamiliar with Hal Foster's work, he is the legendary cartoonist who wrote and illustrated Prince Valiant. I decided my adventure strip was going to be called Fae Archaic. The book would combined two old projects of mine, one a crime story the other a fantasy. I took the two works and smashed them together like a kid with play-doh. At the time I remember thinking to myself, "I can get this done in two years, not a problem."
Those two years came and went, and the project wasn't even halfway done. Either out of stubbornness or delusion I kept at it, making one panel at a time. 7 years later I finally completed the book. I had carpal tunnel and a bad back, but it was finished. After submitting my book to all the publishers I could think of I waited, and kept waiting for a response. None came. Finally, I did get one rejection letter which I treasure because it was some form of human contact. I launched a kickstarter, cancelled the kickstarter, then relaunched it. I don't do anything easy. I got it funded, printed, and delivered to my backers. It was such a wonderfully stressful experience that I ended up with shingles on my face by the end of it. Without the support from comic retailers early on and crowdfunding sites like kickstarter and indiegogo, Fae Archaic would not exist. It's not the next big thing, I'm not going to win any awards for it, nor am I getting rich off of it. But it is done and for that I am super grateful to the strange weirdos who backed the project and made it happen.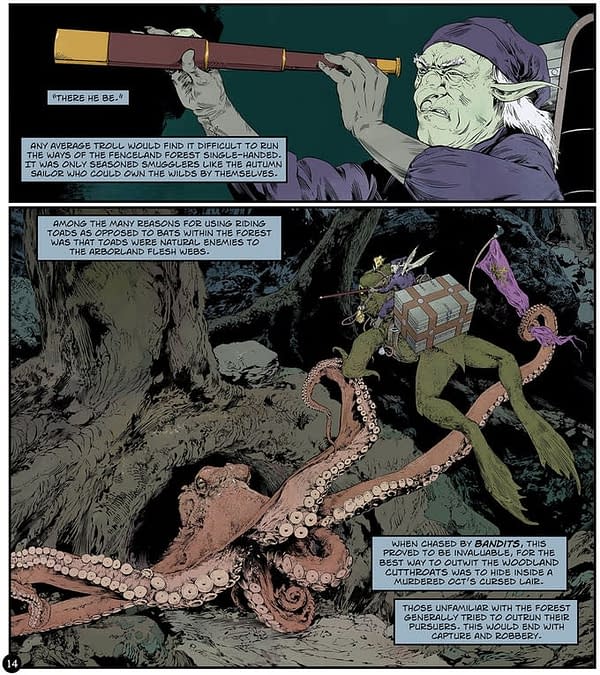 Right now each of us is dealing with too much on almost every level. The Covid-19 pandemic has turned everything upside down. That is why I'm releasing the digital version of Fae Archaic for free. Here is the link to download the book. Hopefully, it will alleviate your boredom and not add to it. Fae Archaic is a 68 page, 7.5" x 11" hardcover graphic novel that has a cover price of $20. Along with offering the free digital edition, I have added a secret link that takes $5.00 off the hardcover price. This can be accessed only through this exclusive Bleeding Cool link:
The book is set on a supercontinent called the Archaic. I spent a lot of time thinking about the different types of societies that exist there. It became my own little escapist thought experiment. The story follows a tortured ghost who possesses a senile faerie's riding toad and then tricks the old man into committing acts of murder.
One of the key things I wanted to tackle in Fae Archaic was poverty and addiction. I wanted to write about the characters who are remembered for how their legs are broken and their faces smashed. I guess the older I get the more I relate to them than most heroes.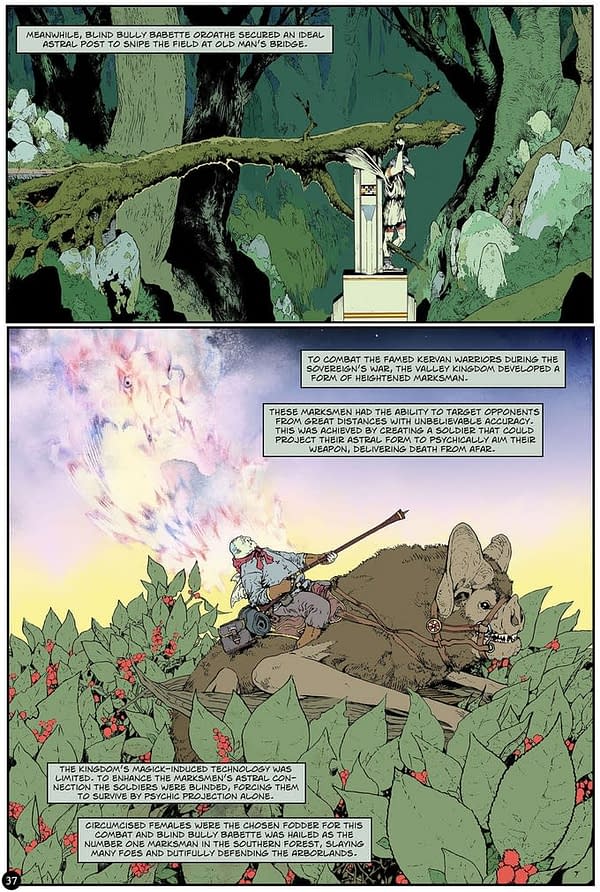 Anyways, I made Fae Archaic by trying to make the best panel I could, one after the other. By doing that, eventually, the book got done. I'm going to try the same strategy to handle this pandemic. If we all do one simple, decent action, one after the other, we can get through this sh-t. Here is a link to the free Digital Comic. You can purchase the discounted hard copy here. I hope you enjoy the book. Stay safe, healthy, and keep washing them hands.

P.S. I highly recommend Fantagraphics hardcover Prince Valiant collections, they are amazing specimens of comic art.