Doctor Will Magnus Has His Own Heroes In Crisis Moment (HiC #9 Spoilers)
Doctor Will Magnus is a long-standing DC Comics character, one of the most educated and intelligent men in the DC universe, and the creator of the Metal Men, sentient super-powered robots made of a variety of metals, named Gold, Iron, Lead, Mercury, Platinum and Tin. The method of their creation has changed with each origin rewrite, at once point turning Magnus into the bad guy, a mad scientist looking to rule the world. At one point he became a new Metal Man himself, Veridium.
The nineties saw the origin of the Metal Men rewritten, no longer due to their 'responsometers' gaining sentience, but by having personalities from other people associated with Magnus imprinted upon them.
The New 52 saw them rebooted again as being created to perform rescue and search missions, but the government wanted to make them assassins so they went into hiding alongside Magnus. They last popped in the DC Comics event Dark Nights: Metal (of course) but there has been little since. Though we do get to see them heading into action in the most recent issue of Doomsday Clock #9.
Well Doomsday Clock #10 and Heroes In Crisis #9 are both out on Wednesday. And I am told that in the letter we will get an interesting take on Will Magnus. With a confession to camera, his testimonial to Sanctuary, saying 'I created her. And I'm… I love her.'
Which suggests he may be talking about the only female-presenting member of the Metal Men, Platinum. Who originally believed herself to be alive and in love with Magnus herself…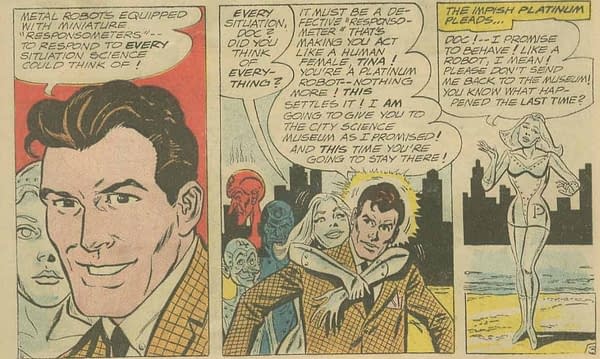 …even if he treated her shockingly.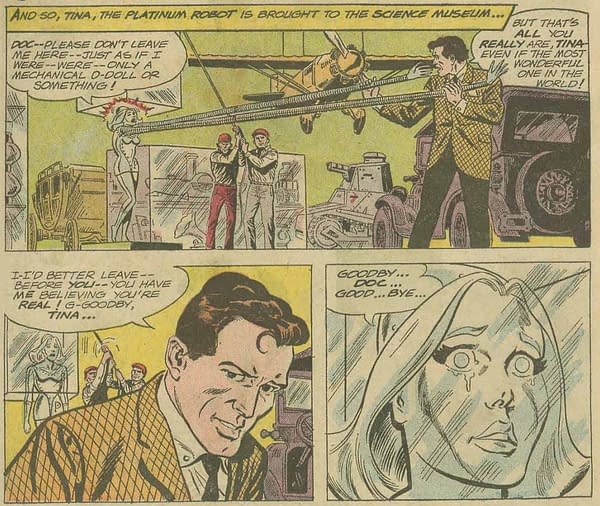 Each of the Metal Men had a personality based in part on their individual metals aside from Platinum – or Tina – who was basically just obsessed with Doctor Magnus. And Magnus treats her abominably, telling her she is faulty and demanding she be more like a robot.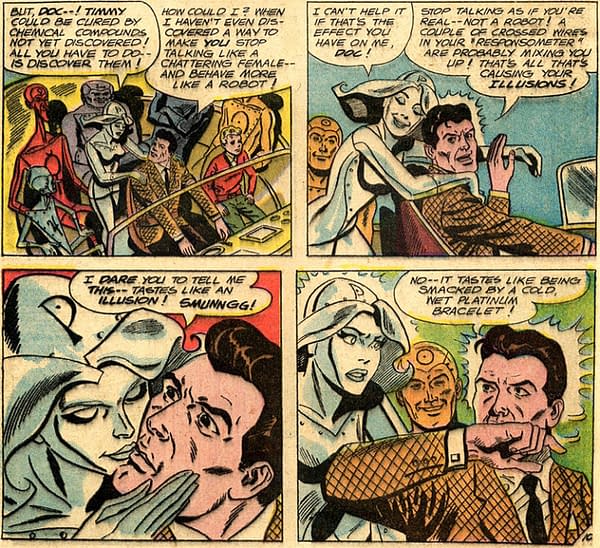 Which, you know, the sixties. But it's not like it stopped there…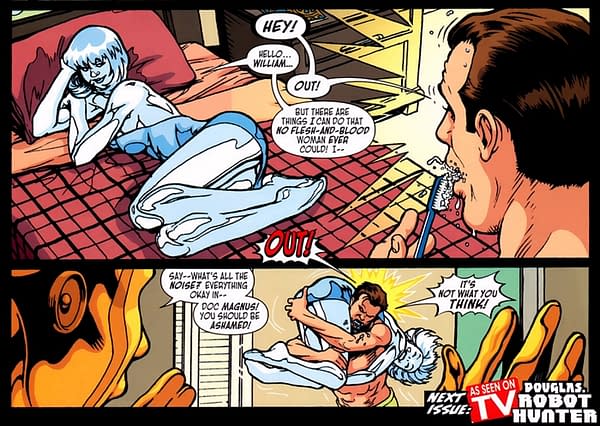 Oh dear. Well… according to Heroes In Crisis #9, things could be about to be reciprocated. Could things be about to go very…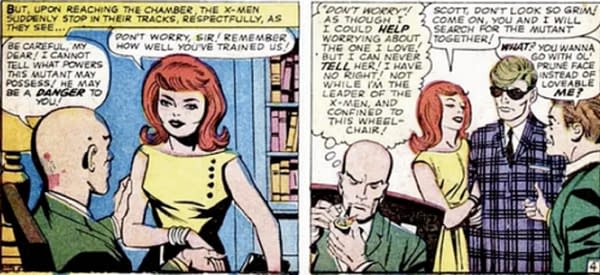 Run for the hills…
HEROES IN CRISIS #9 (OF 9)
(W) Tom King (A/CA) Clay Mann
The most-talked-about miniseries of the year reaches its stunning finale! The mystery behind the murders at Sanctuary is solved, but the mind behind it is one the heroes never expected. With their deepest secrets exposed, the Trinity has to consider how to carry on. Should the tragedy cause them to redouble their efforts to help their hurting comrades, or will they need to close up shop? The answers will be found in the ashes of this final showdown, and the fates of Booster Gold, Harley Quinn and the rest hang in the balance.In Shops: May 29, 2019
SRP: $3.99