Bleeding Cool has been pointing out how Barry Allen seemed to be blissfully unaware of the death of Wally West in Heroes In Crisis for months. While everyone in Titans, Green Arrow and the rest were mourning the passing of Arsenal, Roy Harper, no one seemed to mention Wally West who dies alongside him. Quite literally.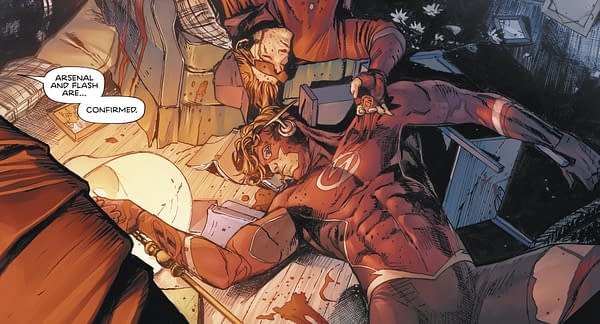 But in today's Flash #64, it turns out that Barry Allen is still clueless about other things. Talking to Bruce Wayne about his marriage.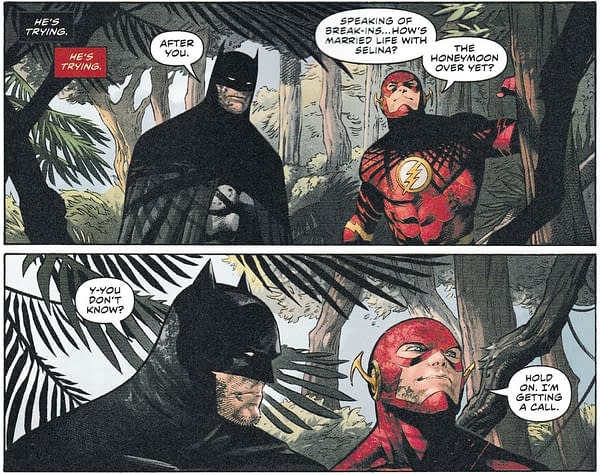 Yeah, he really doesn't. I mean it was spoiled on the front page of the New York Times or something. Selina left him at the rooftop. I mean, seriously, Barry, take an interest in the affairs of those around you. Dead sidekicks, wedding breakdowns, there's a whole world going on.
Maybe he has attention deficit disorder? Because when you are criticising Batman…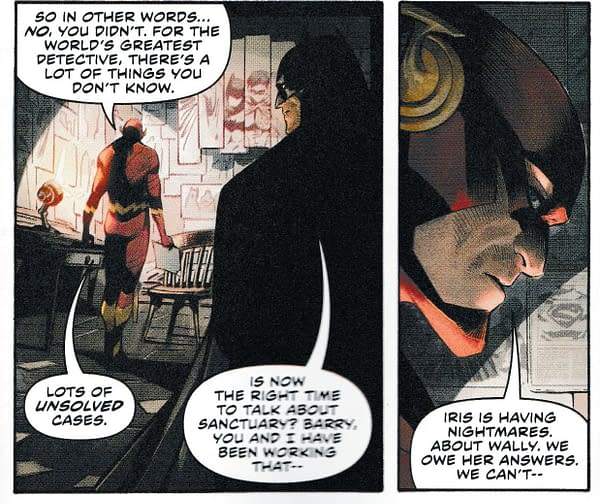 …it's a good idea to take the beam out of your own eye before trying to take the mote out of someone else's. Right?
Talking about hypocrisy and Heroes In Crisis-related deaths, from today's Red Hood: Outlaw #31…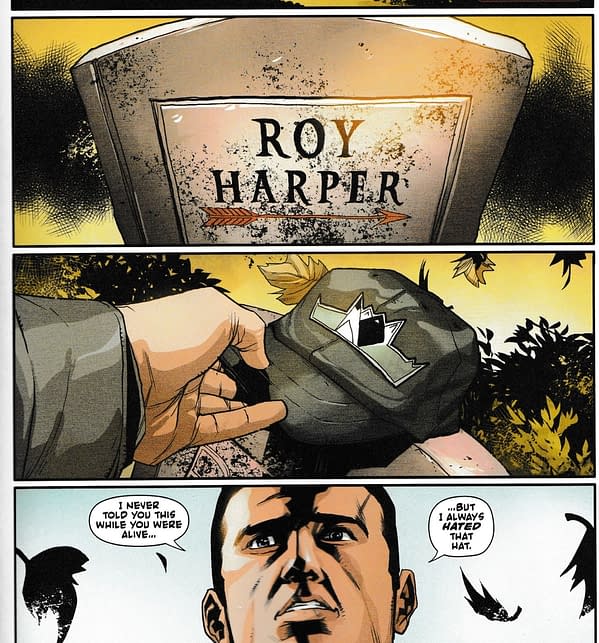 You are Red Hood. Have you seen your own headwear? I mean really looked at it?
FLASH #64
(W) Joshua Williamson (A) Rafael Sandoval, Jordi Tarragona
"THE PRICE" part two! The two greatest detectives in the DC Universe take on the one cold case that will tear them apart!
As chief architect of the Sanctuary program that cost so much for so many, especially Wally West, Batman will be held accountable…by the Flash!
A cold case from the Justice League's past has mysteriously re-opened, and Batman and the Flash-the only two heroes who stand a chance of cracking the case-are at each other's throats! Our heroes must combat a demon from the past while burying their own inner demons in the process…and neither the World's Greatest Detective nor the Fastest Man Alive will ever be the same again! But who is really pulling the strings here? And how does Gotham Girl fit into all this? Friendships will be tested and blood will be spilled in this titanic crossover event…
RATED T+ In Shops: Feb 13, 2019 SRP: $3.99

RED HOOD OUTLAW #31
(W) Scott Lobdell (A/CA) Pete Woods
Red Hood and Arsenal began this investigation of the Underlife together in Beijing, and this is where it ends: in an abandoned prison in Mexico. With Roy Harper having passed, Jason Todd finds himself teamed with an ally he couldn't have imagined-Wingman! (But wait-wasn't Jason the face beneath Wingman's mask in BATMAN INCORPORATED?!) When it is all over, Red Hood arrives at a conclusion that will shake the streets of Gotham City…forever?
RATED T+In Shops: Feb 13, 2019
SRP: $3.99
Enjoyed this article? Share it!