With Doomsday Clock #10, the unauthorised sequel to Watchmen by Geoff Johns and Gary Frank published by DC Comics, the purpose of Nathaniel Dusk becomes clear. It plays the role of the Black Freighter in Watchmen, it is a fictional world defined by a real world, also a timeline that stays fixed. A beginning, a middle and an end. And while hat mirrors the inevitability of the Watchmen timeline, unchanging, destined, and deathly, that this is used as a contrast to the story of Superman. We see a scene from Watchmen, in which Dr Manhattan says he is leaving his world for a simpler galaxy. His arrival in the DC Universe implies that the comic book world is simpler than the real world. Maybe nicer, maybe more altruistic.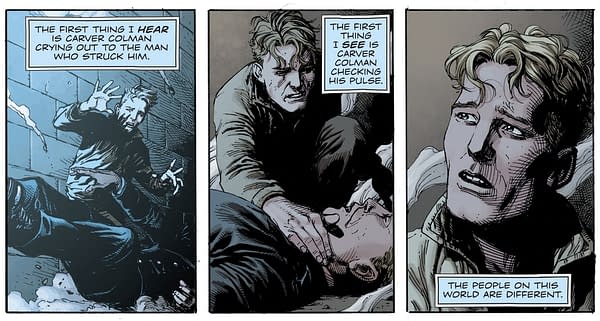 But in Doomsday Clock #10, that's clearly not the case. First, we have Dr Manhattan in 1938, the date of the publication of Action Comics #1, the first appearance of Superman.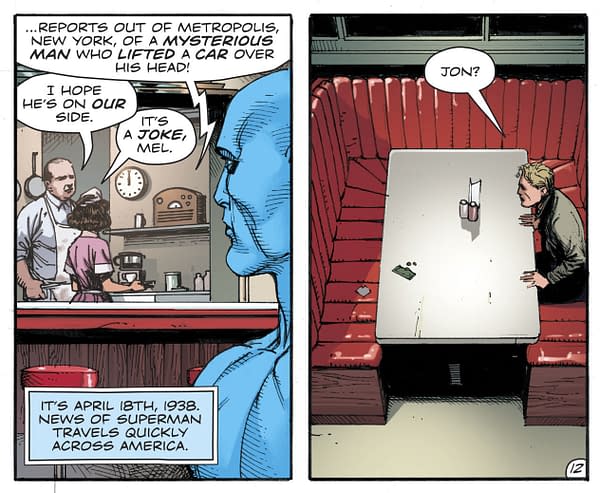 But this is a world where Superman can exist…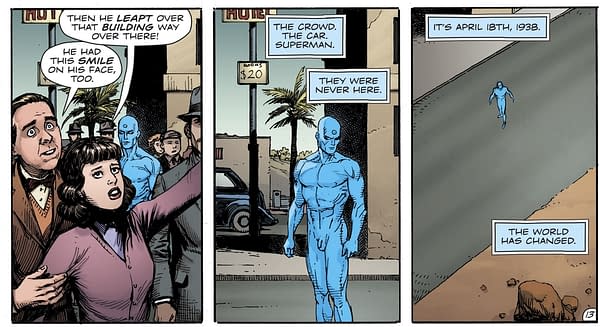 …and suddenly not exist. Because things change, things fall apart and the centre cannot hold. Instead, it moves. And so we have a Justice Society of America, both in the same world as Superman….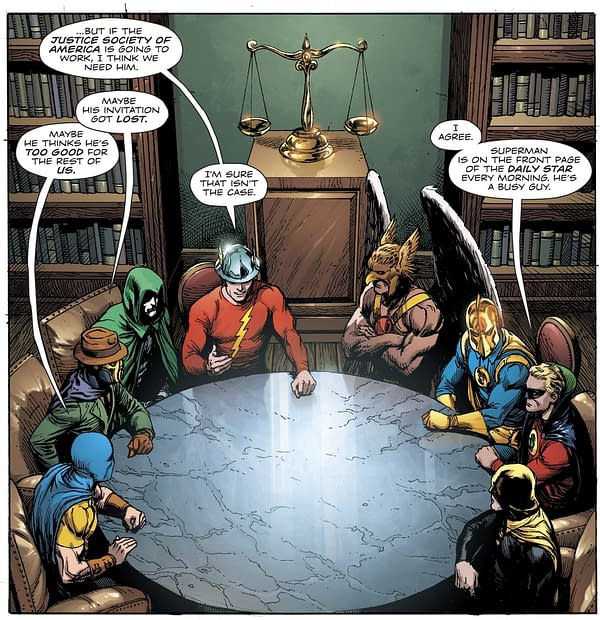 And one where he never was.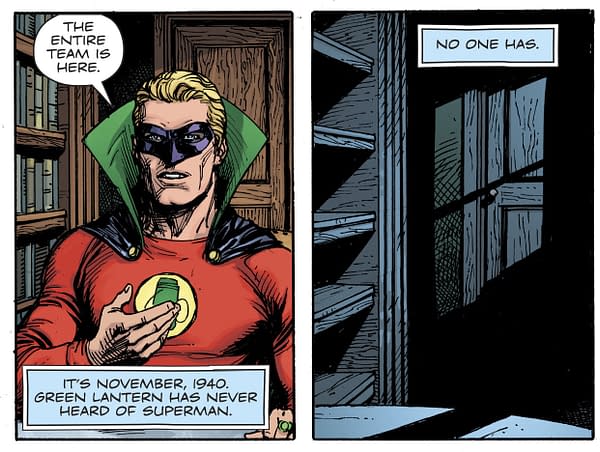 Instead, his origin point has shifted a couple of decades. The Golden Age Superman of the thirties is now the Silver Age Superman of the fifties and sixties.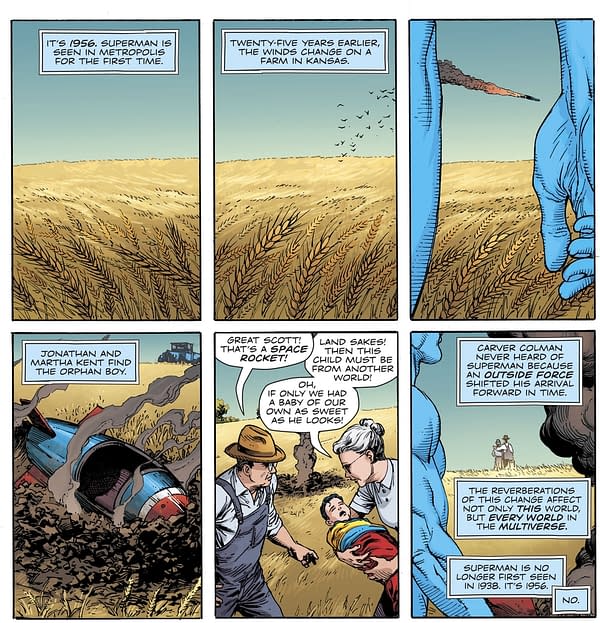 And then we get a jump to the Superman recreated by John Byrne in the eighties in Man Of Steel. As the original story of their deaths as told in Superman #161 from when Superman was Superboy….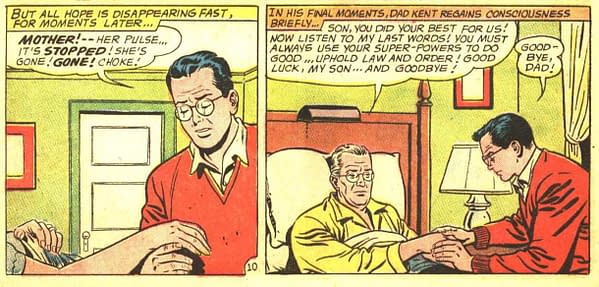 …gets retold again. But then…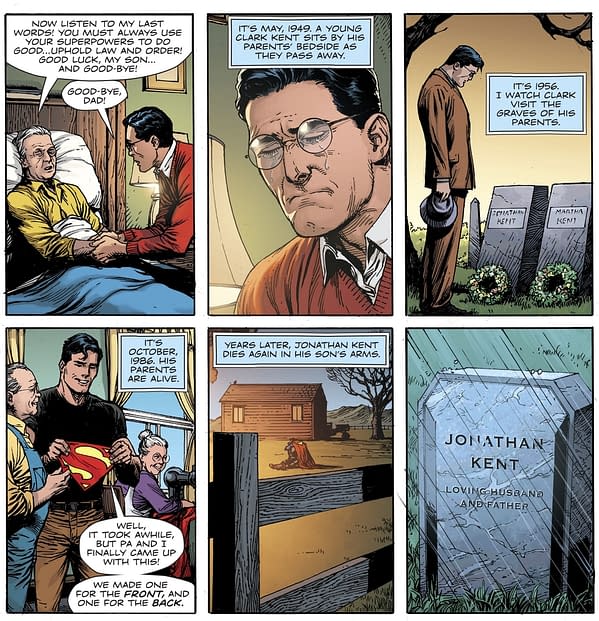 …jumps to John Byrne's rebooting of Superman and retelling his story in 1986 in Man Of Steel.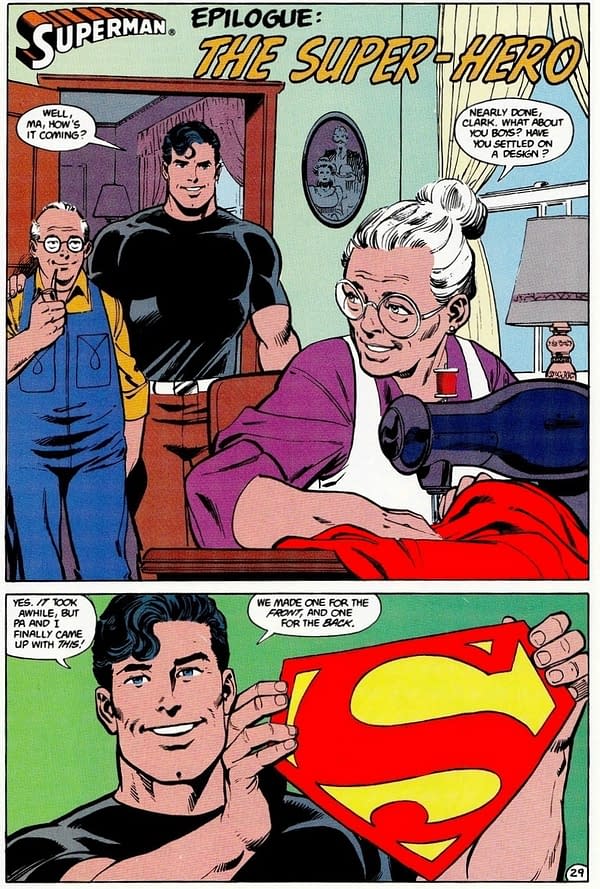 And then again with Mark Waid, Leinil Francis Yu and Birthright. And then again in Superman Secret Origin with Geoff Johns and Gary Frank – the authors of Doomsday Clock.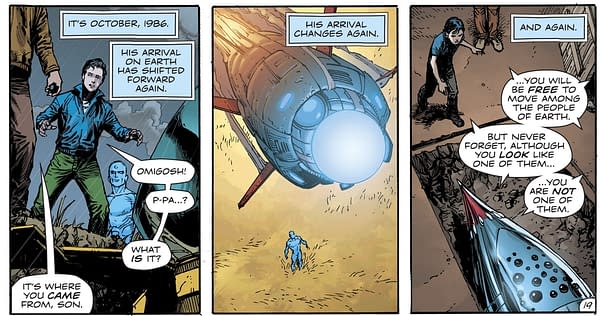 And then we get the big one. We have been told that Dr Manhattan has been retconned into being responsible for the events of the New 52, the 2011 reboot if the DC Universe, with a new Superman from Grant Morrison and redesigned by Jim Lee. And we have a new name for the prime reality of the Universe, and even a reference to the recent Metal series by Scott Snyder and Greg Capullo.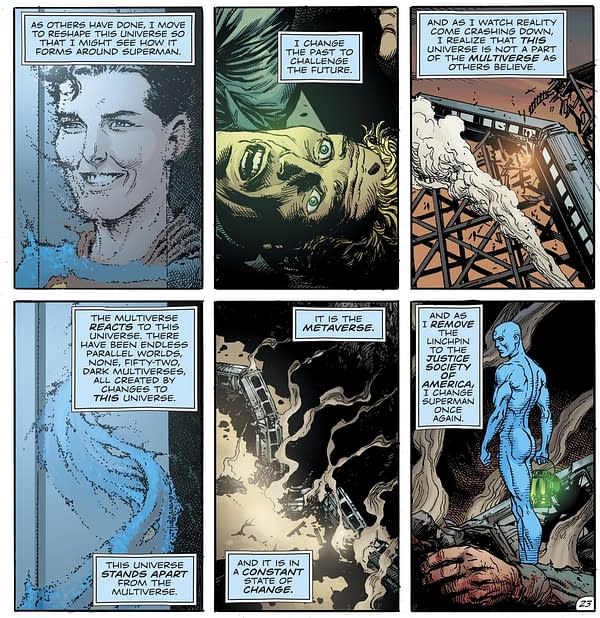 The Metaverse. One change to it, by authors unknown (at least to Dr Manhattan) and every world changes. Arguably, with the publication of Before Watchmen and Doomsday Clock, Watchmen's world changed, by the same hands that changed Superman's world.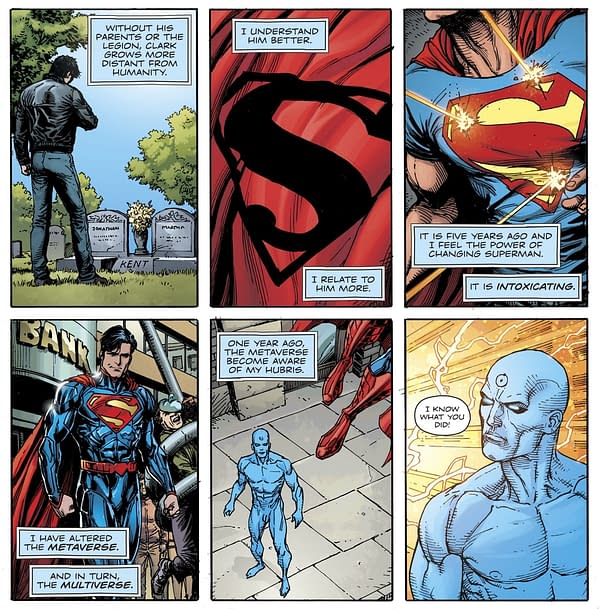 Remember that metallic costume with seams and high collars brought in and the removal of the red trunks? Turns out it was Dr Manhattan rather than Jim Lee's fault. And the events of the DC Universe Rebirth, created by Geoff Johns and Gary Frank, with Geoff Johns sitting down with every DC author to redefine and refocus their approach to the characters – that is the metaverse fighting back, previous, loved realities using creators to reassert their very existence.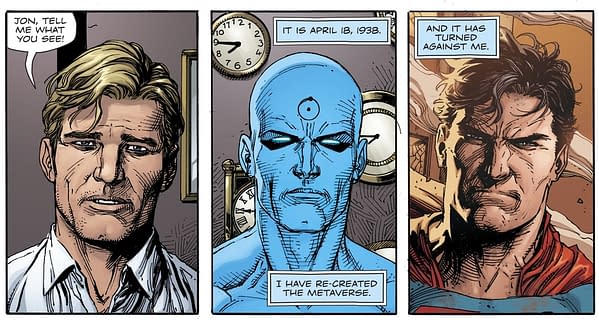 And fighting back to gain what once lost. Something Nathaniel Dusk was never able to do…
Doomsday Clock #10 is published today. The rest of the DC Universe – sorry, the Metaverse – will collapse around it shortly. Maybe we might get an authorised sequel to Grant Morrison's Animal Man? Will Dr Manhattan and Geoff Johns have it out before we're done?
DOOMSDAY CLOCK #10 (OF 12)
(W) Geoff Johns (A/CA) Gary Frank
This stunning issue of the critically acclaimed hit maxiseries reveals the secrets behind Dr. Manhattan and his connection to the DC Universe.In Shops: May 29, 2019
SRP: $4.99
Enjoyed this article? Share it!