When the DC Universe was rebooted in 2011 with the New 52, the wartime superhero team, the Justice Society of America was removed from continuity. The first superteam of the modern day was now the Justice League.
But with Geoff Johns and Gary Frank's DC Universe Rebirth of 2016, all bets were off. We saw one member of the Justice Society of America starting to… remember something. The potential return of Johnny Thunder, who used to be able to summon the Thunderbolt genie, as well as an appearance of Watchmen's Dr Manhattan, bringing Watchmen continuity into DC canon. We would also see the return of The Flash, Wally West. Later, in The Button, we would see a potential return of the original Flash, Jay Garrick.
In Doomsday Clock, the unauthorised sequel to Watchmen by Geoff Johns and Gary Frank, we have seen Johnny Thunder recover a Green Lantern.
And, in the first page of Doomsday Clock #7, we see how everything was designed by Dr Manhattan. The creature, the man, who came from a universe where time had been rewritten and could not be changed (as long as you ignore Before Watchmen), is now in a universe where that rule does not apply. We have learned that Dr Manhattan removed a chunk of time from the DC canon to create the world of the New 52 and continued to meddle in the lives of Batman and Superman.
Now we get to see some of his other actions.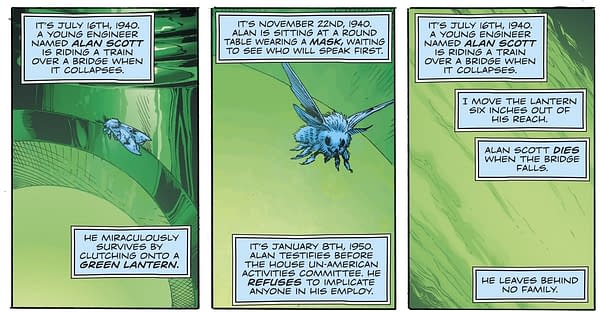 Alan Scott never becomes a magically-based Green Lantern. His continuity -including a Watchmen-like address to the house of un-American activities – is removed. And he is killed.  His twins Obsidian and Jade, now no longer exist.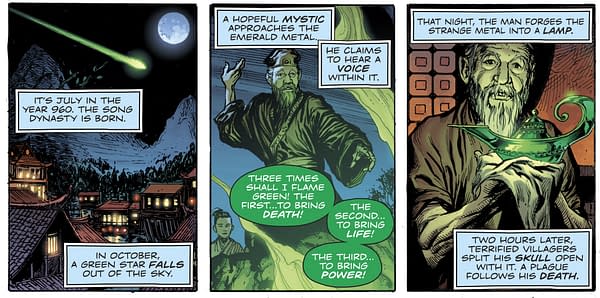 However the further past carried out, it seems, as before.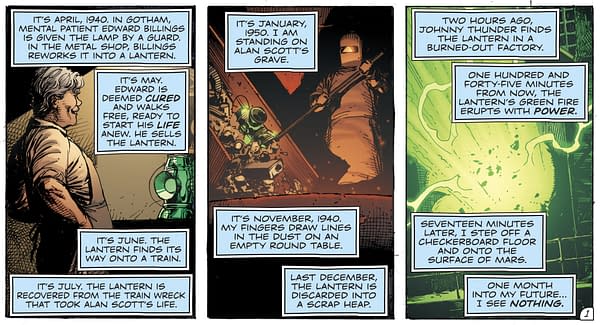 Confirming no Justice Society of America. Here's how it played out last time in Green Lantern #1 in 1941…
DOOMSDAY CLOCK #7 (OF 12)
(W) Geoff Johns (A/CA) Gary Frank
The critically acclaimed team of writer Geoff Johns and artist Gary Frank continue the groundbreaking miniseries bringing the world of WATCHMEN to DC. In this chapter, the truth behind Dr. Manhattan's curiosity with the DC Universe is revealed as the planet teeters on the edge of the Super-War.In Shops: Sep 26, 2018
SRP: $4.99
Enjoyed this article? Share it!