Currently, Britain is under snow. And storms. And blizzards. And hurricanes. And chills to the bone. Two cold fronts have collided over this Sceptered Isle and are having a bit of a kickabout.
The military has been deployed across Britain to rescue drivers trapped in cars and help hospitals keep running. Storm Emma's strengthening winds cause blizzards and snowdrifts, bringing roads, transport and communities to a standstill. Authorities are warning people not to travel unless essential.
The cold has already claimed at least ten lives as conditions became too dangerous to drive in areas of the country. The Met Office yesterday issued a red weather warning for the South-west, the first top-level snow alert recorded for England.
Temperatures are expected to stay well below zero over the coming nights, with the mercury expected to hover around -10 in the north with lows of -7 elsewhere. And even Scotland, which is more used to this sort of thing, is suffering badly.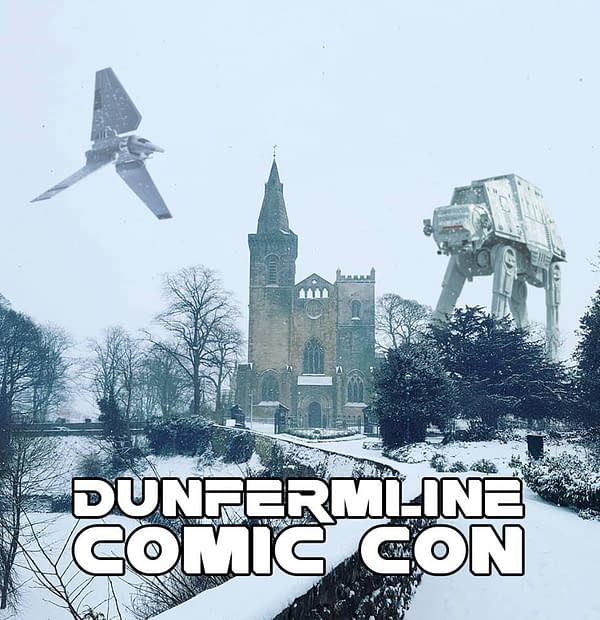 The comic shop Little Shop of Heroes of Dunfermline, Scotland, organises the annual Dunfermline Comic Con which was supposed to go ahead on Saturday but due to the weather, has had to be cancelled.
Local council officials had declared the venue and roads to the venue unsafe for the public.
The organisers are devestated by this, both emotionally and financially. The event was non-profit, all ticket sales went on organisation and to fund the shop's charity initiative to provide graphic novels to local schools.

The shop is looking to refund tickets but is struggling to both do that and meet their commitments for the comic con. Creators from all over the world were due to attend and the shop paid for all expenses. The impressive guest list was to have included John Allison, Colin Bell, Jordie Bellaire, Hart Conner, Dee Cunniffe, Gary Erskine, Antony Johnston, Ian Kennedy, David Lloyd, Ollie Masters, Colin Maxwell, Colin MacNeil, Jamie McCulloch, Rebecca Nalty, Monty Nero, Allison Sampson, Max Sarin, Neil Slorence, Nina Vakueva, Dan Watters, Caspar Wijngaard, Marc Ellerby, Leslie Hung, John Wagner, Dave McKean, Brittney Williams, Cecil Castellucci, Peter Milligan and many more.
A number of attendees are stating that they don't need their tickets refunding but there are still plenty of other costs to cover.
A Go-Fund me page has been set up to help the shop survive this.
And other are auctioning off signed comic books and original artworks with proceeds towards Little Shop of Heroes.
Those planning to attend who wish not to receive a refund, should inform the store.
Enjoyed this article? Share it!