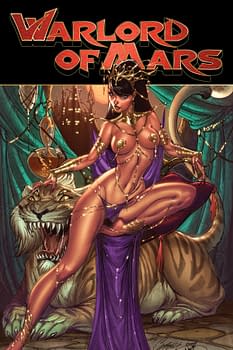 A few years ago, Bleeding Cool reported on Edgar Rice Burroughs Estate's case against Dynamite Entertainment and concluded that while they had a real case against Dynamite's use of still-copyrighted stories in their Tarzan and Princess Of Mars-based comics, even under the names Lord Of The Jungle, Warlord Of Mars and Deja Thoris, that the lawsuit was aimed at the wrong people, in the wrong country and with the wrong charges and would be easily dismissed as a result.
Well, the two parties certainly seem to have come to an arrangement, especially as Dark Horse Comics seems to have moved from publishing ongoing Tarzan comics to collected archive material and Marvel have stopped publishing John Carter comics.
Dynamite has done a long term deal with the Edgar Rice Burroughs Estate, resolved their legal situation (as in Dark Horse and Marvel Comics don't want to do them any more) and have entered in to a long term relationship to bring the exploits of John Carter, Dejah Thoris, the entire Barsoom Mythos as well as relaunching our Lord of the Jungle line of comics featuring Tarzan."
If only all lawsuits could have gone so swimmingly.
Dynamite will now relaunch the Warlord Of Mars books as John Carter: Warlord of Mars under full trademark authority. And we will get a Lord Of The Jungle relaunch too (though still no Tarzan in the title – the Dark Horse rights must still be in play for the reprints. I expect a Dejah Thoris: Princess Of Mars will follow shortly.
The initiative comes on the heels of the reacquisition of comic book rights by Edgar Rice Burroughs, Inc. that had been held by Walt Disney Pictures and its Marvel Entertainment subsidiary, as well as a recent legal settlement with Dynamite that cleared the way for Dynamite to introduce key characters and plot elements from the John Carter back story that were, until now, absent from recent comic book interpretations.

"It was important to us that we reacquire the comic book and comic strip rights from Marvel Entertainment so we could reintroduce them in the market place. We're excited to see the exploits of Edgar Rice Burroughs' first science fiction adventure hero brought to life in their fullness by the passionate creative talents assembled by the folks at Dynamite," said James Sullos, President of Edgar Rice Burroughs, Inc. "They're true fans – and it shows on every page and in every idea they've shared with us. Now fans everywhere will be able to appreciate the original adventure stories that later spawned Flash Gordon, Superman, Star Wars and Avatar."
Which is a long way from the previous charge from ERB that the Dynamite work was "pornographic" and threatened to permanently damage the Edgar Rice Burrough's reputation.
Also, it seems that Edgar Rice Burroughs, Inc is resident in Tarzana, CA. As Wikipedia says,
In 1915 or 1919, Edgar Rice Burroughs, author of the popular Tarzan novels, purchased Otis's tract and established Tarzana Ranch. Burroughs subdivided and sold the land for residential development with neighboring small farms following suit. The subdivision was one of many all-white planned communities started in the Los Angeles area around this time, with racial segregation enforced by a restrictive covenant inserted in property deeds. It stated in part that "said premises or any part thereof shall not be leased, sold, or conveyed to, or occupied by any person not of the Caucasian race". Burroughs marketed his new community using themes that evoked British imperialism and white supremacy.

Blimey. Looks like he did he fair bit to damage his reputation by himself. So what else?
Dynamite will also republish other John Carter assets, going back as far as the early 1940s comic strips by John Coleman Burroughs, the son of Edgar Rice Burroughs.

In a related development, new John Carter: Warlord of Mars "adventure strip" episodes will make their online debut in early summer as part of the Edgar Rice Burroughs Digital Comic Strip Service at www.edgarriceburroughs.com/comics. Written by the legendary Roy Thomas, with art by Pegaso (Rodolfo Perez Garcia) of Mexico City, this series will invite readers to accompany John Carter and his compatriots on exciting adventures that delve into the rich, storied history of Barsoom (as the inhabitants of Mars refer to their planet). As with the other nine series featured on the site, including Tarzan and Carson of Venus, the first four episodes of John Carter: Warlord of Mars will be viewable at no charge.
Enjoyed this article? Share it!