Dynamite Will Lose Money On Every Issue Of Vampirella #6 With Acetate Cover
DC Comics has been introducing Acetate covers to their upcoming titles, giving each title a cover, and then a 'revealed' cover, showing what is really going on inside the comic, revealing subtext or mystery.
Well, Dynamite is planning to do the same with Vampirella #6, with a cover by Stanley 'Artgerm' Artgerm that will reveal an underlying narrative level of tits.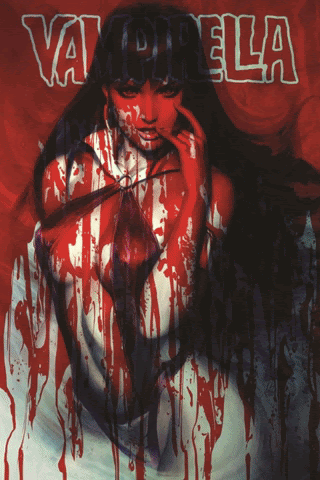 And just as DC Comics titles won't get a cost increase, neither will Vampirella #6. But for Dynamite, that may have a greater financial cost.
Dynamite publisher Nick Barrucci tells us "we're keeping the price at $3.99 for the series. Yes, the cost of the acetate is expensive, and we will lose money on each issue, but it's worth it to place more copies on the retailer shelves and gain more readers."
Just think, if you ordered a million, you could bankrupt Dynamite. And yourself of course. Still, they sold over 150,000 copies of Vampirella #1 so can probably afford to…
Dynamite has also created incentives for retailers leading to the Frank Frazetta Icon cover, and creating a Vampirella window cling for retailers to display to help encourage additional sales in their stores.
Here's how the cover broke down…
Here are some other covers for the issue…
And here is that Vampirella Cling…