Electricomics Now Available For Free On PCs And Macs, From Alan Moore, Colleen Doran And Many More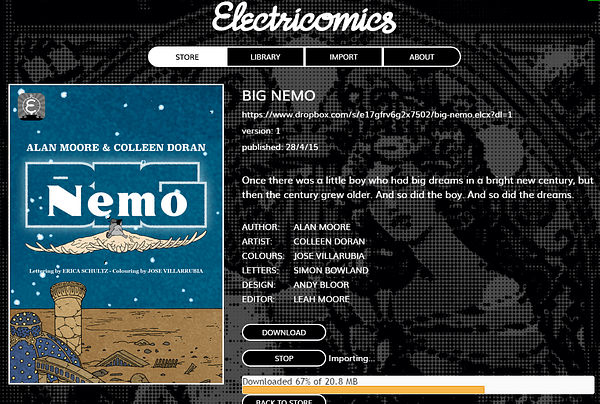 It was the Alan Moore spinoff that could. A new kind of digital comic book envisioned for his planned movie, The Show, that became real. And, with arts funding, saw the publication of a number of short comics in that format created by well known writers and artists, and a generator so that anyone could have a go. And they did.
But it was Apple-only. Designed for iOS and nothing more. Well that has now changed.
Electricomics is now available through an app for Windows, Linux and OSX too.
Featuring Big Nemo by Alan Moore and Colleen Doran, Sway by Leah Moore, John Reppion and Nicola Scott, Cabaret Amygdala by Peter Hogan and Paul Davidson and Red Horse by Garth Ennis and Frank Victoria.
And more submitted comics by so many. All free, all available, all doing rather interesting things… and now available to a far wider audience.