Elvira Spring Special – The Mistress of the Dark Gets Silly in This One-Shot
The Elvira Spring Special hits shelves this month and is a fun play on the macabre Mistress of the Dark. With a slew of different writers and artists, this issue packs a whole lot of story for a higher priced tier of $4.99. It features "Elvira In…Drive-In of the Dead!" and "Elvira In…The Satan 500," two separate stories starring the titular character.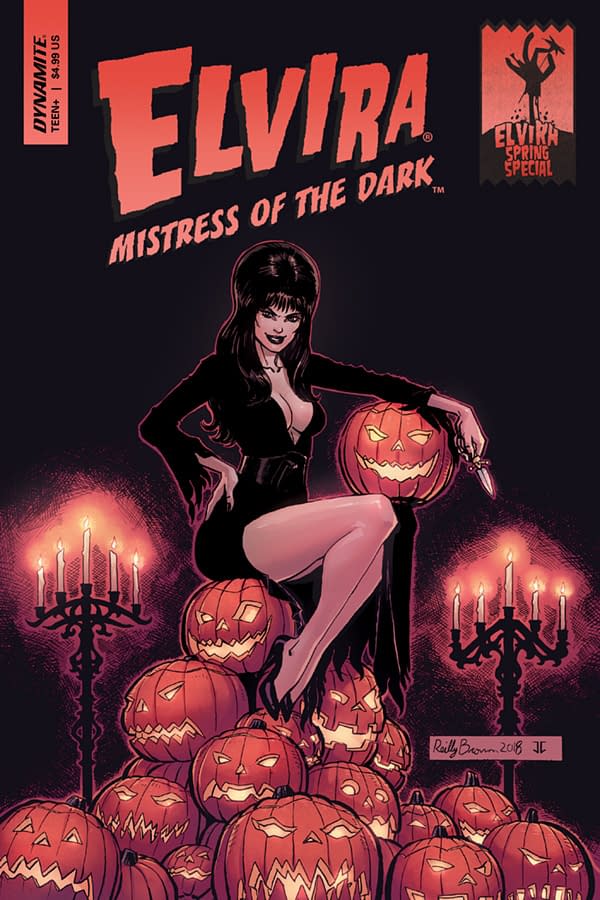 In the first story, Elvira is a drive-in horror host who dreams of hitting it big on the Hollywood silver screen. She meets with "George Rottmero," the proclaimed horror film master, who takes one look at Elvira's breasts and decides he just has to cast her. On the set of "The Creature From the Stacked Lagoon," Elvira realizes some of the special effects seem a little too real, especially when her green co-star chases her off the boat and into the swamp water. Rottmero casts her in different films (Helloween and Gripe of the Living Dead), with each feature being spoiled by Elvira's lack of fear with the unliving dead and ability to rescue herself from the direst of circumstances.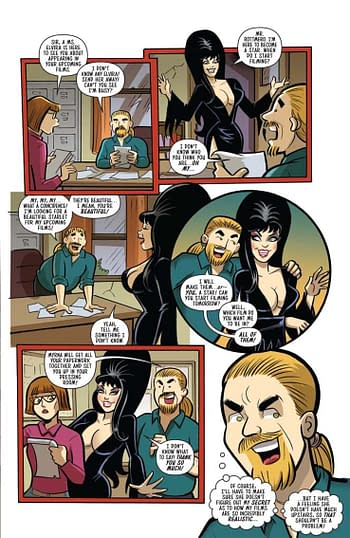 The next story shows Elvira in a showdown against the devil himself, racing against his hell-vehicle to either become his bride or him to become her slave. Aided by a clown-faced secret admirer, she flies through the story determined to beat the devil at his own game.
A fun collection that feels like a Scooby Doo cartoon, Elvira has experiences with zombies, clowns, necromancers and even accountants. Although the story isn't profound or thought provoking, it's a fun addition for any Elvira fan to add to their shelves. Stay away from this issue if jokes about the buoyancy of breasts in swampwater and female physique are offensive to you because there are many, however any who expects to be enlightened by this spring special should probably seek other educational mediums on feminism.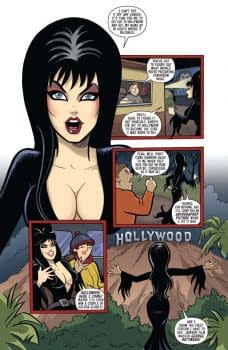 This comic gets a Teen+ ranking from all the boob-jokes and zombie murder, so make sure to use discretion with introducing this storyline to a younger audience. I personally enjoyed it and didn't find the quips about Elvira's chest to be distracting to the overall fun interpretation of parody and horror. Definitely check this issue out if you're more interested in a fun read with just a pinch of terror.