Today sees the publication of Marauders #10, a comic that would have otherwise have been published for April 1st and, indeed, was printed back then and held in storage by Diamond Comic Distributors until this week. As a result, it is the first of the Dawn Of X titles to be published in two months – and bears the scars of it age. Gerry Duggan, Stefano Caselli and Edgar Delgado tell a story missing its lead, Kate Pryde is dead and she seems to be staying that way – for now. Krakoa wouldn't allowed her to use its portals and now won't allow access for her revival. Something, of course, must be done, and while the comic continues on its own merry way, we get letters between her and Kurt Wagner from before her death date. With such a sombre tone underlying the comic, and in this time of shutdown, readers may appreciate a little light relief. Cue the White Queen, Emma Frost, leading Pyro on a merry dance as they board a Russian ship, as the Marauders they are. She could have switched to Diamond form. She could have fried their brains in their skulls. But Emma Frost decides to skip all that, following the dictum Kill No Human, and undoes a couple of buttons instead.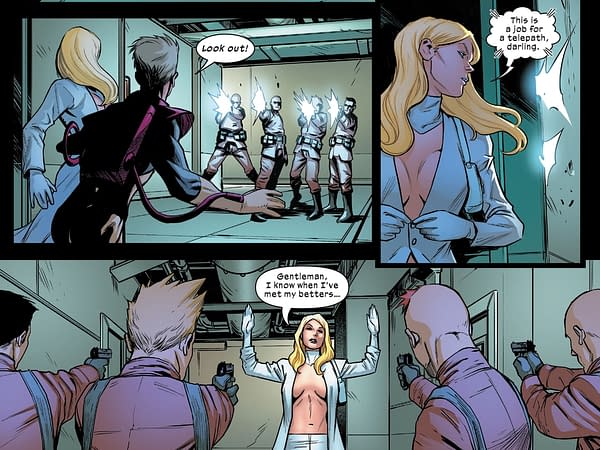 Then lets nature take its course. Presumably checking in advance that these Marauders had a crew of non-gay Russian sailors to deal with, if such a thing were possible.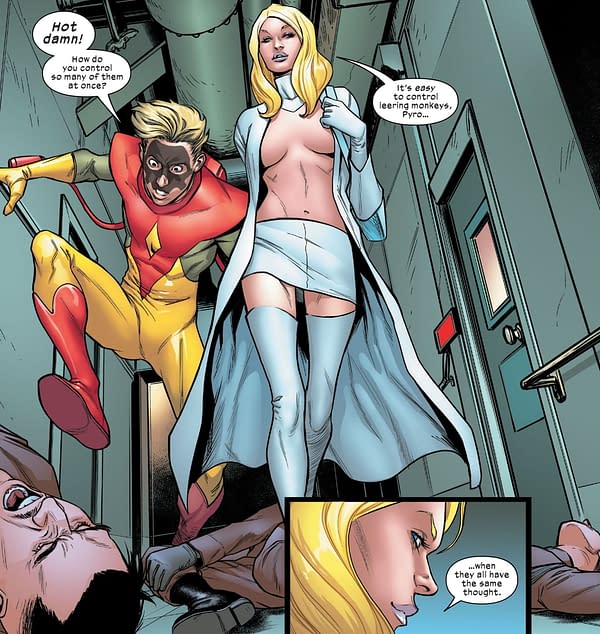 Can we call this a tertiary mutation? Anyway, she later is a little more full-on with the mutant powers, when it comes to dealing with the soldiers out to take away mutant powers. Also making the link between mutant and human bigotry a little more on the nose.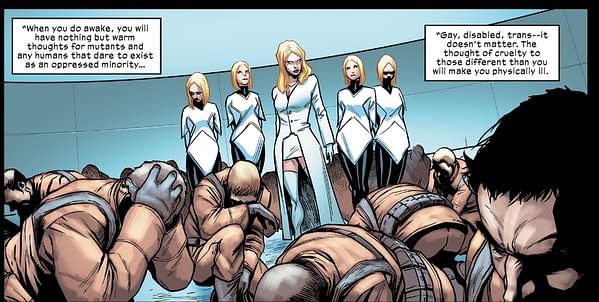 However, Marauders #10 remains tinged with tragedy, a schedule suggesting plans that once were. Some of these books have yet to even be rescheduled…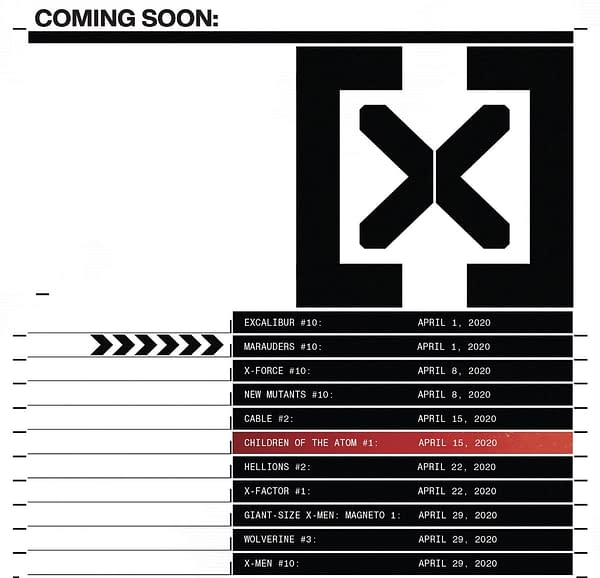 MARAUDERS #10
(W) Gerry Duggan (A) Stefano Caselli (CA) Russell Dauterman
A SHOW OF POWER!
The Marauders set their sights on the power-dampening technology that seems to have made its way into far too many hands – most notably, the Russian Army. The Hellfire's wrath with be swift and harsh.
Rated T+In Shops: May 27, 2020
SRP: $3.99
Enjoyed this article? Share it!