Morgan Albritton was an employee of Haywood Comics at 600 Haywood Road, West Asheville. Like a number of comic stores of late, Haywood Comics was closing. But this could not be.
And now Morgan Albritton is the owner of Morgan's Comics – Haywood Comics remade in her own image with its official reopening this past weekend. It is also, apparently, the first and only female-owned comic book shop in Western North Carolina.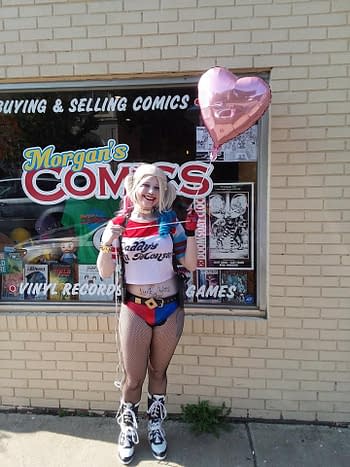 The original store opened in 2015 and would have closed in 2018 if Albritton, who had been with the store since it opened, hadn't saved it. A dispute between previous owners of the store would have seen the shop liquidated, until Albritton stepped up and provided a third way. The store renamed as Morgan's Comics on July 12th and had a grand reopening last weekend.
As well as comics, the store sells vinyl albums, retro video gaming systems and games, trade paperbacks, patches, stickers, models, vintage action figures, board games and more.
The September 8th grand reopening saw the launch of comic creator Chris Behrens' Thee Astronauts #2, live drawing by artist Milton Rene Rouleau, performances by artist/painter/sculptor Dan Jaworsky, stand-up comedians Petey Smith, Sahil Dhawan, Lily Campbell, Moira Goree and Craig Holcombe, nerdcore/hip-hop band The Last Wordbenders, followed by a board game night and after party.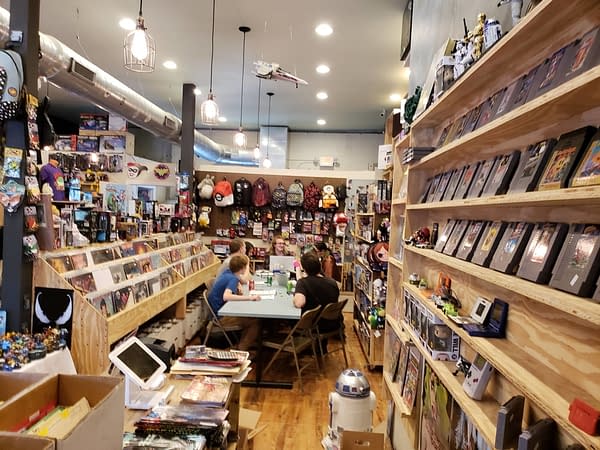 Bleeding Cool tries to mark the passing of comic stores as well as new arrivals on the scene. We're more likely to hear about the former rather than the latter due to concerned fans, but do please feel free to let us know the changes in your own local marketplace.
Enjoyed this article? Share it!