Empyre: Invasion of Wakanda Confirmed as Cancelled
Bleeding Cool has been running a big long Missing In Action list, looking at Marvel titles that were delayed due to the coronavirus, some going digital-only and some disappeared. Advertisements running in comic books published this week by Marvel, but printed before the shutdown have bought many back to mind. And while Marvel Comics has reduced the list of Empyre tie-in books, it wasn't confirmed whether or not the books would be released in other formats, such as digital-only.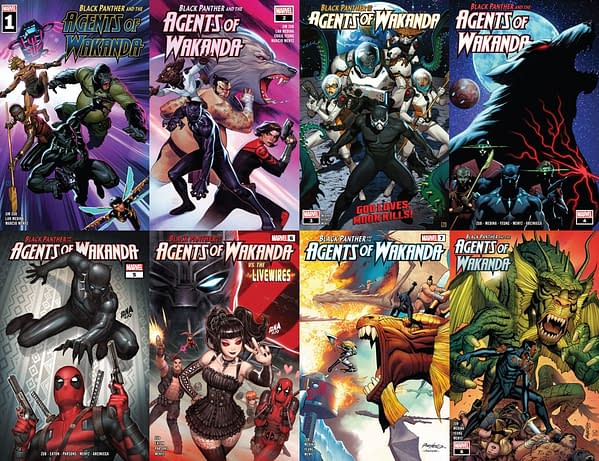 Jim Zub, author Black Panther and the Agents Of Wakanda brings closure. He tweets.
As far as I know, today's release of BLACK PANTHER and the AGENTS of WAKANDA is our final issue. Empyre: Invasion of Wakanda is no longer set to be completed or released and there won't be any more issues of the core series. Not ideal, but I'm proud of what we put together.Getting the chance to create wild and weird 2 issue "missions" that delved into unexpected parts of the Marvel Universe was a blast. Working with editors @Wil_Moss and @MightyBrunstad. Thank you so much to Lan Medina, Craig Yeung, Scot Eaton, Marcio Menyz, Joe Sabino and everyone else on the creative team who busted out incredible line art, colors, or letters and brought these stories to life. After a convention one night while enjoying pints aplenty @EmpoweredComic asked me if I would ever bring the Livewires back if given the chance and I told him I'd absolutely do it. I kept that promise and wrote crazy Deadpool stuff into it as well, so that was a big plus. In 8 issues we tackled Sentry, Stargod and a moon monster, the Livewires, and Fin Fang Foom while Fat Cobra boasted big and busted balls. It was unapologetically ridiculous comic superheroics and we did our damnedest to give readers bang for their buck. Thank you for reading.

I know it's not in vogue to talk about series ending because publishers don't want to bring it up and freelancers don't want to look like anything less than stunningly successful all the time. It's okay to admit things aren't what you hoped they'd be. Reality matters. It's also important to try stuff – especially weird and unusual stuff. No one knows for sure what will or won't be a success and some of our industry's biggest hits have come from unexpected places. I'm thrilled I had the chance to try this out and that our readers enjoyed it.

I assumed Invasion of Wakanda would be our swansong, so I built an ending into it to answer the big question I posed at the start of the series: How can T'Challa balance the many responsibilities heaped upon him all at once? How can he be all things to all people Representative for Earth on the Congress of Worlds King of Wakanda Chairman of the Avengers Head of the Agents of Wakanda Plus being T'Challa the man — The answer is simple, but also crucial. He can't do it alone. He needs his trusted friends and family close to live this life. And that's true for all of us- I wouldn't be where I am without the people I care about and who care for me. Keep your loved ones close and always tell them how much they mean to you.
These are the solicitations to comics that may have been but are no more.
EMPYRE: THE INVASION OF WAKANDA #1 (OF 3)
Jim Zub (W) • LAN MEDINA (A) • COVER BY Dustin Weaver
VARIANT COVER BY DAVID NAKAYAMA
The heart of Wakanda — its mighty store of Vibranium — comes under threat as the villains of EMPYRE launch their invasion of Earth!
Black Panther's Agents of Wakanda form the front line against the alien invasion, but the enemy's powers are vast and unknown. With T'Challa off fighting alongside the Avengers, General Okoye is in charge — and even with the superhumans are her disposal, she may find herself outmatched.
32 PGS./Rated T+ …$3.99

EMPYRE: THE INVASION OF WAKANDA #2 (OF 3)
Jim Zub (W) • LAN MEDINA (A)
COVER BY Dustin Weaver
VARIANT COVER BY KIM JACINTO
WAKANDA UNDER SIEGE!
• Alien weapons, psychic spirits, ancient magic — T'Challa prepared for war, but not even he could have foreseen the forces now brought to bear against his homeland.
• If the Great Vibranium Mound is lost to these invaders, our planet will follow…
• Yibambe!
32 PGS./Rated T+ …$3.99
It is possible other creators may feel more free to mention the fate of their own books. We'll remove both from the MIA list, here are the remaining titles. Some will return to print, others will not.
Darkhold Alpha
X-Men: Dawn Of X Saga
Amazing Mary Jane
The Punisher Vs Barracuda
Werewolf By Night
Children Of The Atom
Gwen Stacy
Amazing Spider-Man: The Daily Bugle
Runaways
Morbius
Black Panther
Nebula
Atlantis Attacks
Marvel
The Marvels
Marvels Spotlight: Spider-Man
America Chavez: Made In The USA
Empyre: Spider-Man
Black Widow: Widow's Sting
Widowmakers: Red Guardian and Yelena Belova #1
Taskmaster #1
How To Read Comics The Marvel Way #1
Conan The Barbarian
Savage Sword Of Conan
Dark Agnes
Empyre: Stormranger
Empyre: Thor
Empyre: Squadron Supreme
Empyre: Ghost Rider
New Warriors
Union
Power Pack
Champions
Infinite Destinies Annuals: Iron Man, Thor, Avengers, Guardians
W.E.B. Of Spider-Man #1
Ghost Rider Annual
Star Wars: The Rise Of Skywalker #1
And no news on subsequent issues of the following:
Ghost Rider
Doctor Strange
And we may have more on Werewolf By Night to come.