I think it's going to be one of those days.
But in today's long-awaited Sandman Overture #4, telling the story of how Dream was captured and imprisoned in Sandman #1 all those years ago, travelling from a far distant galaxy, we see his journey. But we also see his conversation with someone else. In the first few pages (available on ComiXology's preview) we see him continuing the conversation from last issue before being whisked away…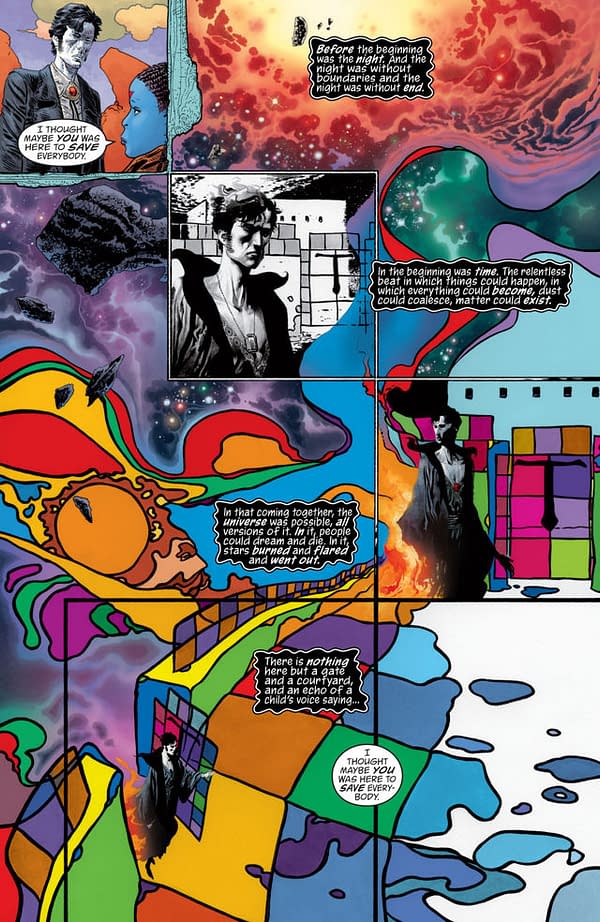 In time, in space, a flashback that happens now, as Dream meets someone he refers to in a fashion I never expected him to have.His father. And not only his father but the father of all the Endless. Is this God? Well, there may be a more visible clue on that page. The eating of the apple. This is Adam. If the Endless are the result of human consciousness, or as it appears, the consciousness of any lifeform, they they are all the children of Adam, the first sentient. We have seen Adam in flashback earlier in Sandman and had become closer to Adam's earlier wife, Lilith who lives in the Dreaming, as well as his children Cain and Abel, but the reality of their nature has often been rather ephemeral. Here we see Adam as a figure outside of time and space, named as the father of the Endless. And certainly the idea that whatever Adam is, he is not of Earth, which brings to mind certain Scientology ideas, or the story of Genesis being a reflection of something much earlier.
Sandman Overture by Neil Gaiman and JH Williams continues to be a remarkable book that delights and surprises, and this is just an early turn in today's issue that expands the concept of the Endless across the universe.
Not bad for a Wednesday morning…
Comics courtesy of Orbital Comics, London. Currently exhibiting the work of Sean Phllips.
Enjoyed this article? Share it!