Last week saw the publication of Absolute Carnage #1. While it was a very pretty comic, and as we all know Ryan Stegman could be a great comic book artist if he but tried to drawn panels, I felt a little bit let down by the story. I felt that, after reading all the Carnage and Venom lead-in titles, I didn't really learn anything new, it seemed more about repeating and recapping what had come. Which I understand, Absolute Carnage #1 would mostly have been picked up by people who hadn't read all that, but for me, it felt like going over the same ground.
The tie-ins, of course, have the chance to do something new. They also have to stand independently from the main series and can't impact too heavily on it – or we'll have to have more of that recapping I was talking about. So how Carnagey are they? As someone reading the main title, are they essential picks or can they be missed? I'll be giving a Carnagey score out of ten vertebrae.
We begin with Absolute Carnage: Scream #1. Scream was one of the five created symbiotes by the Life Foundation, but was thought dead. Of course, nothing lasts forever and now we discover that Scream will be getting her own ongoing series after this mini-series. But who is she now?
Scream was Donna Diego and was killed by Eddie Brock. And in Absolute Carnage: Scream #1 she has risen from the grave. However, Donna is not alive… just the symbiote is.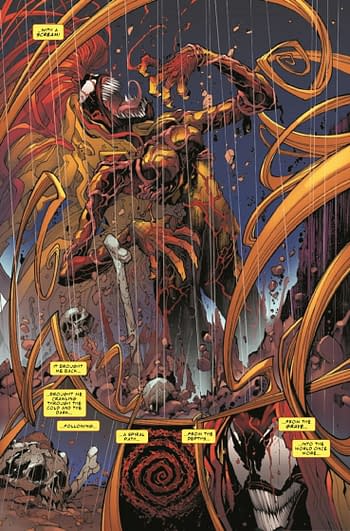 Cue Patricia Robertson. She was once Venom, an experience that has turned her into quite the symbiote hunter.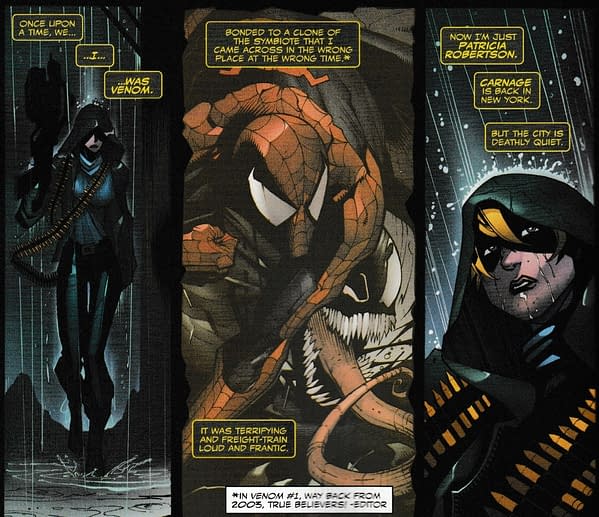 And comes across this zombie version of Scream, hauling the corpse of Donna Diego round with her. Which, yes, is pretty freaky.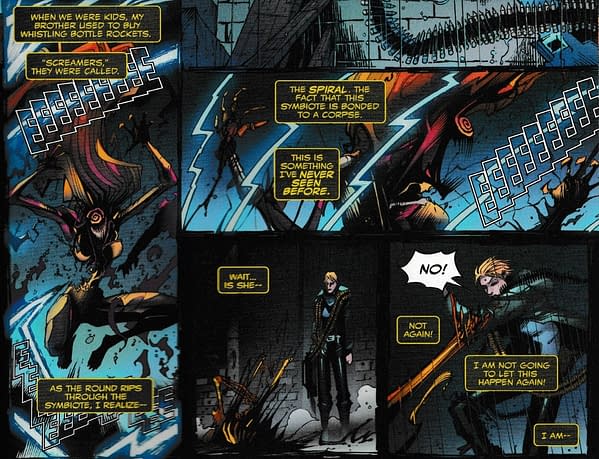 There can be only one solution. Taken over by Scream, submitting to Knull… and combining memories and minds of both Donna and Patricia in one…
Before going after Andi Benton, another host of her Venom clone symbiote, who called herself Mania, and now possesses the Hell-Mark, and recently managed to fight off Carnage himself.
So we have major players in the symbiote wars here, creating a new version of a previous character with spinoff potential as well as catching up with characters with big Absolute Carnage playing possibilities. If this all plays out, it should be a ten out of ten, but I'll with hedge a tiny bet right now and go for nine vertebrae out of ten.

While Absolute Carnage: Separation Anxiety #1 also out today looks at what happened to the other four symbiotes created by the Life Foundation and discovers where they have been hiding out. In a family with kids who read enough Spider-Man comic books to know how to deal with them…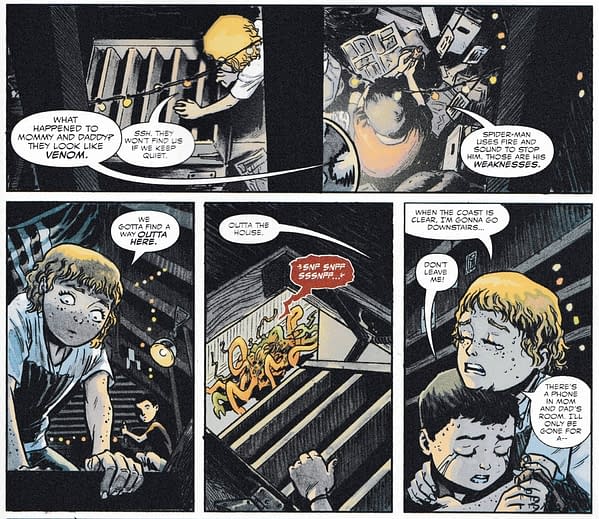 While turning the whole family home into a complete freakshow, something reminiscent of Cronenberg crossed with Giger.
Now this is more of a holding pen for these symbiotes, an explanation of where they are and what they've been up to. But tonally it is completely gross, creepy and very much in the Carnage wheelhouse. So they get seven vertebrae…

While Silver Surfer: Black #3 isn't really an Absolute Carnage crossover. But it does have some relevance… setting up a potential battle between Ego The Living Planet and Knull, god of the symbiotes, being summoned to Earth by Carnage.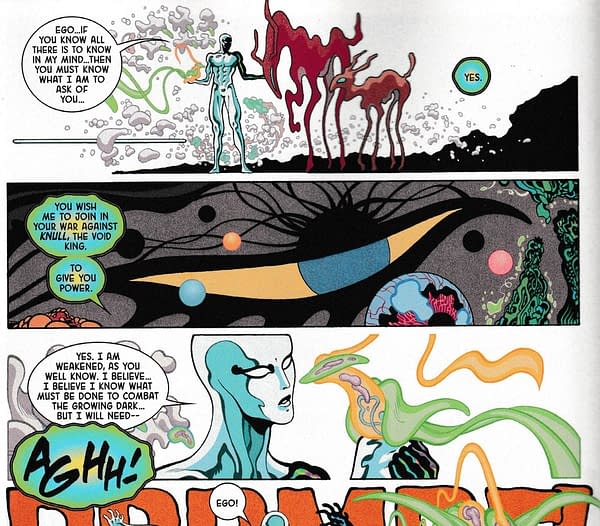 So, you know, might at least be worth keeping an eye on. A generous four vertebrae…

ABSOLUTE CARNAGE SCREAM #1 (OF 3) AC
(W) Cullen Bunn (A/CA) Gerardo Sandoval
THE RETURN OF A CLASSIC SYMBIOTE…AND IT'LL BE A SCREAM!
Years ago, Patricia Robertson was unwillingly bonded to the clone of Venom that eventually became Mania, and she's been living in fear of symbiotes ever since. But she's also been living with a secret, and with the coming of Carnage, Patricia must take a stand – and will have no choice but to confront her demons head-on!
Rated T+In Shops: Aug 14, 2019
SRP: $3.99
ABSOLUTE CARNAGE SEPARATION ANXIETY #1 AC
(W) Clay Chapman (A) Brian Level (CA) Philip Tan
HELLISH HORROR IN THE MIGHTY MARVEL MANNER!
Since the conclusion of DEADPOOL VS. CARNAGE, four of the five LIFE FOUNDATION SYMBIOTES – Riot, Phage, Agony and Lasher – have been bonded to a stray dog, wandering the Midwest. But as Carnage descends on New York, its siblings will find it impossible to resist the siren song of KNULL…
Rated T+In Shops: Aug 14, 2019
SILVER SURFER BLACK #3 (OF 5)
(W) Donny Cates (A/CA) Tradd Moore
• The Surfer's power is fading!
•  Is this the end of Norrin Radd as the all-consuming darkness descends upon him?
•  Or will help come in the form of an unexpected ally?
Rated T+In Shops: Aug 14, 2019
SRP: $3.99
Enjoyed this article? Share it!