Next week, the X-Men line relaunches, and nothing will ever be the same again or something. But we've got five lame-duck X-books that came out last week that we need to recap, even though their events don't matter because Hickman appears to be planning to ignore them. Dammit!
One last time, for old time's sake, before the relaunch…
---
Sworn to sell comics for Marvel executives who feared and hated the fact that Fox owned their movie rights, The Uncanny X-Men suffered great indignities, but with a corporate merger on the way, the X-Men can finally get back to doing what they do best: being objectively the best franchise in all of comics.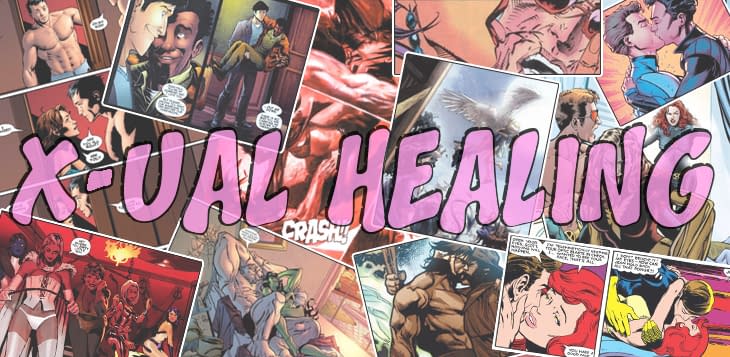 ---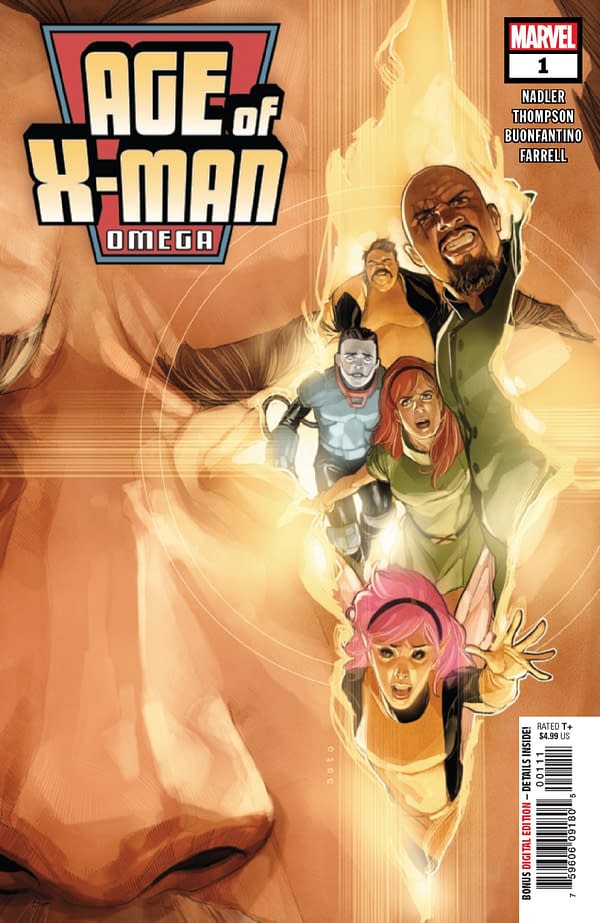 AGE OF X-MAN OMEGA #1
MAY190893
(W) Zac Thompson, Lonnie Nadler (A) Simone Buonfantino (CA) Phil Noto
THE AGE OF X-MAN CONCLUDES! As twilight falls on the Age of X-Man, the X-Men are forced to decide what they stand for.
Rated T+
In Shops: Jul 17, 2019
SRP: $4.99
So basically, in a bunch of ways that double don't matter since this alternate-universe event is ending right before a relaunch of the entire X-Men line, all of the important characters from the various mini-series make their way to one place where X-Man explains how he created this world where all their dreams could come true, but now that they know it's a lie and they see what's going on in the real world, some of the X-Men want to go back and some don't. After some discussion and punching, eventually they all decide they should go back, so Nate lets them leave, except for Magneto, who goes back, but somehow part of his essence returns to try again at building a utopia with X-Man. Seemingly, the X-Men will carry their memories of this world back to the real world with them, but since that one is getting relaunched anyway, who knows. Bleh.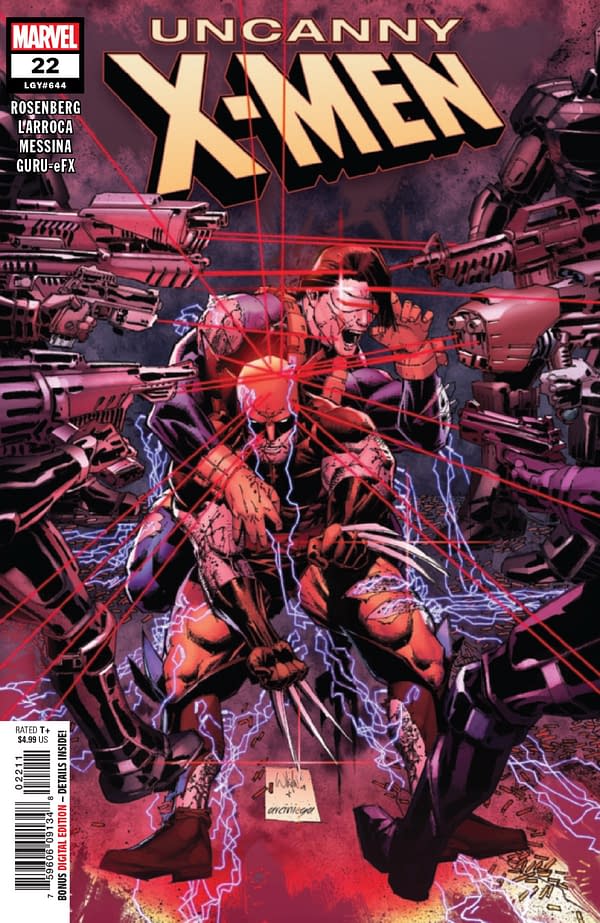 UNCANNY X-MEN #22
MAY190899
(W) Matthew Rosenberg (A) Salvador Larroca (CA) Whilce Portacio
It all ends here. This is forever! As Cyclops' cleanup mission nears its close, all the problems the X-Men face come together. The truth behind the Hellfire Club's intentions, the culmination of the O.N.E.'s assaults on mutantkind and even the inner struggles within the team… It all ends here. This is forever.
Rated T+
In Shops: Jul 17, 2019
SRP: $4.99
The issue starts with Dani Moonstar lecturing Cyclops about getting so many mutants killed, and then after that the rest of the issue is just a bunch of people dying in quick succession. First, Havok blows himself up to stop a Warlock-Sentinel attacking him and Cyclops. Cyclops then goes to the Hellfire Club, where General Callahan has brought the rest of the Warlock-Sentinels to kill her and the X-Men. Callahan has his own Cerebro helmet that allows him to retain his memories despite Emma using her own Cerebro helmet to make the world forget about mutants. In order to stop the Sentinels from wanting to kill all mutants, Warlock merges his mind with them and erases their memories and his own, then he dies in Hope's arms without recognizing her. Next, Wolverine has to kill General Callahan, but in order to get close enough, Multiple Man has to make a bunch of dupes and then they all have to die.
None of that mattered though because the Sentinels are still trying to kill them, but then the X-Men return from the Age of X-Man and save the day. Jean Grey makes out with Cyclops in front of Wolverine and Emma Frost, and then Cyclops decides to blow up Emma's Cerebro helmet which makes the world remember the X-Men again. Will all of this be forgotten when Hickman's run begins? It seems like it will, since a bunch of the characters killed off in the last few months appear to be alive and well in the new X-Books.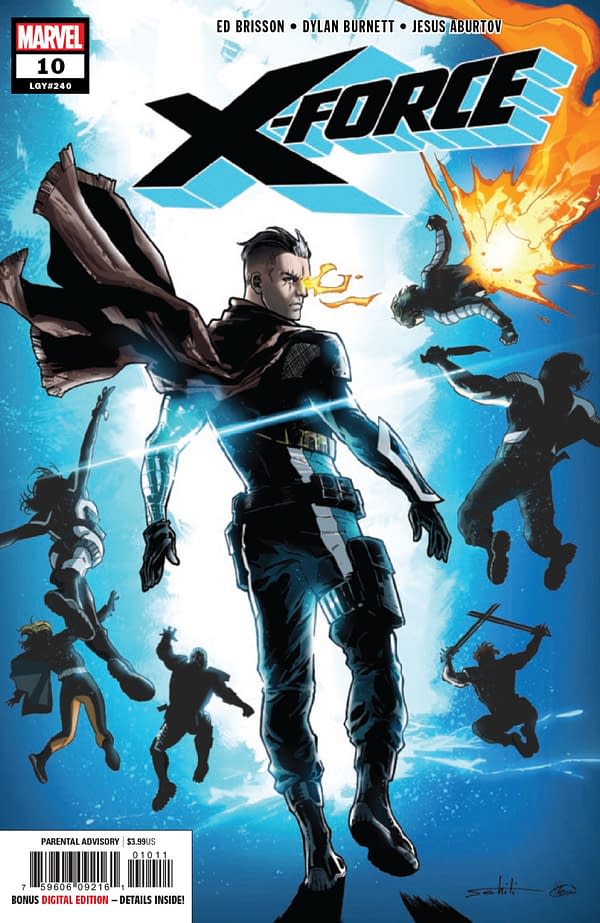 X-FORCE #10
MAY190901
(W) Ed Brisson (A) Dylan Burnett (CA) Valerio Schiti
With Rachel Summers under his control, Stryfe and his Mutant Liberation Front finally have the power to secure their futures – at the cost of everyone else's. Will Cable and his X-Force be able to stop them, or will the time stream be forever altered? Find out in this final showdown!
Parental Advisory
In Shops: Jul 17, 2019
SRP: $3.99
The final battle between X-Force and Stryfe ensues after X-Force rescues Cable and Aliya from their cells. Cable convinces Aliya to fight to overcome the techno-organic virus, then he pulls himself together. Rachel Grey has a showdown with Stryfe and wants to kill him, but Cable convinces her not to using flimsy reasoning about damaging the timeline. Boom Boom does destroy Zero though, and Rachel exposes the truth to Stryfe's Mutant Liberation Army about how Stryfe, not Cable, killed their friends.
So X-Force locks Stryfe in a cell and erases his memory because nothing in this timeline was supposed to happen (there's a relaunch coming, after all). Cannonball decides to head into space to be with his family. Boom Boom decides to take a nap. Warpath decides to read more romance novels. Cable says goodbye to Aliya. Shatterstar forgives Kid Cable for killing the old Cable. And that's a wrap.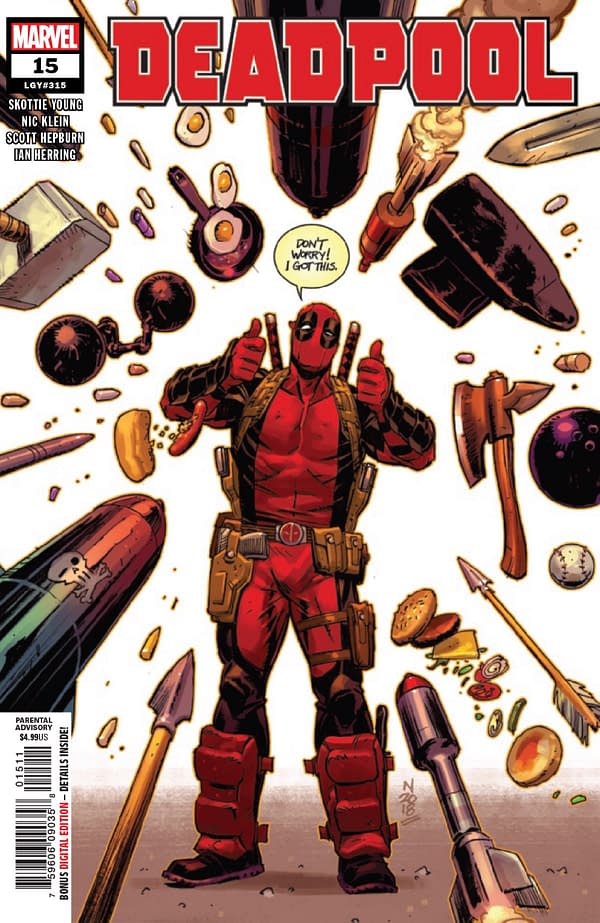 DEADPOOL #15
MAY190902
(W) Skottie Young (A) Scott Hepburn (A/CA) Nic Klein
PAY THE DEVIL HIS DUE! Mephisto and Weasel have come for Deadpool! Will Good Night finally get his vengeance? Can Deadpool survive? And what will be left of him?
Parental Advisory
In Shops: Jul 17, 2019
SRP: $4.99
Deadpool starts off the issue with a bad dream about all his enemies trying to kill him. When he wakes up, Mephisto drags him to hell through a kiddie pool, where Weasel is also waiting. Mephisto wants Deadpool to take a job with him as Mephisto's personal assassin. To convince him, Mephisto restores the memories that Deadpool wiped from his own mind before the last relaunch and then shows him a future where his daughter Ellie is a superhero, along with his son (who doesn't exist yet, so we can look forward to Deadpool becoming a dad again in the future). That's the good future, if Deadpool takes the job. In the bad future, Good Night trains Ellie to be Mephisto's assassin instead, and Mephisto gets her soul. Good Night is waiting in Ellie's backyard for Deadpool to make his choice.
Deadpool chooses neither option, kicking Weasel in the balls and jumping through a portal to the backyard where he kicks Good Night's ass. Then he takes the job with Mephisto anyway, on the condition Mephisto erases his memories again and leaves Ellie alone. Weasel is returned to normal life with no hell powers. A week later, Deadpool meets Weasel in a supermarket and reveals he was so annoying Mephisto fired him. That's all, folks.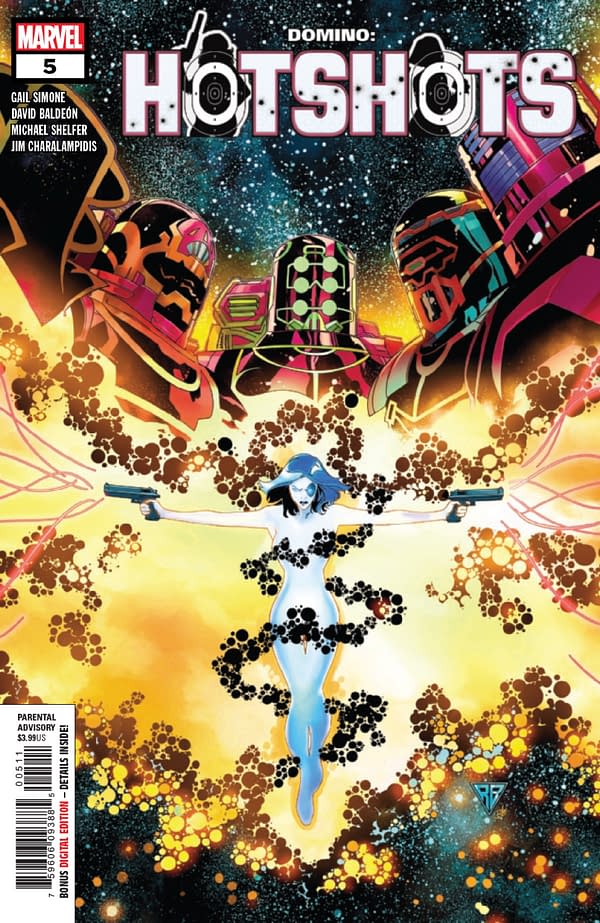 DOMINO HOTSHOTS #5 (OF 5)
MAY190896
(W) Gail Simone (A) David Baldeon (CA) R. B. Silva
PHENOMENAL COSMIC POWER… itty-bitty guns in space! Domino wanted to keep a Celestial artifact out of the wrong hands, but does that make her bloodstained hands the right ones?
Parental Advisory
In Shops: Jul 17, 2019
SRP: $3.99
The Hotshots face off against Dr. Geun, now known as Geun the Executioner, who is pissed off that they killed her boyfriend last issue. Black Widow gives Domino a pep talk and then the battle begins. It doesn't go well, but then White Fox returns after being kicked off the team, and she has the Creation Constellation. She doesn't want it for herself though: she is so impressed with Domino that she gives it to her, the only person worthy to use it.
Domino proves that to be true, not only defeating Geun, but deciding not to kill her, not wanting to become like Dark Phoenix (which came out of left field). Later, everyone hangs around in their bathrobes. Domino asks Atlas Bear to lock up the Creation Constellation in vibranium. They decide to take a trip together to Costa Rica. The end.
Domino Hotshots is the Wolverine's Weiner X-Pick of the week, and Simone and Baldeon's Domino run didn't deserve to be a casualty of the relaunch.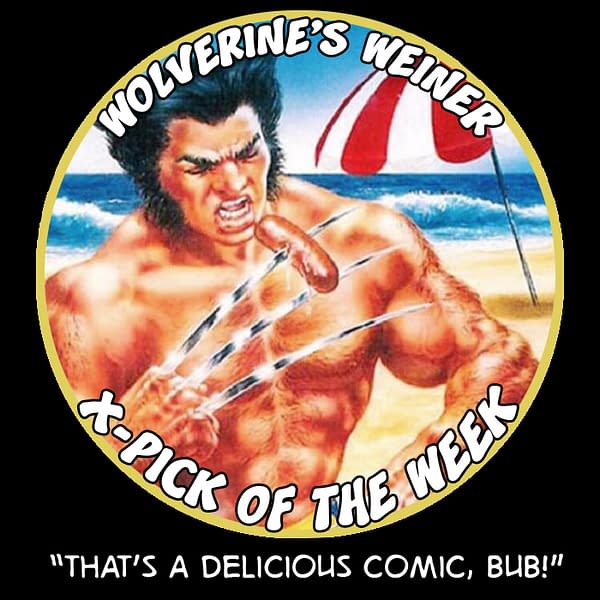 ---
Other X-Stuff
Here's all the X-Men news from San Diego Comic-Con:
At Adventures in Poor Taste, this week's X-Men Monday is a retrospective with various past X-Men creators talking about some of their favorite X-Men memories.
---
Well, that's it. All the X-Men series (save Dead Man Logan, which is now taking place in an alternate universe since Logan has gone back to the Wastelands) are done, and this week the new era launches with House of X #1. It will also be a new era of X-ual Healing as we reboot this column! See you next week…
Read more X-ual Healing here: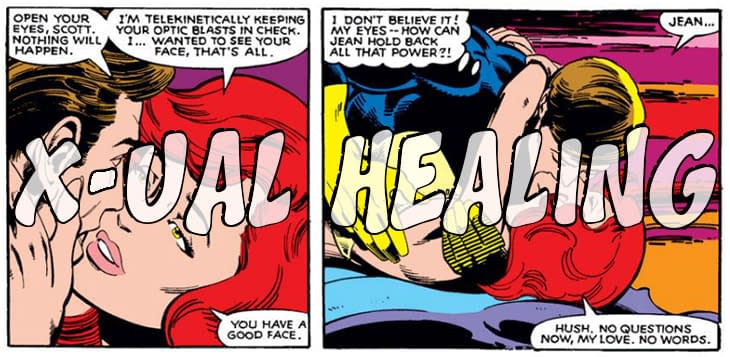 Enjoyed this article? Share it!