Exclusive: Listen to Neil Gaiman and Joseph Gordon-Levitt Read Sandman, from Amanda Palmer's Ninja TED Album
Amanda Palmer has just released a live album compilation of a concert Amanda staged around the annual TED conference in Vancouver last year. She calls it Ninja TED. Cover design by Andrew Nelson, photography by Rachel Pick.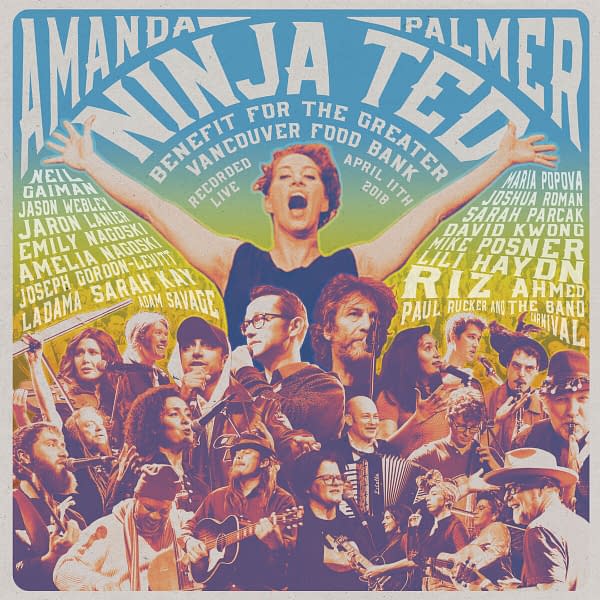 One of the tracks features what Palmer described as a 'supergroup', with her husband Neil Gaiman, Joseph Gordon-Levitt, Lili Haydn and Jaron Lanier, performing a live reading from Sandman. With Neil as Morpheus and Joseph as the demon Chronozon.
And Bleeding Cool has the open exclusive on that track. Embedded right here…
The album can be listened to and downloaded – via Bandcamp. Proceeds from the digital download of the album on Bandcamp are going to the Greater Vancouver Food Bank.
And you can check out Amanda's Patreon post where she talks to her fans about the album release.
There is also a restricted Patreon post with an actual video clip of Joseph Gordon-Levitt and Neil Gaiman reading Sandman, as heard above. If my visuals weren't quite enough…
Here's the scene from Sandman #4, by Neil Gaiman, Sam Keith and Mike Dringenberg
Here's the full list tracking:
| | | |
| --- | --- | --- |
| Track Number | Artists/Performer title | Track Title |
| 1 | Amanda Palmer + Sarah Shandl | Backstage |
| 2 | Jason Webley with Amanda Palmer | Icarus |
| 3 | Amanda Palmer | In My Mind |
| 4 | Geoff Berner | Super Subtle Folk Song |
| 5 | Paul Rucker | Cello Improvisation/Strange Fruit |
| 6 | Amanda Palmer | The Manifesto |
| 7 | Sarah Parcak | Egypt Love Poetry |
| 8 | LADAMA | Sin Ataduras |
| 9 | LADAMA | Pajarillo |
| 10 | Emily and Amelia Nagoski | Genitals Song |
| 11 | Sarah Kay with Joshua Roman | Brother/Bach Cello Suite No. 1 |
| 12 | Joshua Roman | Julie-O |
| 13 | Maria Popova and Neil Gaiman | Hymn To Time/The Mushroom Hunters |
| 14 | Mike Posner | I Took a Pill in Ibiza |
| 15 | Evelyn, Evelyn | Have You Seen My Sister Evelyn? |
| 16 | Adam Savage | Brain Candy |
| 17 | Riz Ahmed | Stand Up |
| 18 | Joseph Gordon-Levitt, Lili Haydn, Jaron Lanier, and Neil Gaiman | An extract from 'Sandman: Preludes and Nocturnes' |
| 19 | Jaron Lanier, Lili Haydn, Joseph Gordon-Levitt | The Birth of the Bits |
| 20 | Jason Webley with The Carnival Band | I Made a Promise to The Moon |
| 21 | Full Cast | Let The Sunshine In |