The Falcon #4 Review: Good Character Study Wrapped in a Plot Tangent
[rwp-review-recap id="0"]
The Falcon's soul has been stolen by Blackheart. The Patriot must look after Chicago in his absence, and Doctor Voodoo reaches out to a mystical contact in the hopes of rescuing Sam Wilson.
The Falcon himself is trapped in the underworld due to Blackheart's machinations and runs into the last Avenger you'd ever expect to pop up in a Falcon comic: The Two-Gun Kid.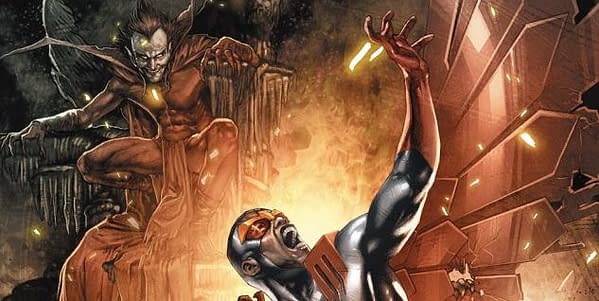 No, really, the Two-Gun Kid is in this comic. Apparently, he went to Hell because he's shot a lot of people.
I'm not complaining, either. Between him and Blackheart, Falcon is turning into a comic with the most unexpected guest stars and antagonists.
This issue does feel a little like a plot stopgap, with the comic turning its attention to saving Sam Wilson from Hell itself while the Patriot tries to keep Chicago from tearing itself apart. It still disappoints me that this comic pivoted away from a nuanced look at gang violence and its socioeconomic causes to an occult story with the son of Mephisto trying to make a bid for world domination.
That being said, Rodney Barnes manages to justify this digression into Hell by having the Falcon forced into deciding the kind of hero and man he is going to be going forward. He's forced to face some of his mistakes, the betrayal he feels from Captain America, and how he's going to cope with all of that. It's a powerful and cathartic moment.
We also figure out who the Patriot is growing into and his relationship with the Falcon going forward. Also, we get a peer into his personal life. As it turns out Shaun's mom is surprisingly okay with her son being a superhero. It's an oddly refreshing change of pace.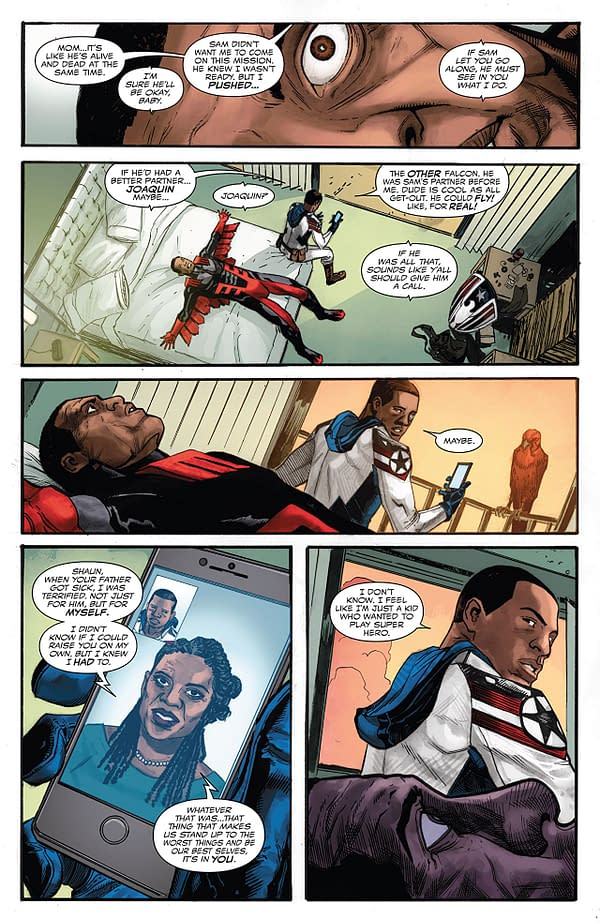 Joshua Cassara and Rachelle Rosenberg make this another gorgeous comic with a unique visual identity all its own. It's textured, atmospheric, and just looks generally quite gorgeous. The colors give the world a cold and dangerous feeling that really jives with the apocalyptic overtones of the plot.
Falcon hasn't gone the direction I was originally hoping it would go, but this strange take on the Winged Avenger's adventures has definitely gotten into a groove I can enjoy. Plus, Cassara and Rosenberg really bring it in the art section. This one gets a recommendation. Check it out.
[rwp-review-ratings id="0"]
[rwp-review-form id="0"]