The great info-cruncher Jamie Coville and favourite of Bleeding Cool has read 136 of the "Best Comics of 2017" lists and totted up who actually got the most mentions. A staggering work of ticking off comics, resulting in a clear winner.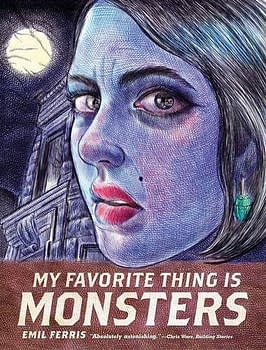 Here's the top eleven.
1. My Favorite Thing Is Monsters by Emil Ferris from Fantagraphics
Set against the tumultuous political backdrop of late '60s Chicago, My Favorite Thing Is Monsters is the fictional graphic diary of 10-year-old Karen Reyes, filled with B-movie horror and pulp monster magazines iconography. Karen Reyes tries to solve the murder of her enigmatic upstairs neighbor, Anka Silverberg, a holocaust survivor, while the interconnected stories of those around her unfold. When Karen's investigation takes us back to Anka's life in Nazi Germany, the reader discovers how the personal, the political, the past, and the present converge.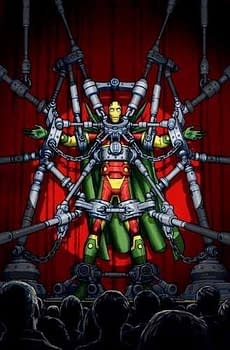 2. Mister Miracle by Tom King and Mitch Gerads from DC Comics
From the team behind THE SHERIFF OF BABYLON and the Hugo Award-nominated writer of Vision comes a unique new take on one of Jack Kirby's most beloved New Gods. Scott Free is the greatest escape artist that ever lived. So great that he escaped Granny Goodness' gruesome orphanage and the dangers of Apokolips to travel across galaxies and set up a new life on Earth with his wife, the former female fury known as Big Barda. Using the stage alter ego of Mister Miracle, he has made a career for himself showing off his acrobatic escape techniques. He even caught the attention of the Justice League, which counted him among its ranks. You might say Scott Free has everything…so why isn't it enough? Mister Miracle has mastered every illusion, achieved every stunt, pulled off every trick – except one. He has never escaped death. Is it even possible? Our hero is going to have to kill himself if he wants to find out.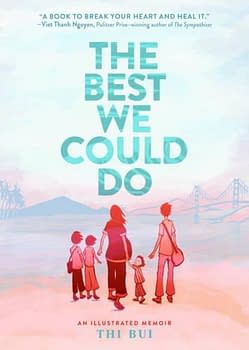 3. The Best We Could Do by Thi Bui from Harery N. Abrams
This beautifully illustrated and emotional story is an evocative memoir about the search for a better future and a longing for the past. Exploring the anguish of immigration and the lasting effects that displacement has on a child and her family, Bui documents the story of her family's daring escape after the fall of South Vietnam in the 1970s, and the difficulties they faced building new lives for themselves.
At the heart of Bui's story is a universal struggle: While adjusting to life as a first-time mother, she ultimately discovers what it means to be a parent—the endless sacrifices, the unnoticed gestures, and the depths of unspoken love. Despite how impossible it seems to take on the simultaneous roles of both parent and child, Bui pushes through. With haunting, poetic writing and breathtaking art, she examines the strength of family, the importance of identity, and the meaning of home.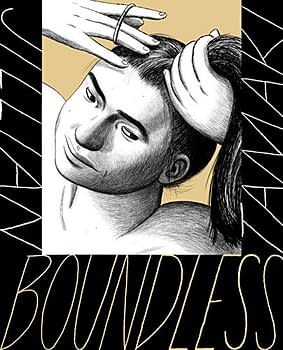 4. Boundless by Jillian Tamaki from Drawn & Quarterly
The cartoonist of This One Summer and SuperMutant Magic Academy explores the virtual and IRL world of contemporary women via a lens both surreal and wry
Jenny becomes obsessed with a strange "mirror Facebook," which presents an alternate, possibly better, version of herself. Helen finds her clothes growing baggy, her shoes looser, and as she shrinks away to nothingness, the world around her recedes as well. The animals of the city briefly open their minds to us, and we see the world as they do. A mysterious music file surfaces on the internet and forms the basis of a utopian society–or is it a cult?
5.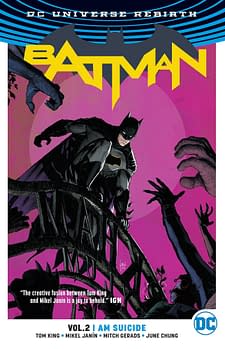 Batman by Tom King and Mikel Janin from Comics
Tom King continues his epic run on the Dark Knight in BATMAN VOL. 2: I AM SUICIDE!
Still reeling from the events of "I AM GOTHAM," the epic first arc in Tom King's brand new BATMAN series, the Dark Knight finds himself up against some of the biggest (literally) threats he's ever faced within the city limits of Gotham. To save the city he loves, Batman enlists the help of the toughest members of the Bat-family including Nightwing, Batwoman and more!
Also in this volume, Batman must take on some familiar foes who have stolen something from Gotham–and the Caped Crusader's limits will be tested as he fights to get it back.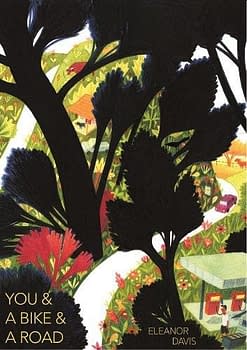 6. You & A Bike & A Road by Eleanor Davis for Koyama Press
In 2016, acclaimed cartoonist and illustrator Eleanor Davis documented her cross-country bike tour as it happened. The immediacy of Davis' comics journal makes for an incredible chronicle of human experience on the most efficient and humane form of human transportation.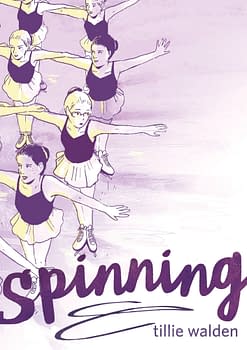 7. Spinning by Tillie Walden from First Second
It was the same every morning. Wake up, grab the ice skates, and head to the rink while the world was still dark.
Weekends were spent in glitter and tights at competitions. Perform. Smile. And do it again.
She was good. She won. And she hated it.
For ten years, figure skating was Tillie Walden's life. She woke before dawn for morning lessons, went straight to group practice after school, and spent weekends competing at ice rinks across the state. Skating was a central piece of her identity, her safe haven from the stress of school, bullies, and family. But as she switched schools, got into art, and fell in love with her first girlfriend, she began to question how the close-minded world of figure skating fit in with the rest of her life, and whether all the work was worth it given the reality: that she, and her friends on the team, were nowhere close to Olympic hopefuls. The more Tillie thought about it, the more Tillie realized she'd outgrown her passion―and she finally needed to find her own voice.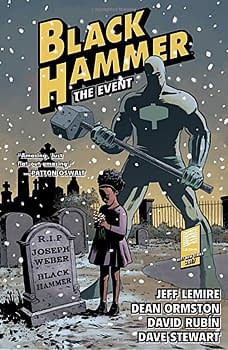 8. Black Hammer by Jeff Lemire, Dean Ormston and David Rubin from Dark Horse Comics
When a visitor from the outside world arrives on the Farm, looking for the Black Hammer and bringing news of Spiral City to its Golden Age heroes, everything changes. Her arrival stirs up old memories and awakens new hope in the marooned heroes and they make a new attempt to escape their strange prison.
9.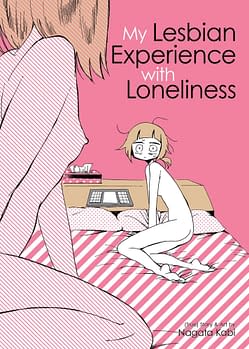 My Lesbian Experience With Loneliness by Nagata Kabi from Seven Seas
The heart-rending autobiographical manga that's taken the internet by storm!
My Lesbian Experience with Loneliness is an honest and heartfelt look at one young woman's exploration of her sexuality, mental well-being, and growing up in our modern age. Told using expressive artwork that invokes both
laughter and tears, this moving and highly entertaining single volume depicts not only the artist's burgeoning sexuality, but many other personal aspects of her life that will resonate with readers.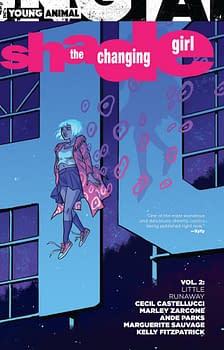 10. Shade The Changing Girl by Cecil Castellucci and Marley Zarcone from DC Comics
Loma needed a change from Meta, a boring and passionless planet–at least for a frustrated teenager.
In a leap of madness, Loma broke through galaxies to take up residence in the body of a human girl on Earth. Only now that she's here, Loma discovers being a teenage Earth girl comes with its own challenges, and Earth may not be everything she thought it'd be.
She's been here for some time now, and she's ready for her next move: but what will it be? When it comes to Loma of Meta, there's no telling which direction she'll move.
11.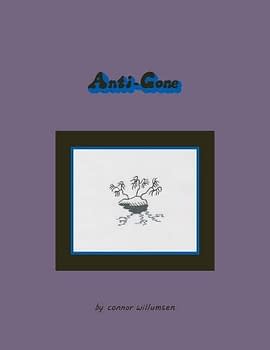 Anti-Gone by Connor Willumsen from Koyama Press
Reality's grip is loosened as Spyda and Lynxa explore a potentially constructed environment that shifts between dystopic future and constructed virtual present. Like a form of multistable perceptual phenomena, Anti-Gone exists in ambiguity.
Anti-Gone recalls videogames that attempt to replicate, or perhaps replace, reality. Often called virtual or synthetic worlds, massively multiplayer online worlds offer an escape into another identity, another life, where there isn't a goal or final boss like most videogames. Similarly, Anti-Gone is like Joyce with a joystick, the experience and the language of this otherworld is the meaning.
Enjoyed this article? Share it!