Fearless Defendersless, Young Avengers' "Mic-Drop", A Legacy Conclusion And An Ultimate End To Thor?
Missing from the new Marvel solicitations for January, is a certain Fearless Defenders.
At the time the book began, Marvel Comics was suffering a deficit of female-focused titles, and a superhero team of women seemed a novelty for the publisher. In the year since, it's… actually becoming close to something expected. And Marvel's new announcements have given us a bevy of similarly focused titles.
Which means the cancellation of such a title may not be the gender disaster it might otherwise have been a few months ago. Although fans of the book, and I count myself among them, may disagree.
Last month's solicitations gave no sign of a last issue however, in accordance with the Brevoort doctrine..
FEARLESS DEFENDERS #12
CULLEN BUNN (W)
WILL SLINEY (A)
Cover by MARK BROOKS
• The Defenders make a stand against the apocalyptic Doom Maidens! Hopefully some of the team survives!
• Valkyrie and Annabelle have a complicated relationship… and it's only going to become even more perplexing and problematic as of this issue!
• A new (cosmically awesome) character joins the team! And you'll never expect this addition to the cast!
• Caroline LeFay comes face to face with one of her estranged parents!

Also, no Hawkeye in January either, but I don't think Marvel would cancel that one. And as for Young Avengers #15, the final party of the after-party….
YOUNG AVENGERS #15
KIERON GILLEN (W)
JAMIE MCKELVIE, BECKY CLOONAN, MING DOYLE & JOE QUINONES (A)
Cover by JAMIE MCKELVIE
• After the saving the world, there's the after party. And after the party, it's the hotel lobby. And around issue 15, we have to clear the lobby and then head to our rooms and do something jolly rude.
• MIC-DROP!
32 PGS./Rated T+ …$2.99
Gulp… mic drop?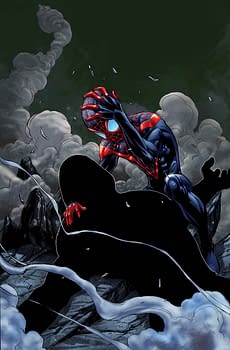 And then there's the end of the Ultimate crossover event. Is that deathly silhouette Ultimate Thor???
CATACLYSM: THE ULTIMATES' LAST STAND #4 (of 5)
BRIAN MICHAEL BENDIS (W) MARK BAGLEY (A/C)
Variant Cover by Salvador Larroca
• To save a universe, a hero must die!!!
32 PGS./Rated T+ …$3.99
And as for X-Men Legacy…
X-MEN LEGACY #22 & 23

• One thing's for sure: as this groundbreaking series races to its conclusion, anything is possible!
So… what did you spot in the solicits?