Okay, it could be argued Kieron Gillen has always written a James Bond comic.
But I was looking through Kieron Gillen's twitter history to find any James Bond bon mots he may have made over the years before today's announcement he was writing a Bond comic, to discover that he's automatically deleting tweets after a certain period. Which, for anyone travelling to America, might be a handy thing.
So you'll just have to guess at whatever "bond mots" these were in response to.
"No, Mr. Bond. I expect you to die!" pic.twitter.com/ekXRzxT34K

— Zeb Aslam (@ZebAslam) May 31, 2016
https://twitter.com/jamieESrich/status/717842534618107904
mine is Emily Blunt.

She could be James Bond, the Bond Girl, the Bond Villain, M, Q and Miss Moneypenny in one perfect movie

— Emmanuel Peudon (@EmmanuelPeudon) November 8, 2016
https://twitter.com/pauljholden/status/773225493206298624
But that's okay! Kieron has been tweeting James Bond today…
I mentioned writing a one-off of an Icon. This is it. https://t.co/WlEHDmesEb

— Kieron Gillen (@kierongillen) February 20, 2017
But if you can't wait till May (and who can)… how about picking up God Is Dead: Book of Acts: Omega from Bleeding Cool's publisher Avatar Press? Featuring Alestor: Hell's Executioner with artist German Nobile. And what Gillen has described as "basically me doing James Bond in Hell."
So if you are looking at a possible direction…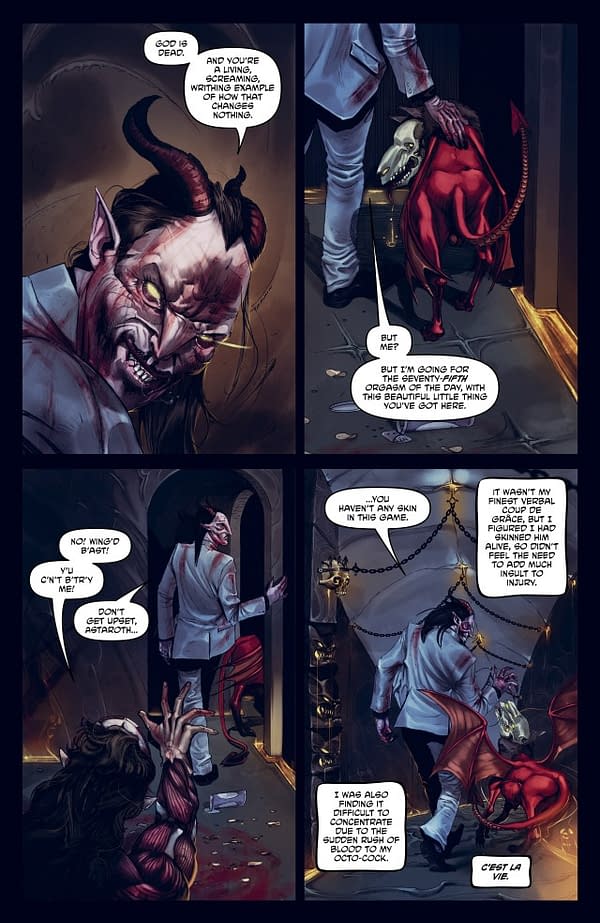 …well he's definitely got the wordplay down.
Enjoyed this article? Share it!