Five Image Comics Debut In October – And One Of Them Does It Five Times
A new month of solicitations, and all eyes turn to Image Comics's debuts, expanding and diversifying the line, especially considering recent prominent successes. The question is, which of these will be underordered the most?
Special congratulations to Kieron Gillen for including for the first time a historical consultant in the solicited credits for a monthly comic.
PRETTY DEADLY #1
story KELLY SUE DECONNICK
art EMMA RÍOS & JORDIE BELLAIRE
cover EMMA RÍOS
OCTOBER 23
32 PAGES / FC / M
$3.50
KELLY SUE DECONNICK (Avengers Assemble, Captain Marvel) & EMMA RÍOS (Dr. Strange, Osborn) reunite to bring you an all-new ongoing series that marries the magical realism of Sandman with the western brutality of Preacher. Death's daughter rides the wind on a horse made of smoke and her face bears the skull marks of her father. Her tale of retribution is as beautifully lush as it is unflinchingly savage.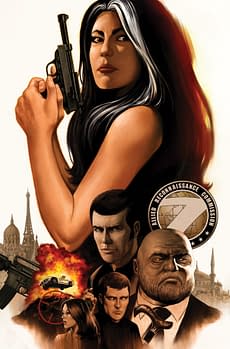 VELVET #1
story ED BRUBAKER
art STEVE EPTING & BETTIE BREITWEISER
cover STEVE EPTING
OCTOBER 2
32 PAGES / FC / M
$3.50
ED BRUBAKER and STEVE EPTING redefined Captain America with the "Winter Soldier" saga… and everything they've done so far has been leading to VELVET!
When the world's best secret agent is killed, Velvet Templeton, the Personal Assistant to the Director of the Agency, is drawn off her desk and back into the field for the first time in nearly 20 years… and is immediately caught in a web of mystery, murder and high-octane action.
Sexy and provocative, with a dark twist on the spy genre, this EXTRA-LENGTH first issue by two of the industry's best-selling creators will knock you out!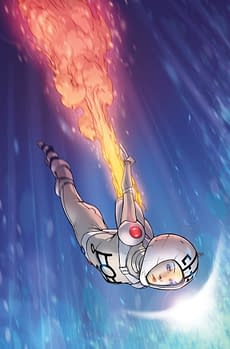 ROCKET GIRL #1
story BRANDON MONTCLARE
art / cover AMY REEDER
OCTOBER 9
32 PAGES / FC / T
$3.50
A teenage cop from a high-tech future is sent back in time to 1986 New York City. Dayoung Johansson is investigating the Quintum Mechanics megacorporation for crimes against time. As she pieces together the clues, she discovers the "future" she calls home – an alternate reality version of 2013 – shouldn't exist at all!
Blast off with the new ongoing series by BRANDON MONTCLARE (Halloween Eve) and Eisner Award nominee AMY REEDER (Batwoman, Madame Xanadu).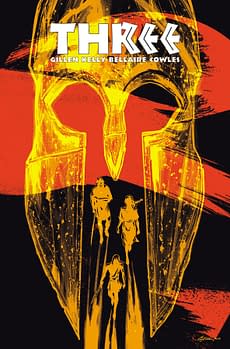 THREE #1
story KIERON GILLEN
art / cover RYAN KELLY & JORDIE BELLAIRE
historical consultant PROF. STEPHEN HODKINSON
OCTOBER 9
32 PAGES / FC / M
$2.99
When a member of the Spartan ruling class visits an isolated homestead of Helot workers, a brutal massacre is only the beginning. KIERON GILLEN (PHONOGRAM, Über, Iron Man), RYAN KELLY (Saucer County, Local) and JORDIE BELLAIRE (THE MANHATTAN PROJECTS, NOWHERE MEN) unite to tell the heroic story of three slaves and their desperate attempt to escape 300 of the finest warriors who've ever lived.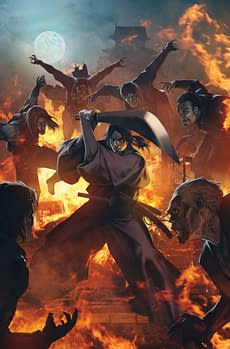 BUSHIDO #1-5
story ROB LEVIN
art / cover STUDIO HIVE
OCTOBER 2
32 PAGES / FC / T+
$2.99
VAMPIRES IN FEUDAL JAPAN!
Kichiro is an outsider in feudal Japan. Lacking the Japanese blood that would allow him to become a samurai, Kichiro must fulfill his dreams of serving the shogun in a less traditional manner… by eliminating every foreign supernatural threat that rears its fangs!
This Halloween month, treat yourself to an issue of BUSHIDO each Wednesday! All FIVE issues of Top Cow's and Heroes and Villains Entertainment's latest series will be released in October. Order now… if you dare!
Oh, and as we rumoured before, Five Ghosts is now an ongoing series…