Frank Brunner Original Cover Art To Doctor Strange #1, Up For Auction
Steve Ditko created the character of Doctor Strange, co-written by Stan Lee and appearing in Marvel Comics' Strange Tales from 1963 as a shared feature alongside The Human Torch, before the comic renamed itself as Doctor Strange. There were plans for Doctor Strange to share a comic with Iceman in the early seventies, before taking the lead in the Marvel Premiere title with writer Steve Englehart and artist Frank Brunner. This led to the character's revival in his own solo series again, Doctor Strange: Master of the Mystic Arts, also known as Doctor Strange vol. 2 which gave the character his first #1 issue in 1974, running for 81 issues until 1987. And the original art to that cover by Frank Brenner is up for auction from Heritage Auctions, going under the hammer from the 18th to the 21st of November and, at time of writing, receiveing bids of over $150,000.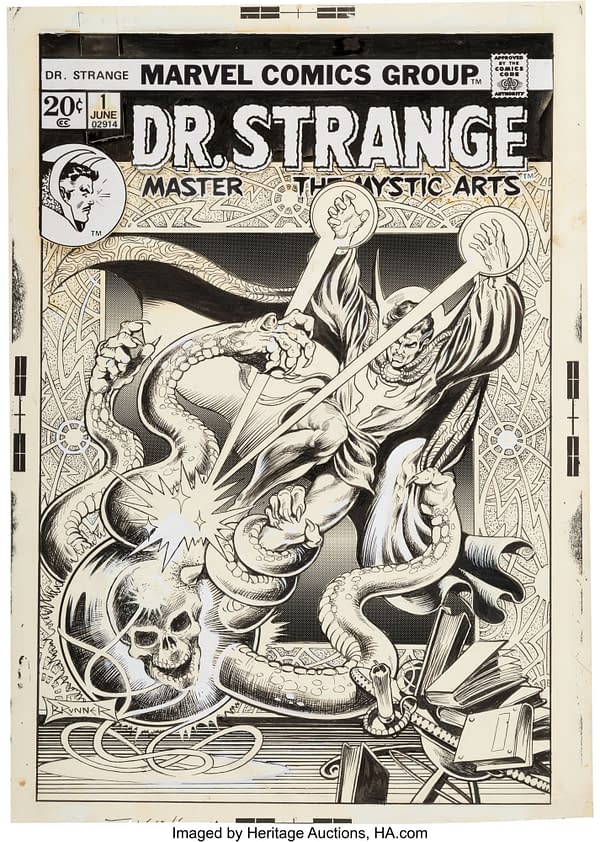 Frank Brunner Doctor Strange #1 Cover Original Art (Marvel, 1974). Doctor Strange is one of the most complex characters in the Marvel Universe. After nearly 60 years, the Master of the Mystic Arts is finally coming to the forefront as a result of his role in not only the MCU movies, but his importance in shaping the future of the comic universe. After proving his worth as a stand-out character in Strange Tales, the Sorcerer Supreme gained his own title, with this powerful image by Frank Brunner fronting the ground-breaking first issue! This image gave readers a taste of the otherworldly adventures to come — and "by the Hoary Hosts of Hoggoth", fans are still hooked! Ink and Zipatone over graphite on Marvel cover stock Bristol board with an image area of 10" x 15". Slight toning, stat logo and header paste-ups, Strange's hand cut-out to overlap text, trimmed bottom edge, pinholes, residue and oil staining, whiteout corrections, with light handling wear. Signed by Brunner in the lower left image area and in Very Good condition.