One of them created Deadpool, Cable and Domino. The other runs Marvel's TV department, behind everything from Marvel's Agents Of SHIELD to Jessica Jones to Runaways – with so much more to come. But they have a shared history.
Today's Future Foundation #2 picks up right after #1, in which we reported that Julie Power and the rest of the team were working with Yondu to rescue someone from space-imprisonment. Even though they didn't seem to know who it was.
Until they find Rebecca.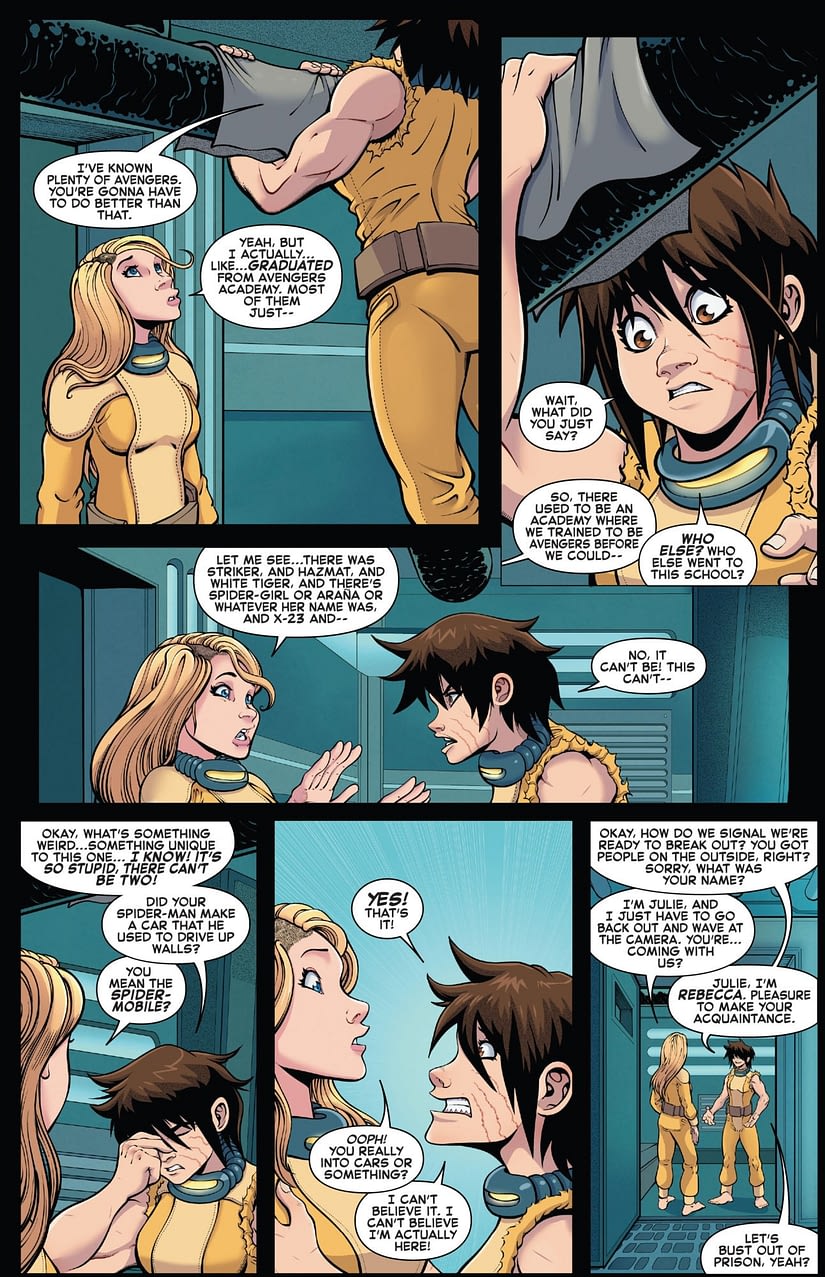 Who seems to know a lot about multi-dimensional Earths and is keen to track one down.

What could she have left behind on the ship? Would it identify her further? And, this is a long shot, could she be Rebecca Barnes? Rikki Barnes? The Bucky from Rob Liefeld and Jeph Loeb's Heroes Reborn Captain America? The reality created by Franklin Richards?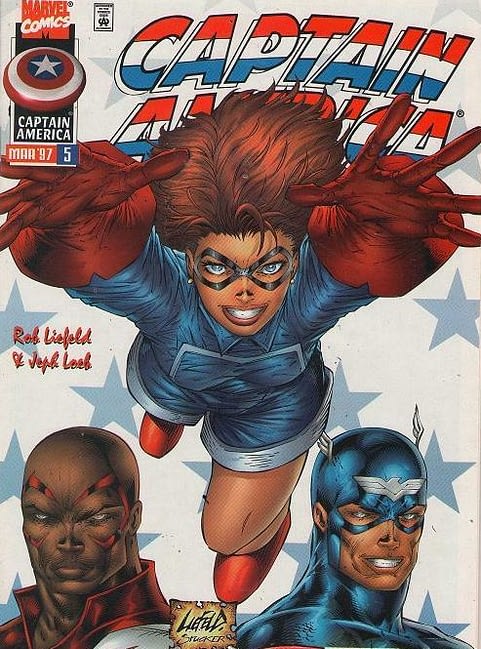 Why yes it could. As soon as she got her gear back from those who had imprisoned her…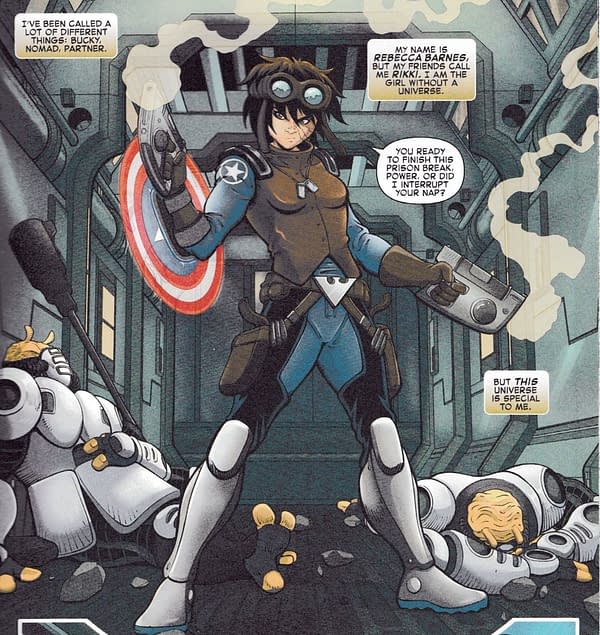 Rebecca "Rikki" Barnes is the grand-daughter of that reality's Richard and Peggy Barnes. Fighting the neo-nazis, the World Party, of which her brother was a member, she created a new identity, eventually captured and tied to a nuclear missile by the Red Skull, freed by the Captain America of this reality, later claiming the Bucky name and partnering with Cap in the modern day.
After all the heroes left that reality in a celestial swoosh, she created the Young Allies to continue fighting fascism. Her Earth would then be brought to the 616, becoming a new Counter-Earth ruled over by Doctor Doom. Eventually abandoned and taken over by The World Party, Rikki Barnes continued her fight, including more threats from other dimensions, and working with the reality hopping Exiles. After journeying to the 616 Earth, calling herself Nomad, Onslaught reveals that the real Rikki had died and she was just a construct made by Onslaught himself so he could use the energy he had stored in her as an anchor to pull himself back into Earth-616. Eventually, Rikki had Gravity kill her so that Onslaught could not return and destroy Earth. However, Captain America later has a dream suggesting that something of her still remains.
But that was a while ago. So what's happening now? Could a space-faring, dimension-hopping Rikki Barnes have returned to the reality of the Future Foundation? A walking dimensional oddity created by Franklin Richards may have quite a lot of interest to someone like The Maker… especially since they have history. But more of that to come…
FUTURE FOUNDATION #2
(W) Jeremy Whitley (A) Will Robson (CA) Carlos Pacheco
BREAK OUT: THE FUTURE FOUNDATION RESCUES…THE MAKER?!
The Future Foundation and Yondu planned the perfect prison break, but nobody counted on having to stage two! But when their security breach reveals that Mr. Fantastic is locked away in the galaxy's greatest prison, their perfect plan falls apart. Now Julie – and the person she came to break out – are on their own as Alex leads Yondu, Dragon Man, and Bentley into a high-security cellblock full of the most dangerous criminals in the galaxy to save a friend and mentor. But the real Reed Richards is back on Earth – and the Future Foundation is about to break out his greatest enemy. Rated T In Shops: Sep 04, 2019 SRP: $3.99
Enjoyed this article? Share it!