Gail Simone and David Baldeon's Domino series has been a highlight of Marvel's X-books, so we were personally sad to learn that it would end with January's Domino #10. However, the series returns this week as Domino: Hotshots, a 3-issue mini-series which expands Domino's team of mercs to include Black Widow, White Fox, Atlas Bear, and more. But the question remains: what happens after that?
Well, according to Simone, they've already got something big planned for the future after Hotshots, and if sales are good, we could see more of the series after that. According to Simone, the Domino book was at first meant to be just three issues, but sales got it bumped to five and then ten. Marvel and the creators made the decision to do Hotshots as a mini-series, but it seems like there's a possibility for Domino to become ongoing, or at least an ongoing series of minis.
Simone urges fans to tell their retailers to order copies of Hotshots, and we'll add that the book comes with our personal highest recommendation. It so happens that I buy two copies of every X-book, the single issue when it comes out, and the trade paperback for my kids when that comes out. My X-Men obsessed ten-year-old daughter was asked to make a superhero mask as part of a school project recently, and Domino was one of the characters she used for inspiration, based on her enjoyment of the first trade paperback of the series, so I can personally vouch for the book's appeal to readers young and old.
(Side note: the other heroes she used were Catwoman and All-New Wolverine, resulting in a great opportunity for her to slap down boysplaining from classmates who insisted "there's no girl Wolverine." Sorry, kids, but you're wrong about that. Maybe you should read the comics, 10-year-olds! Well, actually, maybe that's not actually possible since they cost four bucks a piece and so are reasonably out of any kid's budget, but we digress…)
Check out Simone's tweets below, and look for Domino: Hotshots #1 in stores on Wednesday (and see a preview here).
Okay, here's the deal with HOTSHOTS!

When @david_baldeon and I were originally asked to do DOMINO, @marvel originally was just doing three issues. But they liked what we did, so that got bumped to five. Somewhere, it got bumped to ten, with potential to be ongoing… 1/

— Gail Simone (@GailSimone) March 4, 2019
And it was felt a mini would be a great showcase, it fits our schedule and @marvel's schedule (Marvel has been AMAZING this whole time), because a cool huge thing is coming that we can't talk about yet.
If HOTSHOTS gets a nice response, we will be doing more, absolutely! 3/

— Gail Simone (@GailSimone) March 4, 2019
It's a little more serious than DOMINO was, partly because of the scale of the threat and partly because the new members are not laugh riots… :) Black Widow, White Fox, and Atlas Bear.
Oh. And a certain guy who heals a lot.

5/

— Gail Simone (@GailSimone) March 4, 2019
Thank you again to @chrisrobinson, @shelfer007, @aburtov and most especially my best partner ever, @david_baldeon!
HOTSHOTS #1 this Monday. DOMINO vs…well, pretty much the soul of the Marvel Universe!
Thank you!

End!

— Gail Simone (@GailSimone) March 4, 2019
And as to what to expect from the series, well…
Issue three of HOTSHOTS has the most effed-up thing I've written in a Marvel comic and I wrote an issue once where all Deadpool did was thwack his penis repeatedly.

— Gail Simone (@GailSimone) March 4, 2019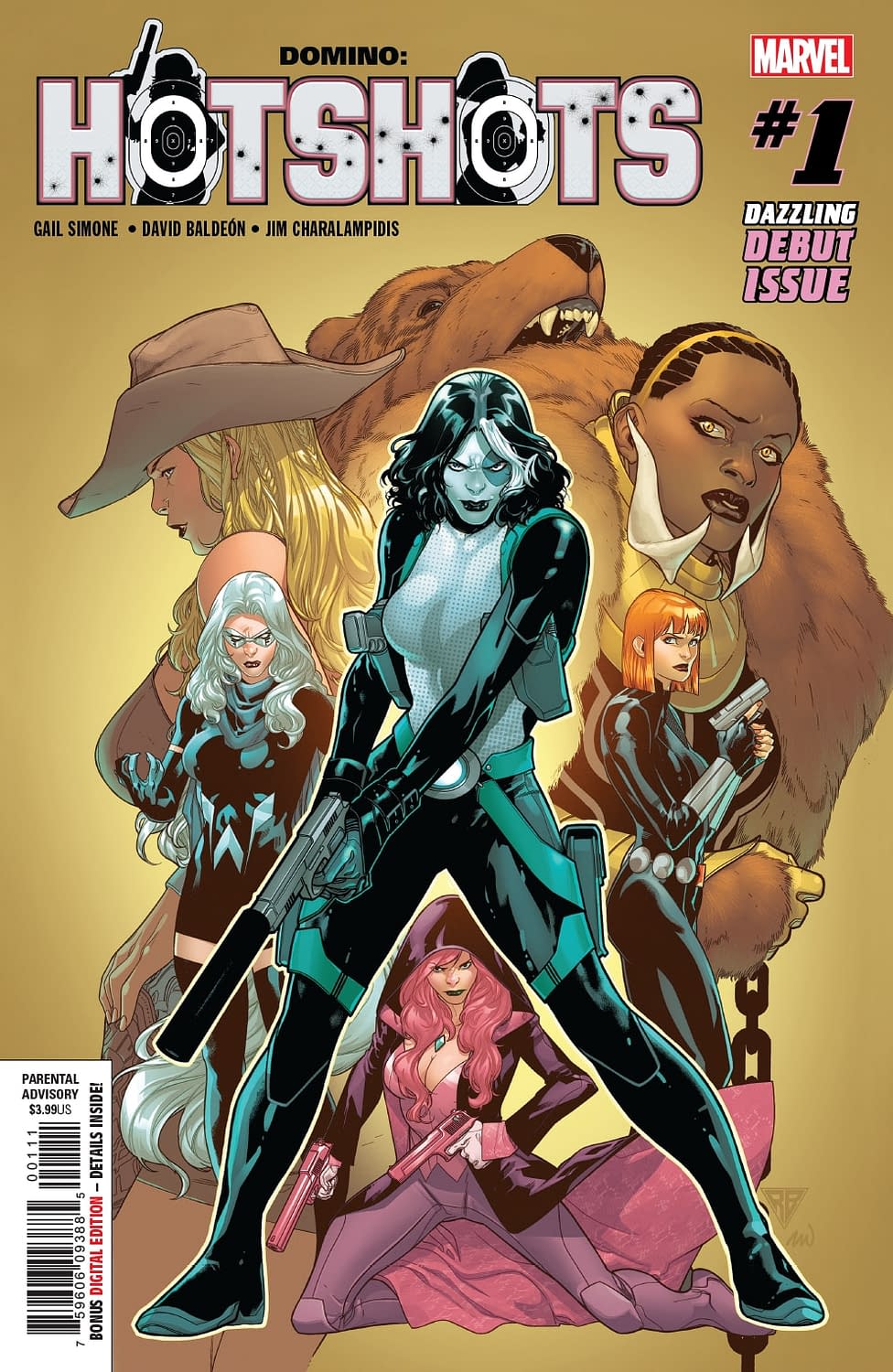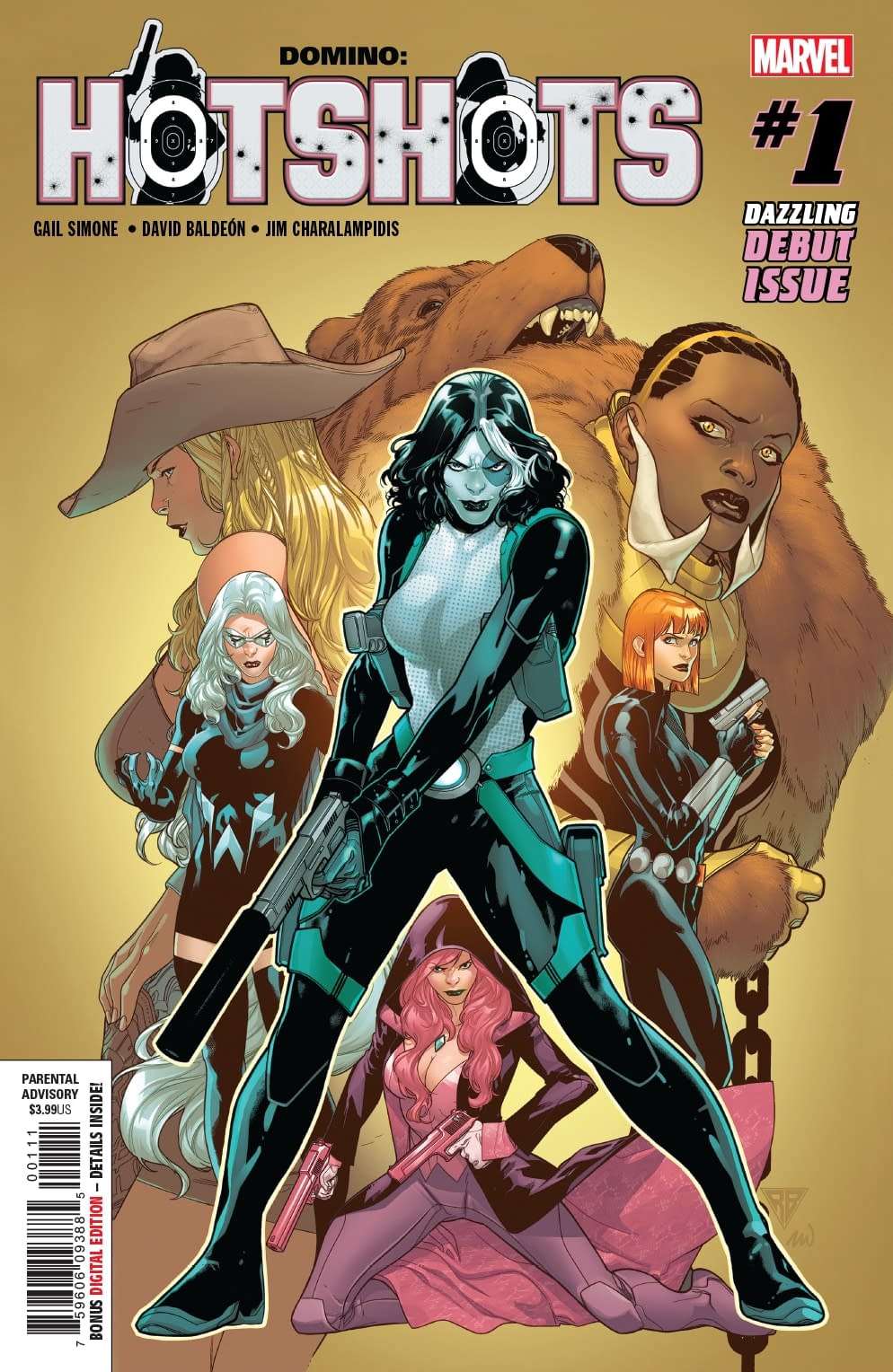 Enjoyed this article? Share it!