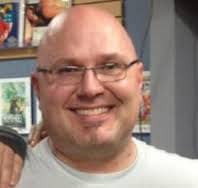 By Odins beard! By Toutatis!
Sorry, wrong Gaul.
Thomas Gaul of Corner Store Comics and Beach Ball Comics in Anaheim, previously Recording Secretary of ComicsPRO, has been elected president of the ComicsPRO board of directors, currently running a comic retailer summit.
Gaul replaced founding president Joe Field after nine years, who remains on the board.
Ralph Mathieu, of Alternate Reality Comics, Las Vegas, was elected to the board. Carr D'Angelo of Earth 2 Comics, in California was re-elected and made Vice President. Eric Kirsammer of Chicago Comics was also re-elected.
Vice president, Carr D'Angelo (He replaces Gary Dills, Jr. of Laughing Ogre of Ohio and Virgina, who remains a director.)
Calum Johnston of Strange Adventures, Canada replaces Thomas Gaul as Recording Secretary.
Enjoyed this article? Share it!