[rwp_box_recap id="0"]
Fifty years gone in the course of a single night.
In the Spring of 1969, after the summer of love and before the Manson murders, 17-year-old Katherine Angela Sartori lives the life of a typical free spirit in the '60s. Self-described as the "Brooklyn-born Siddhartha," she parties, takes drugs, disobeys her parents, and eschews school. She elects to spend her school nights walking the neighborhood with her friends, now and then ending up at a local bar which doesn't check the IDs of its underaged patrons.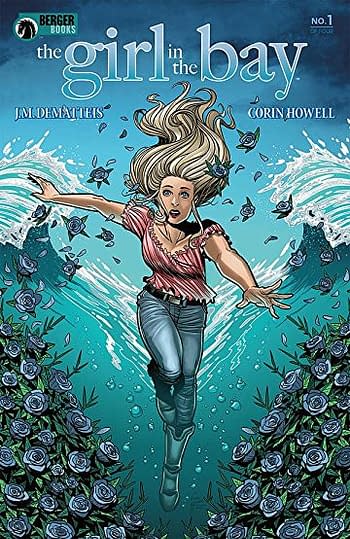 Affected by a bad acid trip, this particular night out sends Katherine running from the bar into the path of a mysterious stranger who introduces himself as Hugh Lansky. Leaving with him to walk off the high, the two commiserate over their favorite music and their distaste of crowds. Under the starlit sky, she kisses him, expecting the night to go further with him until he suddenly and unexpectedly begins stabbing her over and over again. Pushing her into the water, Katherine hears her favorite song about a dead girl playing her head, wondering if the writer actually penned it about her.
Instead of sinking to the depths of the bay, Katherine breaches the surface and crawls to shore before slowly making her way back to her apartment building. She finds her apartment empty however, her cries alerting a neighbor who invites her inside to pass time while her clothes dry. Struggling with the idea that her parents up and moved in the middle of the night, Katherine questions her neighbor about their disappearance until she notices the date on a newspaper has placed her in the year 2019…fifty years after being stabbed by Lansky. Using an old Christmas card left by her parents at the apartment building, Katherine hurries from Brooklyn to track her family down…
Writer J.M. DeMatteis (Kraven's Last Hunt) flexes his writing finesse at this point in the issue, delivering an unexpected twist that will pull readers head-first into issue #2. He delivers a fresh take on a reanimated corpse who goes on the quest to solve their own murder, treating Katherine as a character who almost went to sleep and woke up 50 years later. Artist Corin Howell (Star Wars Adventures: Tales from Vader's Castle) not only keeps up with DeMatteis, but adds her own twists in the art that were missed on the first time reading through issue #1. As an added bonus, she does the cover and interior art, so readers will know what they're getting with aesthetics before they even open the comic.
The Girl in the Bay is a monthly series, with issue #2 set to release in early March and is well worth a place in your hold if you're interested in murder mysteries with a twist. For anyone missing comics like Rachel Rising or Locke and Key, this is a highly recommended new series to pick up at your local shop.
Can Katherine solve her own murder or is fifty years too late?
[rwp-review-ratings id="0"] [rwp-review-form id="0"]
Enjoyed this article? Share it!