Green Arrow #39 Advance Review: A Stellar Start for the New (Interrim) Creative Team
Oliver Queen arrives in the nation of Rahapastan to deliver food and supplies. He had previous experience in this country thanks to a duel with Deathstroke that left the nation in worse state than when the two men arrived. Now, he hopes to do some good for the people. The nation is in shambles, and the locals tell him that he should turn around and leave. Unfortunately, his transportation is shot down shortly after arrival, and it looks like Green Arrow will be needed if any good should come to Rahapastan.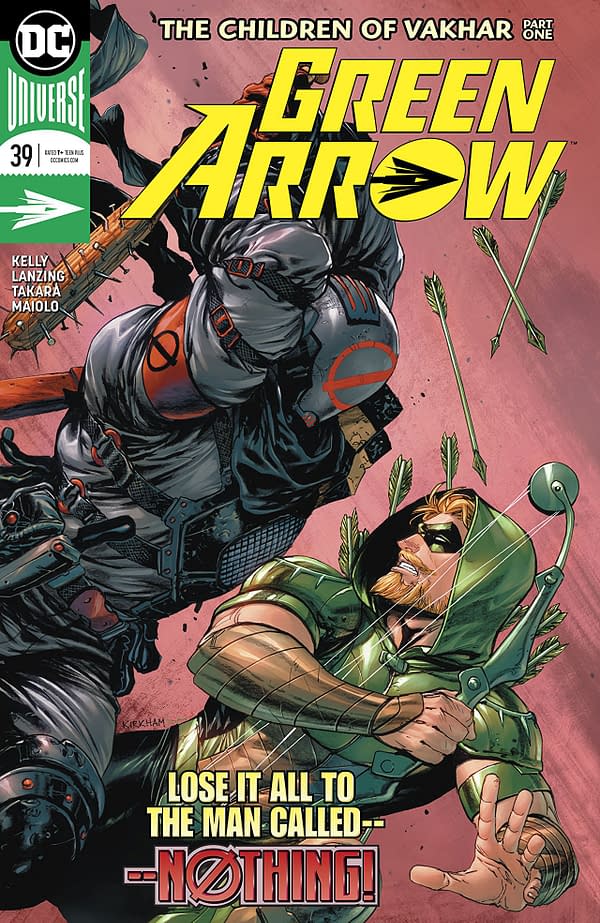 This issue of Green Arrow, now with the writing team of Collin Kelly and Jackson Lanzing as well as artists Marcio Takara and Marcelo Maiolo, takes the idea of the "white savior" to task by having Oliver Queen fall flat on his face upon arrival in Rahapastan.
Quick aside: why does DC feel the need to come up with more fictional nations in which to set stories like this? There are plenty of actual Middle Eastern nation in shambles, at least in part, because of outside influence to choose from.
In any case, it's a compelling narrative due its taking a once-common trope to task and framing it with a beloved character who should really know better.
That brings me to the one sticking point with this story; Green Arrow really should know better. This story would make a little more sense for the character if he were following along someone else and showing them why something like this goes wrong.
In any case, the twists work well and are shocking. Lanzing and Kelly seem intending to take this to serious places. It also makes the idea that Ollie can't just fix things with his money and gadgets work. It captures why these are complex situations. It even dives a bit into nihilism. Plus, it coincides well with the current Justice League story from Christopher Priest.
Oh, also the Trick Arrows are back and abundant. I'm really happy about that.
Marcio Takara's artwork looks great and brings a detailed-yet-distinctly cartoonish style to it. Green Arrow looks great, and the villain's armor is unique and solid too. Marcelo Maiolo's color work is damn good too.
Green Arrow #39 is a promising first step for the new creative team, capturing the adventure mixed with political commentary that makes a truly great Green Arrow story. Takara and Maiolo bring some impressive talent to the table too. This one gets a recommendation. Pick it up.
Edit: This is an interrim team until the Benson sisters take over Green Arrow.