Guardian Newspaper Drops Cartoonist Steve Bell After 40 Years
I grew up tracing Steve Bell cartoons. His cartoon strip in The Guardian newspaper 'If…' was what I turned to first in the paper my parents bought twice a week. Collections at birthdays helped me catch up with what I missed. His Margaret Thatcher was my Margaret Thatcher, eventually, his John Major was my John Major, until I started to work out my own style. But now after almost forty years of daily If… strips and regular larger editorial single-panel cartoons, Steve Bell has been dropped by The Guardian.
The Guardian has had to install swingeing cuts in staff of late, and while Steve Bell is a jewel in their crown, he is an expensive jewel, with a high 6-figure salary. His politics have also proved tricky for The Guardian of late, he's always been a left-winger and so critics have seized upon his portrayal of Israel for criticism, as well as his parodies of criticisms of anti-Semitism against the left.

While a recent portrayal of UK Home Secretary Priti Patel and Prime Minister Boris Johnson as 'bullying bulls' was interpreted by some as portraying Priti as as some kind of Hindu demonic cow.
The Guardian editor Kath Viner announced that the paper was losing 180 jobs last week. Chris Williamson, former Labour MP who was suspended from the Labour Party for his comments over party allegations of antisemitism, and losing the following Election, tweeted out "More change at The Guardian. Steve Bell, cartoonist since 1981 and recently accused of racism over his caricature of Priti Patel as a bull, is leaving. Contract won't be renewed next year. Decision unrelated to wider job cuts. The Guardian has no comment."
However Steve Bell responded "Contract ending has everything to do with budget cuts and nothing to do with Priti Effing Patel!" But either way, I understand his contract will not be renewed when it expires next year. Well, I have to respond the only way I can. Tracing again…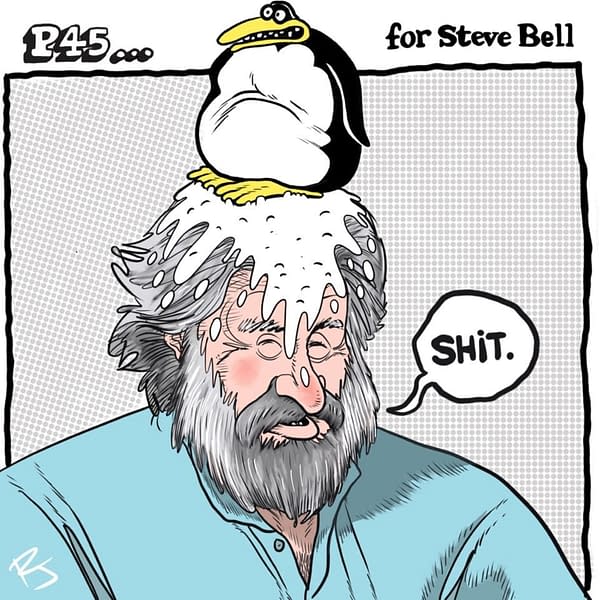 Steve Bell is also on the board of London's Cartoon Museum, and has curated many shows for them. Hopefully this is something he will continue to do.