Next week sees DC Comics publish Batman #86, the first issue of James Tynion IV, Tony S Daniel and Danny Miki's new run on Batman. On his mailing list, Tynion has been teeing up a couple of new characters, the assassins Gunsmith and Mr Teeth. And in his new mailing list, Tynion shares the script that introduces them in the new issue – with the proviso that there will be more on their backstories in Batman #88 and later in May 2020…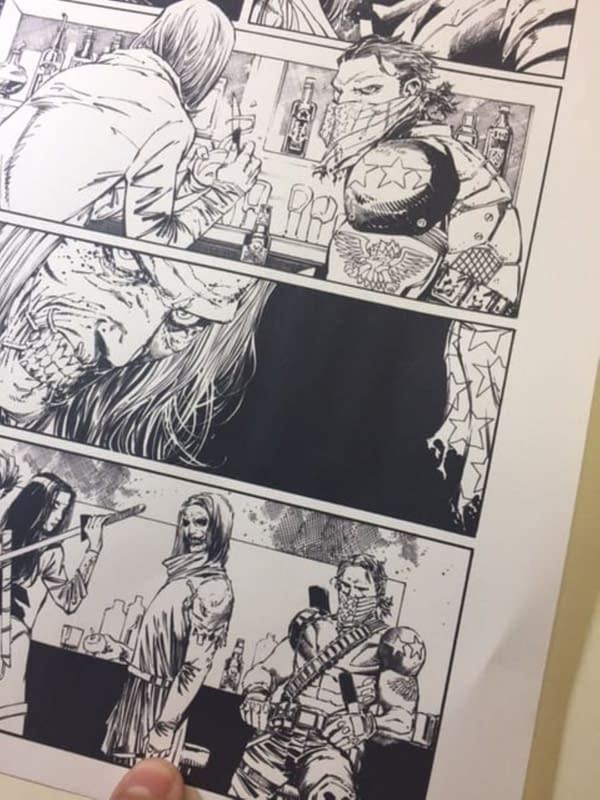 GUNSMITH should look a bit like a peak Wildstorm character – He has an American flag Bandana covering the bottom of his face. His body is covered in ammunition, and he has three large assault rifles on his back. And it's clear there are MORE guns all over his person. He looks tough and Military. Stocky build. A former soldier, and former Blackwater style mercenary. If he's showing any skin, he has a tattoo of a cross on one shoulder and a tattoo of a bald eagle on the other.

MR. TEETH should look like a fucking nightmare. I see his mouth being held open by hooks (NOT in a smile – no Joker or Batman Who Laughs vibe to him), so his teeth are always showing. It's almost skeletal. He might also have a necklace of teeth around his neck. He is dressed all in strange white. Maybe he's albino, to boot. Honestly, Tony, just make the creepiest fucking character possible. He is an insane serial killer who realized he was good enough get paid for what he does.
These are two of four characters Tynion will be introducing to the run.
The next two characters who appear in my run are THE DESIGNER, who is the defacto big bad of THEIR DARK DESIGNS, and PUNCHLINE, who is operating in the shadows of this arc and will get her cover debut in the next round of solicits. I'm really really excited for you to meet all of them, but Punchline is the one I am especially eager for you to meet.

I want to show you the Jorge Jimenez design for her, but I think DC Publicity would rise out of their holiday hibernation chambers and send its assassins to get me.
And DC's own assassins look even scarier than these four.
BATMAN #86
(W) James TynionIV (A) Danny Miki (A/CA) Tony S. Daniel
It's a new day in Gotham City, but not the same old Batman. With Bane vanquished and one of his longtime allies gone, Batman has to start picking up the pieces and stepping up his game. Batman has a new plan for Gotham City, but he's not the only one. Deathstroke has returned as well, under a mysterious new contract that could change everything.
Beginning a whole new chapter in the life of the Dark Knight, the epic art team of Tony S. Daniel and Danny Miki are joined by new series writer James Tynion IV!In Shops: Jan 08, 2020 SRP: $3.99
Enjoyed this article? Share it!