Advance Hawkman #1 Review: The Winged Warrior Returns in Excellent Fashion
Hawkman has dove into ancient ruins of an off-shoot society to Gorilla City. Within it is the Nautilus of Revealment, an artifact that could potentially help Carter Hall dive into all his past lives for information. That said, Gorilla City never leaves anything unprotected, and Hawkman must navigate the dangers of the ruins to attain the Nautilus. Even if he gets it, he cannot operate the artifact on his own.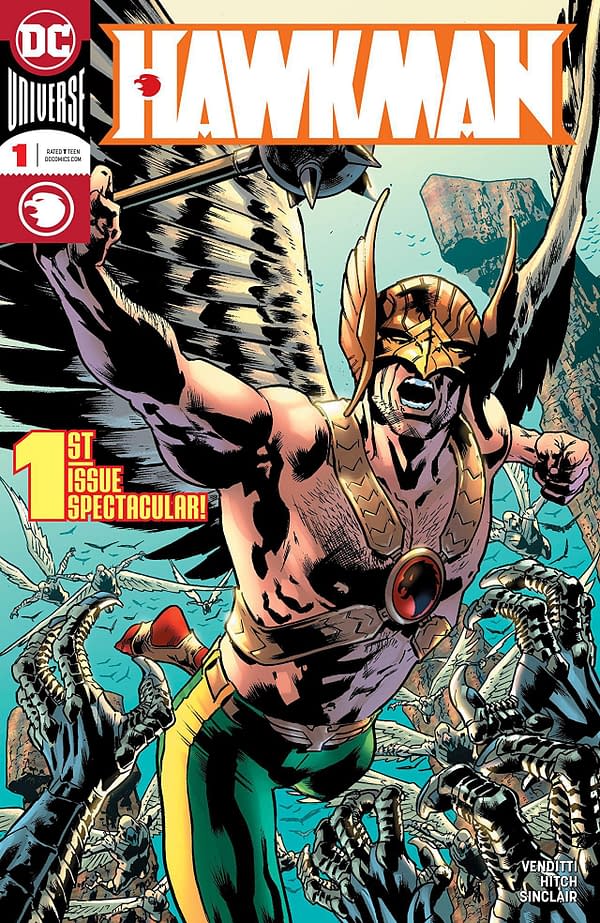 Hawkman is one of my favorite DC heroes, and it's pained me how little he's been seen since Savage Hawkman, Justice League of America under Geoff Johns and Jeff Lemire, and the first arc of Justice League United. His return with Dark Nights: Metal was cool, but I wasn't sure initially if he would be back for good.
Well, he has his own title again now under the talent of Robert Venditti and Bryan Hitch, and I'm very pleased.
This first issue focuses upon one of the defining qualities of Carter Hall: his fascination with the past and his need to explore. He's an archaeologist after all, and even the underrated first arc of Savage Hawkman didn't focus that much on his career.
This Carter Hall is more subdued than previous incarnations. He's friendly to those willing to help, and he is willing to ask for help when he needs it. He still has a penchant for violence and rage, but it's less pronounced.
The book is text-heavy, and it slows down the plot somewhat. However, this isn't an overwhelming issue, nor does it kill the book.
Bryan Hitch's artwork lives up to the high expectations I've come to have for the artist. Hawkman himself looks great, the splash pages are given a lot of detail and care, and the actions scenes flow very well. The characters are given a lot of expression too. This is a great-looking book.
Hawkman #1 has me very much excited for the future of this character. His backstory is reexamined, his personality is given depth and variation, and the artwork is awesome. Venditti and Hitch did some great work with this one, and I highly recommend checking it out on June 13th.