Her Infernal Descent #2 Review: Hell Gets Kafkaesque
[rwp-review-recap id="0"]
Lynn stands before Judge Franz Kafka as he deliberates on the fate of the sinners that stand before him. He sends her to the back of a line of multitudes, and William Blake rejoins her. She is unwilling to wait the eternity it would take for the line to move, so she has Blake help her find another way deeper into Hell.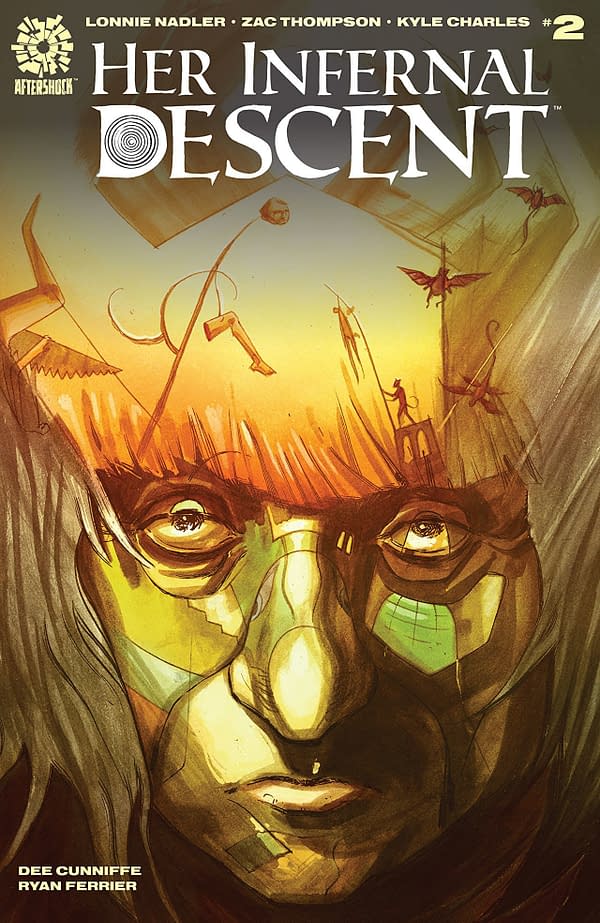 Her Infernal Descent #2 continues its riff of historical figures in tandem with more exploration into Lynn and her family.
Franz Kafka being made into an eternally deliberating bureaucrat is a stroke of genius unto itself. One could imagine no more horrific a role for the man for whom the term "Kafkaesque" was coined.
Lynn continues to display her indominable spirit which has gotten her this far into Hell itself. That said, we see her weaknesses and what drives her forward. We also learn details of her family, and we see the inevitable possibility that they did something to earn their place in this realm.
More of Hell is explored. Dante is still the primary inspiration, but the comic adds some unique and intriguing twists to perdition. I won't spoil, but it can get quite haunting in places.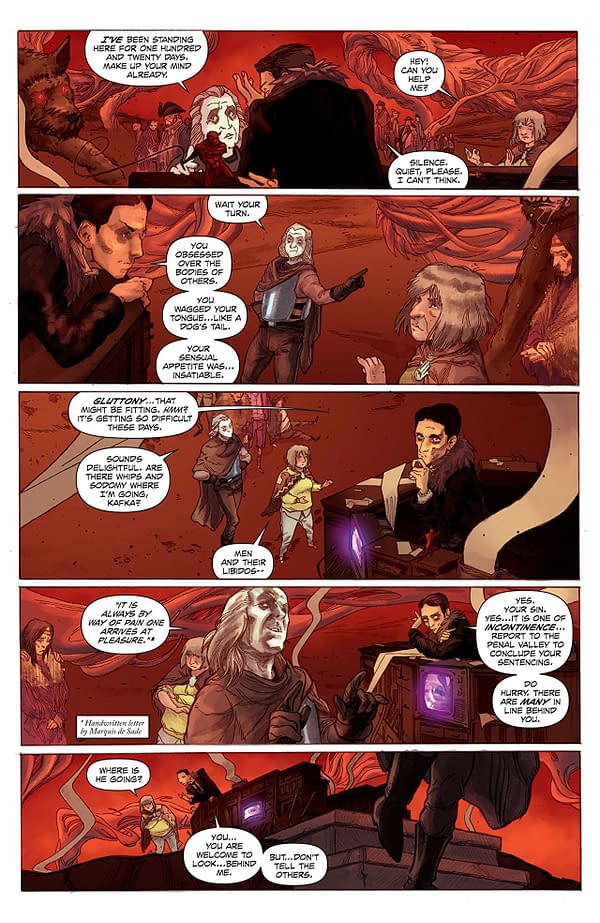 Kyle Charles's artwork continues to impress with its ability to show subtle detail as well as grandiose depictions of biblical horror. It's a faithful recreation of Inferno's descriptions while filling in the gaps with creativity. Dee Cunniffe knows well how to play with color and contrast, and his trade is plied masterfully in Her Infernal Descent #2.
The second installment of this new AfterShock title still has me both hopeful and engaged. Both Her Infernal Descent #1 and #2 are what I expected while showing nuance and creativity in ways I couldn't have predicted. The characters and premise continue to fascinate, and I look forward to where the series goes from here. This one earns another recommendation. Give it a read.
[rwp-review-ratings id="0"]
[rwp-review-form id="0"]