How Bill Schanes Inspired The Return Of Negan in The Walking Dead
Regular Bleeding Cool readers will be familiar with William / Bill Schanes. Teenage founder of Pacific Comics almost fifty years ago, the comic store that became a chain, a creator-owned publisher and a comic book distributor before it was bought up by Diamond Comic Distributors in the eighties. He stepped down from Diamond Comic Distributors in 2013, though he continues to visit comic book stores, travelling the world. As a pioneer in the establishment of the comic book direct market, which enabled stores to order comics accurately from publishers with better discounts, Bill Schanes changed the very nature of the artform and industry in the USA and beyond. He also oversaw the rise of Diamond to dominate the direct market, with exclusive deals for the biggest comic book publishers. Schanes was also part of Diamond's early forays into digital distribution. He remains a constant source of information.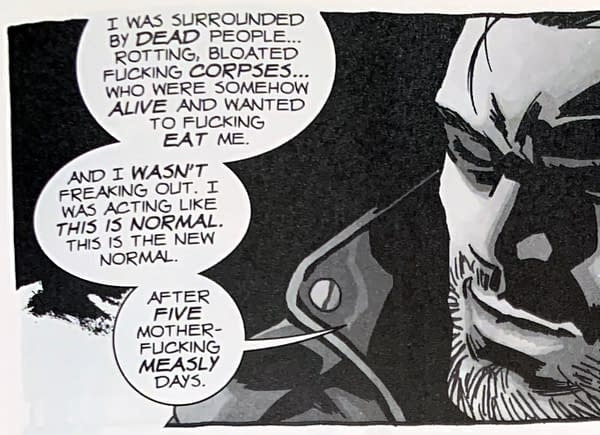 In the back of today's The Walking Dead: Negan Lives, Robert Kirkman talks about Bill Schanes and Image Comics publisher Eric Stephenson, and the inspiration for the comic, bringing back The Walking Dead to comic books, after he had made the decision to bring it to an end, and that's how it would be.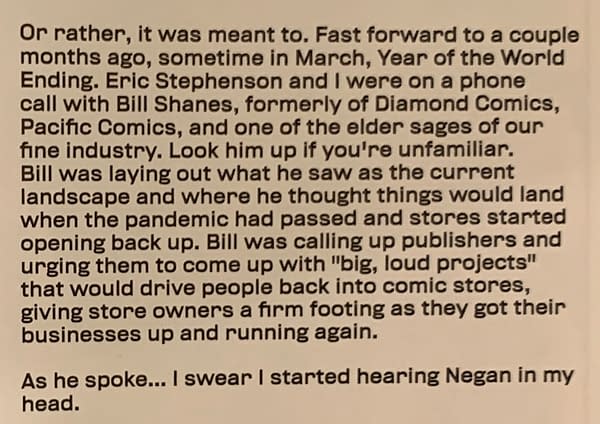 Or rather, it was meant to. Fast forward to a couple months ago, sometime in March, Year of the World Ending. Eric Stephenson and I were on a phone call with Bill Shanes, formerly of Diamond Comics, Pacific Comics, and one of the elder sages of our fine industry. Look him up if you're unfamiliar. Bill was laying out what he saw as the current landscape and where he thought things would land when the pandemic had passed and stores started opening back up. Bill was calling up publishers and urging them to come up with "big, loud projects" that would drive people back into comic stores, giving store owners a firm footing as they got their businesses up and running again.
As he spoke… I swear I started hearing Negan in my head.
This Walking Dead comic book was sent to comic stores for free, for them to sell at the full $5 cover price today, and maybe, just maybe, raise a bit of revenue at this difficult time. And now Negan is back for one last (maybe) hoorah. Say, I wonder what else Bill Schanes is up to? Or Robert?