"I'm Just Trying To Be A Better Person, Man" – The Jamie McKelvie Spotlight With Kieron Gillen At San Diego Comic-Con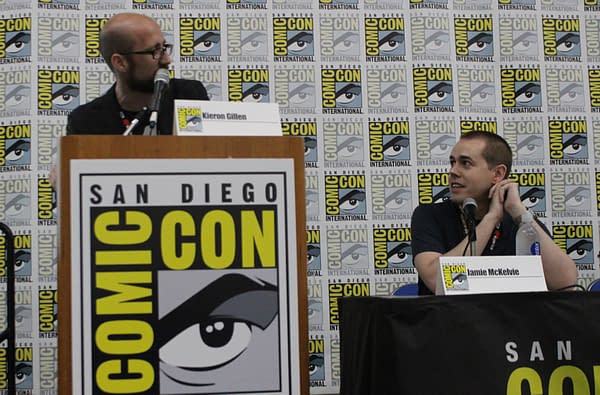 Alex Roberts writes for Bleeding Cool:
"In 1980, a star was born in London… Jamie McKelvie was also born."
This is how Kieron Gillen began the panel celebrating Jamie McKelvie, renowned comic artist. Gillen, long-time collaborator of McKelvie, moderated the panel featuring only the two of them.
McKelvie discussed he became an artist, drawing superheroes like Spider-Man while he was a child, despite not reading the comics. The first comic he began reading was the Transformers series, roughly around the age of five. McKelvie's brother, seven years his elder, was an avid comic fan and introduced him to comics- many of which perhaps a younger child should not have been reading, such as 2000 AD. Gillen and McKelvie discussed the influence of 2000 AD on his art style. Steve Yeowell and Zenith were also cited as an artist and work that McKelvie was influenced by.
McKelvie was also a big fan of early 90's X-Men, reading Jim Lee's run right from issue #1. The art styles of the X-Men comics drew McKelvie into the storytelling potential, "how they look tells part of the story… how they dress tells you a lot about them." The pair discussed how X-Men managed to include fashion at a time when it wasn't a focus in the medium.
Growing up in a "very boring" town, McKelvie discussed how music was an escape for him. The era he was raised in, namely the pre-internet era, it was easy to feel you were alone if you were into something viewed as "alternative" at the time. While Gillen and McKelvie discussed the music they enjoyed growing up and the genres of Brit-Pop and Heavy Metal, it is clear to see how important a role music played in both of their childhoods and growth- especially with McKelvie playing the drums and joining various bands. In getting into the comics industry, Jamie McKelvie discussed visiting Page 45, a comic shop where his love for Sandman lead him to continue to read other books after he finished. Moving on to Skeleton Key and Powers, he began following people he enjoyed on message boards and that is what locked him into the industry. It was after volume 9 of Sandman that he started drawing again for the first time since childhood, stating that he "didn't realize comics could look like that."
"Jamie, tell me how you met me," started the story of the Gillen and McKelvie's long friendship. In 2003, McKelvie had done some pages for a black-and-white comic anthology and ran into Gillen, who had also just finished a black-and-white comic anthology, while looking for a friend who had been sharing a table with him. They discussed Phonogram in brief and thus began their collaboration. Drawing on both of their loves for music, Phonogram is a classic among comic fans.
When asked what he wants to improve on, McKelvie joked, "I'm just trying to be a better person, man." Following up with a real answer, he addressed how his frustration often leads him to a breakthrough on his art. This is a very real and important answer for aspiring artists about not getting discouraged in your work.
Apart from designing Captain Marvel's new costume, you can find Jamie's work in a wide variety of places, perhaps most notably the currently running The Wicked and the Divine.
On a personal note, if you want to see what I would consider some truly impressive examples of his talent, look into his Young Avengers- there are some full page spreads that are truly astounding.