Is Now The Time To Invest In Katy Keene Comics?
With a little under a month to go before Katy Keene makes her fabulous television debut, it's time to ask a tough question. Should you invest in Katy Keene comics?
The short answer is yes — Katy Keene doesn't have a lot of key issues, so she's still an attainable goal for many new collectors. As is tradition states, said key comics pertaining to Katy Keene have seen a bump in value. Katy Keene's first appearance in Wilbur Comics #5 (1945) has seen a price increase in higher grade, but mid to lower fluctuates in price. The highest grade on GPAnalysis for Wilbur Comics #5 is a 9.2, with one selling in 2018 for $10,755. At that point there wasn't a lot of buzz for the television show, as it is her first appearance it's still the most important book in the Katy Keene universe.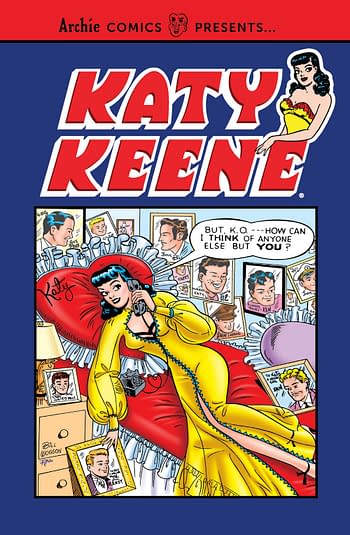 An 8.5 copy of the same issue sold for $4320 in May of 2019, shortly around the time when buzz for the show was starting. A 6.0 sold for $1143 that same month, and there are two currently in for sale until the end of the month. A 6.0 with off white to white is up for sale at $2350 at My Comic Shop, while another 6.0 with off white to white pages is on ebay for buy it now at $2650. Three years prior the average price for a 6.0 was $600, so while this isn't a huge price jump, it does show a steady increase in value. Meanwhile a 4.0 sold for $660 in December of 2019, when in January a 4.0 copy sold for $1133. This price drop could be due to the time of year, so I personally wouldn't worry about that. There is a 3.0 with off white to white pages being sold on eBay for $1600 (or best offer).
But what about Katy Keene #1 (1949)? From my own recollection that comic has always been lower on the scale — but it's still as important as it is her first solo comic. According to GPAnalysis, the highest grade on consensus is an 8.5, but it's been over 10 years since it was for sale. A 6.5 sold for $925 in September of 2019, while a 3.5 sold for $1000. This is a huge discrepancy between the two grades, but again, interest in the show did start in May. This is still a solid book to own, and any Katy Keene or Archie fan should have it in their collection.
Katy Keene has had a few other first issues and spin off books, but those are still reasonably priced and easy to obtain. If you're looking to invest and make a quick buck — I'd sit this one out. After Riverdale aired prices in key Archie books did decline somewhat. I'm personally still waiting on any kind of big price jump on my Sabrina the Teenage Witch keys. If you're looking to buy and hang on to the books, or you're an Archie Comics fan, I think you could stand to wait until after Katy Keene airs on the CW. I personally think this will still be an affordable series to buy after the show.