It Isn't Easy Being Green for Beast Boy & Martian Manhunter (Spoilers)
Beast Boy and Martian Manhunter undergo changes for Dawn Of DC, as the Lazarus juice fall across the DCU
---
Changes are coming to the DC Universe tomorrow, courtesy of Lazarus Planet: Once We Were Gods and Action Comics #1051 that will play out across the DCU. We mentioned a few occurring to Superman and Aquaman. But here are a couple more, to Beast Boy and Martian Manhunter that may have some lasting impact on their respective titles.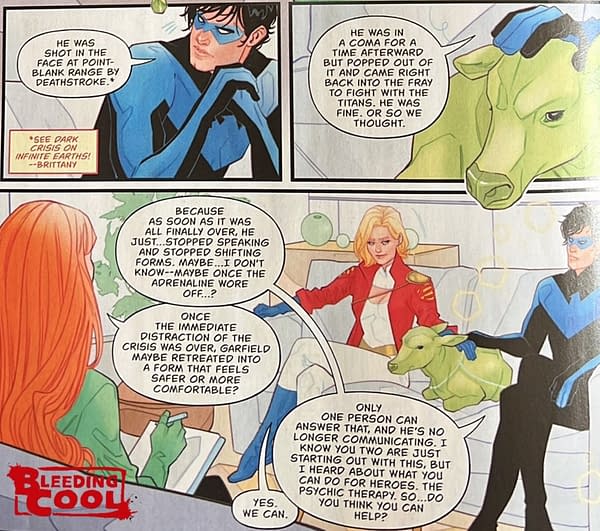 Beast Boy is undergoing psychic therapy after Dark Crisis left him uncommunicative, thanks to Omen and Power Girl's new psychic abilities, gained from the Lazarus Juice.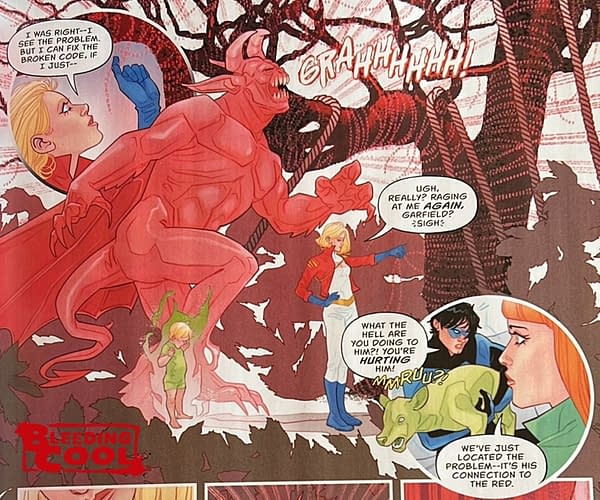 And it's all down to the Beast Boy connection to the animalistic morphogenic field known as The Red. That Lazarus Juice is getting in everything. Including more psychic powers being gained by others, such as Raphael Arce, gaining empathy powers, able to suck away people's pain.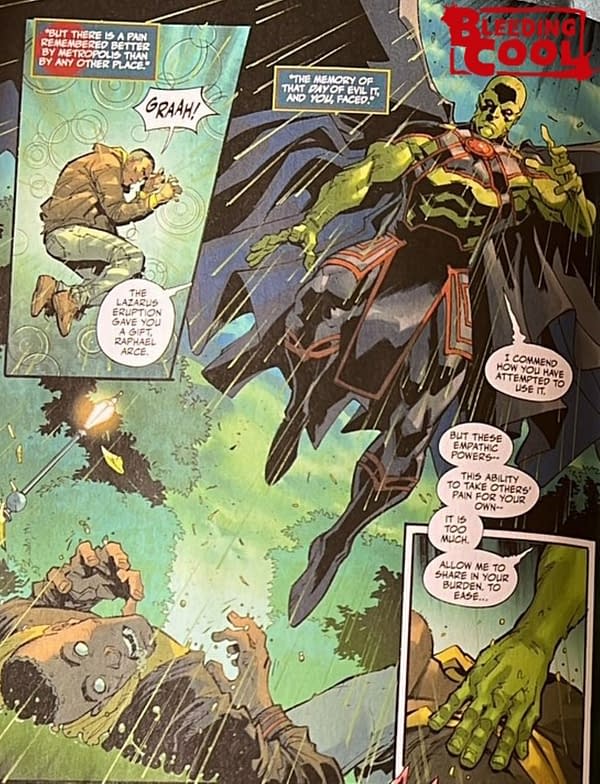 But when it's memories of Doomsday killing Superman, that memory has a bit more of a memetic hold than others, and it's time for J'onn J'onzz to transform as well…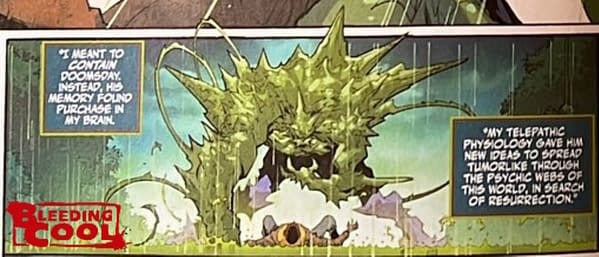 That Lazarus Juice gets everywhere!!! Action Comics #1051 and Lazarus Planet: We Once Were Gods #1 are published tomorrow from DC Comics.
ACTION COMICS #1051 CVR A DAN MORA
(W) Phillip Kennedy Johnson, Dan Jurgens, Leah Williams (A) Rafa Sandoval, Lee Weeks, Marguerite Sauvage (CA) Dan Mora
ACTION COMICS REBORN! Action Comics #1051 begins a new format for DC's most action-packed title, offering not one, not two, but three epic adventures of Superman and the entire Super-Family! Following the bombshell events of Action Comics #1050, the world's relationship with Superman is forever changed, the upper limits of his supercharged powers have yet to be reached, and the House of El's transformation of Metropolis, led by Steel, has begun. But Lex Luthor has found the perfect instrument with which to undo everything Superman is working to achieve: Metallo, whose hatred of Superman is matched only by his hatred for Luthor himself. Then, in Lois and Clark 2: Doom Rising, Dan Jurgens and Lee Weeks return to tell the tale of young Jon Kent on the farm with his parents, learning about his abilities, coming of age…and battling the Doombreaker?! And finally, Power Girl returns in part one of a three-part story spinning out of Lazarus Planet! This issue marks the first appearance of new characters, new costumes, and a new era of Action Comics! It all starts here! Retail: $4.99 In-Store Date: 01/24/2023
LAZARUS PLANET WE ONCE WERE GODS #1 (ONE SHOT) CVR D RAFAEL SARMENTO CARD STOCK VAR
(W) Various (A) Various (CA) Rafael Sarmento
Written by Francis Manapul, Dan Watters, Philip Kennedy Johnson, and Josie Campbell. Art by Francis Manapul, Max Dunbar, Jack Herbert, and Caitlin Yarsky. As the Lazarus rain beats down upon planet Earth, human beings are only a fraction of those affected by this transformative upheaval–enter: We Once Were Gods. This series of vignettes explores Lazarus Planet's effects across the many extraordinary locations and creatures in the DC Universe, and like their human counterparts, these beings are in for some big changes. Can Themyscira survive the resurrection of every invading army that ever graced its shores? Will Martian Manhunter survive a psychic link to a Doomsday nest? What happens when the monsters from the Trench gain the ability to breathe air? And look out, Shazam Family…the Rock of Eternity is about to get rocked. Retail: $5.99 In-Store Date: 01/24/2023