"It's A Comics Division, Not A Pre-Movie Division", Schreck, Bisley, Waid, JMS,Brooks, Davis, And Wagner On Legendary Tales To Come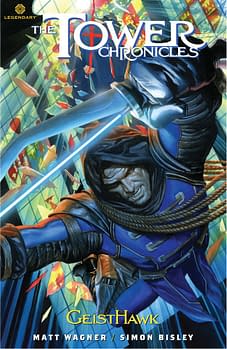 Peter S Svensson is trying to report for Bleeding Cool without a working laptop, using only a smart phone. It could be going better.
Legendary Comics is a subsidiary of the large and impressive Legendary Pictures, who worked on Watchmen, 300, and The Dark Knight. Bob Schreck is EIC, and knows what he's doing. Legendary Comics also had the best Power Point presentation of the con.
They discussed three projects that are in the works. The Tower Chronicles, a lengthy fantasy horror series written by Matt Wagner with art by Simon Bisley. It was announced last year, and the first prestige format chapter will come out in September. It's set to be a trilogy of graphic novels, each novel being serialized in 4 parts. Jim Lee is doing the cover for the first volume. Alex Ross was announced as doing he cover for the second. Personally, I'd like to see Bisley on the covers, but C'est La Vie.
The concept of Tower was invented by Legendary founder Thomas Tull, who asked Schreck for a collaborator who wouldn't be a Yes Man, who could take the idea and make it sing. Wagner gave the character of John Tower, a heartless killer of monsters, a character arc which will slowly reveal that he's not as simple as he'll appear at first. Bisley snarked that so far, the character appears to be a total psychopath. Wagner insisted that in time, he'll change and grow.
Several preview pages, all lettered and colored were shown. It's quite nice. The series is apparently about a modern day monster hunter despite the anachronistic costume (designed by Wagner) though Wagner later told me that the setting of the story is more complicated than it appears so far. We were introduced to a female FBI agent who will be tracking down Tower, who Wagner alluded would be to him as the therapist was to Tony Soprano.
Despite this potentially being a huge and overwhelming lengthy story, Wagner wants each book to be fulfilling on their own, like how the Bourne Films built on each other but didn't leave you unfulfilled when you left the theater. Bisley is 104 pages in to the series. Wagner has written much more. It is planned for a bimonthly release.
Shadow Walk is the next book slated to come out. Tull had the germ of an idea, what if humanity discovered this place from myth and legend were real, and asked WWZ writer Max Brooks to flesh out how the existence of that supernatural location with great impact would change the world. Mark Waid was then hired to take the setting that Brooks had engineered, and weave a story about a group of explorers going to that location after a soldier is the first person to return from that realm and… I can't do this.
Okay, the entire panel danced around the actual premise of the book without ever saying it. But its pretty clearly Hell. The concept of this book is "what happens when we discover conclusive proof that Hell is real, after a soldier escapes and brings proof of his experience, and they send people to investigate." (Waid confirmed this is the case folks.)
Shane Davis is on art, designing all sorts of demons and hellscapes that a brave team of science-explorers have to investigate. It's currently scheduled for 3rd Quarter 2013. Mark Morales is inking, Morrie Halloway on colors.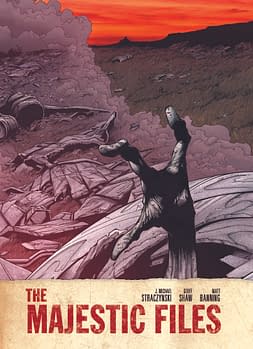 J. Michael Straczynski's upcoming GN, The Majestic Files, is his take on alcoholic rodeo clowns. At least, he joked that was the case before really explaining that it's about Roswell, and his attempt to research and logic out what would have happened if a UFO landed in New Mexico. Geoff Shaw is the artist, with Matt Banning on inks.
The floor was opened to questions. Creator Percy Kerry (Sentences) asked about Legendary's submission policy, only to learn they don't really have one, being small and mainly focusing on finding people to fit the projects they're coming up with. Schreck did advise that anyone trying to make a pitch needs to have an ending in mind because "and it goes on from there " is the sign of a writer who isn't ready yet.
Schreck then reiterated that while they are part of Legendary, the comics aren't being made as movie pitches. Max Brooks explained "it's a comics division, not a pre-movie division." Shane Davis isn't factoring in potential future movies when designing Shadow Walk, and knows that much of what he's illustrating wouldn't work well on film.
At this point, a really obnoxious Doctor Who cosplayer asked JMS why if he was looking for experts on aliens for his research towards the GN, was he not consulted. He wouldn't break character and really made it all about him. Gah.
Max Brooks isn't planning on adapting WWZ into comics, but does have a GN about a real World War I story in the works from Avatar and Random House.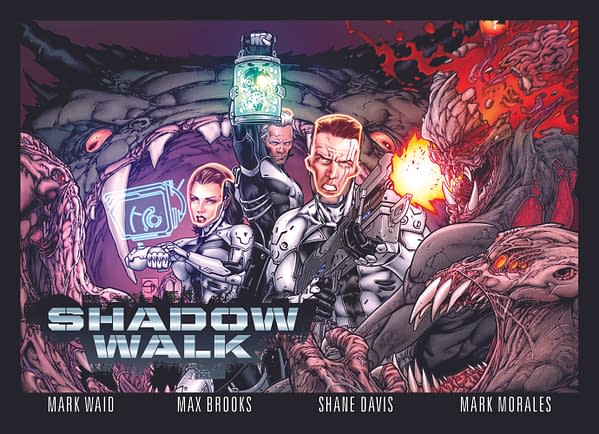 ---
---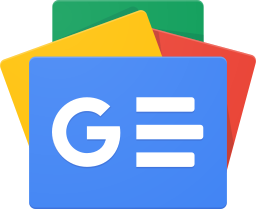 Stay up-to-date and support the site by following Bleeding Cool on Google News today!