Posted in: Comics, DC Comics, Superman | Tagged: dc comics, leviathan, luthor, superman, yeaor of the villain
---
It's Leviathan Vs Invisible Mafia in Action Comics #1017 – and Year of The Villain Wins?
Today's Action Comics #1017 does one of those non-linear things where the opening scene occurs sometime after the final page of the comic. So even when you get to the end, the beginning doesn't quite make sense. Just that you know that Lex Luthor's Legion Of Doom has won. Even as in previous issues of Justice League, the Legion Of Doom's Hall Of Doom is engaged in fisticuffs with the Justice League's Hall Of Justice because, as always, it's good to see what happens when buildings fight.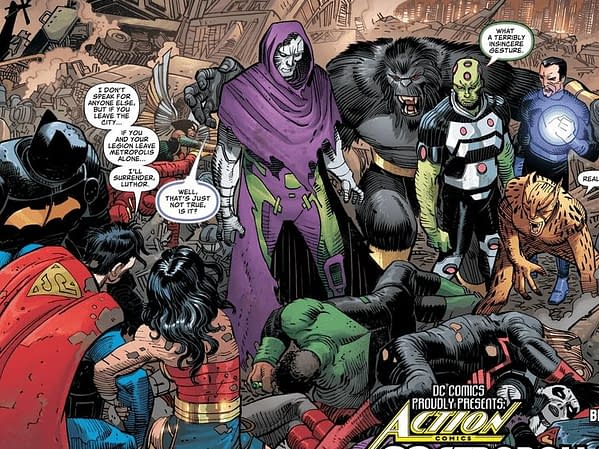 But enough has been said about the whole contradictory timeline os Year Of the Villain as it is. This issue sees the spy agency that ha taken down and absorbed all other independent spy agencies, Leviathan, up against The Invisible Mafia, the Metropolis crime conglomerate whose head now owns the Daily Planet, and who have been hiding from Superman all this time. And why weapon do they use? Why Superman himself, sending him hither and thither…

A little bit of both, Jimmy, a little bit of both. Everything is Luthor right now. And with Luthor sponsoring both sides, he'll always be the winner. But someone has a plan…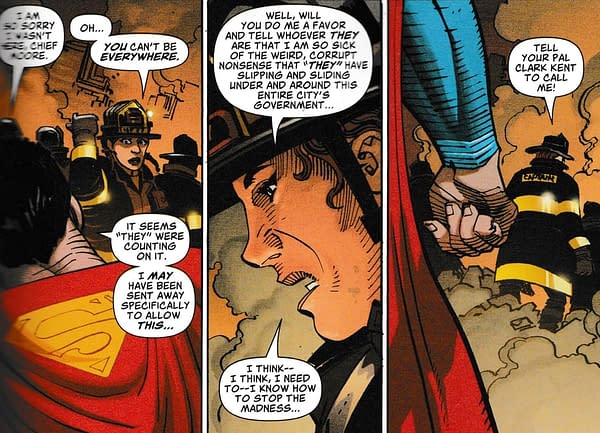 Could it be or Superman to reveal his secret identity? Could all this fuss begin with Chief Moore? Or am I just jumping to conclusions as usual?
Action Comics #1017 is published by DC Comics today in all good comic shops. I bought mine from Piranha Comics in Kingston-Upon-Thames. Piranha Comics is a small south London comic store chain with a small south-east store in Kingston-Upon Thames's market centre, which runs Magic The Gathering nights on Fridays, and a larger south-west store in Bromley, which also runs Magic nights and has an extensive back issue collection and online store. If you are in the neighbourhood, check them out.

---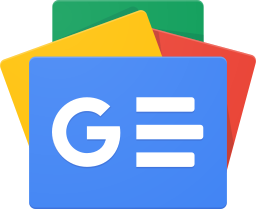 Stay up-to-date and support the site by following Bleeding Cool on Google News today!