'It's Ok To Be Scared' – Ian McGinty On Darkly Adorable 'Welcome To Showside' Coming To Comics And Animation
Z2 Comics recently announced a wide-ranging slate of new books coming this Fall, but one of the most exciting was a combination project for both comics and an animated series from fan favorite artist Ian McGinty, here writing also. The word "fan favorite" gets thrown around a lot and for that reason I don't use it that often, but when I do it's for someone like McGinty, who has not only engaged fans of animation as comics readers, possibly expanding readership, with his work on the Bravest Warriors, Adventure Time, and Steven Universe comics, but has also done so through his very approachable and engaging presence at conventions in recent years. This project, Welcome to Showside, is the product of McGinty's experience working in all-ages narratives and also appears to be quite ingeniously engaging as he brings in what would traditionally be considered "darker" elements to an adorably designed, nuanced universe. It features Kit, who is in many ways a fun-loving kid, only his father is the Shadow King who rules Nexus, and he has to defend their town from "ghosts, demons, and monsters". There's also the pressure to follow in his father's footsteps and take on the task of destroying the world.
I was delighted to speak to McGinty about Welcome to Showside, creating his first original comic series, and how the tide has shifted for him as he embarks on creating an animated property, having worked so tirelessly with licensed properties from animation in the past.
Hannah Means-Shannon: Can you tell us a little bit about your experiences working in all-ages comics, and why you chose to make Welcome to Showside an all-ages comic, too. What are some of the needs you have to meet for all ages and the merits thereof?
Ian McGinty: I fell into all-ages comics, and fell pretty hard. I love them. 'All-ages' means 'all-ages' and those are the stories I want to tell, and why WELCOME TO SHOWSIDE is for everybody who cares to explore the world of it.
I've met so many amazing artists and fans of all-ages comics, and these are the fans that are the most willing to jump into the deep end of the pool. All-ages fans will pick up a new series — and stand by the by artists they love, or even check out something they don't know anything about at all. That's pretty cool and something I'm continually impressed by. All-ages comics rock and, if the content stays rad, will continue to get more and more popular as time goes on.
Initially, I spent a couple years of pitching comics that were essentially rip-offs of whatever I happened to be reading at the time (HELLBOY, THE FILTH, We3 — that sort of stuff that probably wouldn't be considered okay for any aged person to check out), thinking "ah, this is the golden ticket", which led to resounding rejections that thankfully didn't completely crush me. Instead, I sat back and realized that I wasn't ready to make comics. I examined what I liked to draw and write, what comics had tie-ins with other medias, like animation and film, what my friends were into. I was extremely methodical, which is completely opposite my actual nature. It was a challenge, but over and over again I kept coming back to all-ages comics. All-ages comics, especially lately, encompass exactly what they're defined as: comics created for everyone. These are the comics I read as a very small person, and will continue to read until I am a slightly larger, more wrinkled, older person.
I worked hard to improve my drawing and storytelling, and was finally contacted by editors to create comics based off of licensed properties, the first one being Viz Media's UGLYDOLL series. From there I was extremely lucky to get a slew of other offers , and I loved working with the people involved in the properties — editors, artists and writers, most notably the ADVENTURE TIME mini-series, CANDY CAPERS, written by Yuko Ota and Ananth Panagariya, and the HELLO KITTY books from Viz Media, which I was able to write and draw. My biggest joy in working with licensed characters came when Boom Studios asked if I would like to be the lead series artist for Pendleton Ward's Bravest Warriors, which would be written by Kate Leth. Kate and I were given a huge amount of freedom not usually seen in comics that tie into other media and merchandise, including creating new characters, new relationships and — something I'm very proud of — turning a sci-fi action team-up story into something like a romance series but with giant robots and aliens. We worked together constantly, coming up with the general concepts which Kate would then bash out into excellent scripts, while I'd be doing my best to keep up art-wise. In the meantime, I'd contribute shorts and covers for all kinds of other comics: BEE AND PUPPYCAT, INVADER ZIM, RICK AND MORTY was also named co-lead artist on the new Munchkin series.
Winding down the last issues of BRAVEST WARRIORS, I began hashing out an idea for an ongoing all-ages series, completely from my head and starring my own characters, using what I learned from working on so many great comics based on other creative people's concepts. What I came up with is WELCOME TO SHOWSIDE. WELCOME TO SHOWSIDE, is a series that features Kit, a monster kid and youngest son of the greatest destructive force in the universe, the Shadow King. Kit lives in a small, strange southern town called Showside, populated with humans and monsters, and his best friends, Moon, a sorceress-in-training who wields an angsty teenaged spellbook, the Teenomicon, and Belle, the youngest daughter in a long line of southern gothic monster hunters. There's also Boo, Kit's pet floating two-legged squid and just a ton of weird demons and monsters and people all living and working together.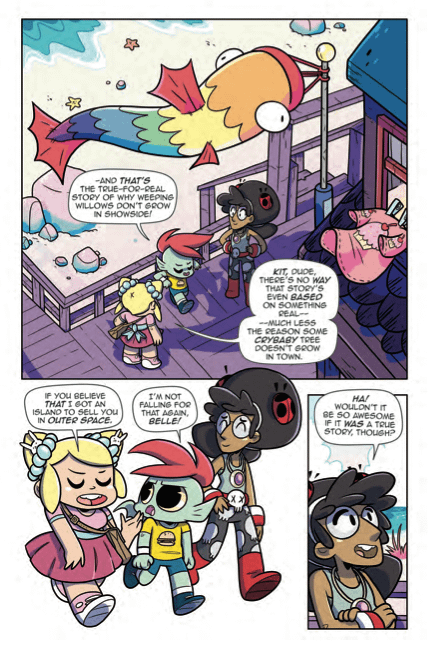 HMS: The darker aspects of the plot in what we've heard so far about Welcome to Showside, alongside the cover art seem to make for a humorous combination. Is this a chance to unleash a lot of dark humor for you? Or are there themes in the comic you'd consider legitimately heavy and prompting thought in the reader?
IMcG: Welcome to Showside is a lot of fun, but it's definitely fun that explores some darker elements. We're playing with monsters — demons, really — and ghosts, zombies, you name it. I'm a person who is drawn to dark humor. I worshipped Johnny the Homicidal Maniac, Kids in the Hall, King of the Hill, Fargo, that sort of black comedy where you aren't sure sometimes if it's supposed to be funny but the more you think of it the funnier it is. When I was pitching the book, I envisioned a lighter "Hellboy meets Steven Universe," horror meets awesome fun and humor, but with some heavier undertones — most notably, the interaction of monsters that share a town with humans, and a relationship between estranged father and son.
The latter wasn't something I originally intended, but when I began conceptualizing the early skeletal structure of WELCOME TO SHOWSIDE my father had a heart attack and my family was going through some extremely stressful times dealing with the complications, and implications, of it. I have always had tons of support from both my parents, and the thought of either of them or anyone else I cared about being lost in such a way cut me very deeply. I am not the best son. I try, but I am not the best, and that was swirling in my head as I plotted out an all-ages comic which began with this concept of Kit rejecting the grandiose future his father has planned for him. Ironic, because my parents never pushed me in any one direction, just supported what I was into, but I think every family member strives their hardest to live up to their parents' ideals, successfully or otherwise, and there does come a time when you say "enough is enough, I have to live my own life". What happens after that can go in a lot of different directions and that's something WELCOME TO SHOWSIDE addresses not just with Kit, but with Moon trying to live up to the great legacy of her grandmother and Belle, dealing with being best friends with a monster when her own family are monster hunters.
Oof, even this answer got kind of dark, but hey, the first issue of WELCOME TO SHOWSIDE features a maniacal kitten made of diamonds named Joshua, so I do practice what I preach!
HMS: How did you come up with the look and design of Kit and the world he moves in? What are some of your favorite aesthetic elements so far?
IMcG: Kit was born one day as I was trying to create a new character for a licensed property I was testing for, you know, auditioning to see if I could get to be the artist on. Thankfully, I didn't get the job. But I did draw this fish-looking kid standing in line with a bunch of bigger, scarier creatures, waiting in line to travel through a portal. That Kit was older and taller, skinnier and sort of Shaggy from SCOOBY DOO looking, and as I kept redrawing him he got a lot younger looking and cuter, more friendly and less fishy. I liked this kid, and I couldn't help but imagine what sort of friends he would have.
The town has been something interesting to develop, as it's both based around Savannah but also around the beach front areas, like Bethany Beach, Martha's Vineyard, those very east coast type places where an old guy in yellow rain gear smoking a pipe and yelling about, "the Kraken!", wouldn't seem completely out of place. The Savannah quality draws a lot of inspiration from the historic cemeteries, ghost tours, spanish moss, pirates, all those things I loved as a kid and have grown more and more interested in as I age.
One of my favorite things about WELCOME TO SHOWSIDE is that the town is populated by demons, but Kit's best buds are humans, and those humans are ostensibly more powerful than the monsters. And then I thought, wouldn't it be cool if these magical kids and creatures lived in a small, southern town, similar to where I live in Savannah, Georgia, and had to obtain work visas to be there? It makes for some pretty funny situations, and aesthetically I'm continually amazed by our colorists, Rian Sygh and Fred Stresing, who somehow managed to absolutely nail my exact vision for the comic and make my art look a billion times better.
Art tip for aspiring cartoonists: find a good colorist and NEVER LET GO. HMS: Now, you seem astonishingly well positioned to make sense of bringing your own comic creation to animation having worked so thoroughly on comics that have animated properties behind them, like Bravest Warriors and Bee and Puppycat, in kind of the reverse pattern. What lessons have you picked up through that experience that you are bringing to show-running your own animated series?
IMcG: When we started producing the animated pilot of WELCOME TO SHOWSIDE, I was terrified. But working on tons of licensed properties, I've met a lot of creators who now work on their own shows, or other popular animated series. What I found out is that they're ALL terrified. That's part of being an artist, writer, whatever. You're putting yourself in a position to be judged no matter what. It's unavoidable. So I was ready to be scared. It's okay to be scared. At least that's what I kept telling myself as I directed Henry freakin' Rollins on how to voice a huge flaming skull with nerd glasses named Frank. That's what I told myself as I voiced Kit. That's what I tell myself as interest in the pilot has been getting pretty big. I've also talked to friends, family and fans, all of whom have been extremely supportive. It's okay to be scared and, dang, ain't it cool?
HMS: What do you think are some of the biggest artistic and structural differences that need to be recognized between a comic and animated property, and what can they build on to have in common for a shared mixed-media fandom?
IMcG: I've talked with other creators about what comics and animation need to share, and there's a general consensus about the need for deep characters, some humor and definitely fun. But I also think there needs to be an "elasticity" to the overall world those characters live in. Essentially, you need to treat the environment like its own character, which is something both animation and comics can do very well in different ways.
I often cite ADVENTURE TIMES's Land of Ooo in being a very effective animated world. I mean, we are introduced to it right there in the intro! There is nothing that's impossible to imaging happening in the Land of Ooo, and I tried to structure the WELCOME TO SHOWSIDE animated pilot in a similar fashion; the "home base" of WELCOME TO SHOWSIDEs the town of Showside, but we encounter Pixel Portals that can transport anyone to the Nexus, an ever evolving and changing landscape populated by demons and creatures and sometimes even humans. And even Showside is not limited like the real world is, as magicians and monsters can do almost anything there within the mythology of the show and comic.
In the animated pilot, we only see the base form of the Nexus, and this is where comics and animation begin to split a bit. In the WELCOME TO SHOWSIDE comic, we aren't depending so much on the excellent animators, of which there could be many, but a much smaller team of artists and writers working together. Comics also move quite a bit slower and can explore things much more slowly and with more depth. Comics can take side roads, something you see a lot with mini-series that focus on minor characters, like in ADVENTURE TIME: CANDY CAPERS or change the tone and vibe of the series' original concept a lot. Structurally, an animated series need to move along much quicker and hit those three acts, set-up, conflict, resolution within the time allowed for the show. [Exclusive Reveal: the cover to Welcome to Showside #2]
HMS: Are there any things you are looking forward to doing in animation that you haven't been able to do so far in comics?
IMcG: Even with this pilot, I've been amazed at the things you can do with the animation that you literally cannot do with a comic. I'm talking voice actors, music, I'm talking sound effects: a full sensory overload. It has been incredible to see what has happened to the characters, who mean a lot to me personally, once the voice actors, like Rollins, got a hold of them in the pilot. I wonder how they'll change over time, if WELCOME TO SHOWSIDE gets picked up as a series. I'm excited to find out.
So far we've had a lot of interest in the pilot, so I'm hopeful I get to find out how these characters sound and change, evolve, later on down the line. I think that's something that makes a series interesting and keeps fans coming back for more, constantly shifting characters and situations. Look at how much Finn in ADVENTURE TIME has changed, literally, over the years of the show. That same evolution happened right there in the booth, as I was voicing Kit. He changed from sort of a base surfer dude into a genuine kind but fun jokester, a nice kid who messes up from time to time but means well. That sort of continual evolution is something I'm ready for in WELCOME TO SHOWSIDE. Boo-yah!
HMS: Will the plot behind the animated series be substantially different to the comic series or will there be a lot of overlap?
IMcG: What I'm hoping is that the animation, if we get to a series, will build off the base plot of the comic, and then the comic can begin to build off the show — sort of a weird infinity loop, so to speak. I've gone about WELCOME TO SHOWSIDE in a roundabout, backwards way: comic first to animated pilot and back to comic. I'm hoping the comic and the animation can all be within the same world, but always telling new stories with new characters, or new scenarios. In Showside, anything is possible.
HMS: Can you give us a hint about some things that are coming up in the comic plot-wise and in the animation? Any teasers?
IMcG: Well, the WELCOME TO SHOWSIDE animated pilot definitely features one of the most bizarre monsters I've ever seen, that's for sure. I don't want to say too much but it's equally the cutest thing ever and the grossest thing ever. And I think people will love our main characters Kit, Moon and Belle. They're extremely fun and funny kids. The comic is going to be a bit more focused on the residents of Showside, the different monsters, and how Kit actually came to be living in a town with human friends. Most notably, we will also meet Kit's father, the Great Shadow King, an unstable force of destruction, and we might even find out a little about Kit's mother and the other kids' history and family. I hope readers and watchers alike will love WELCOME TO SHOWSIDE like I do. And remember: it's okay to be scared.
**Ian McGinty photo credit to Samantha Knapp
The Welcome to Showside comic arrives in October, and is currently listed in Previews World with item code AUG151857. Issue #2 is listed with code SEP151765.
The animated series will be in production with Modern Prometheus this year, who list the series as "completed by September 2015".

---
---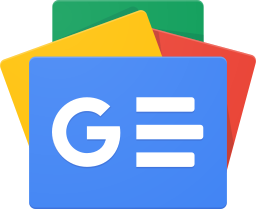 Stay up-to-date and support the site by following Bleeding Cool on Google News today!