Today sees the release of the first James Bond 007 ongoing series from Dynamite Entertainment, by Greg Pak and Marc Laming. And during the story, you get the kind of moment that seems to separate James Bond with, basically, any other protagonist on the comic book stands, including the likes of Venom or Punisher.
Because of late there have been a lot of stories showing villains threatening bystanders, whether known to the protagonist or not, and forcing them to either give in, or see someone else killed in pursuit of their goal.
Seriously there have been a lot. I think Avengers: Infinity War had about seven.
But James Bond doesn't play that game. He may be more susceptible to threats of fridging in the movies, but the books – not so much. And in the comics, he remains a callous, uncaring, sociopathic agent.
Like this.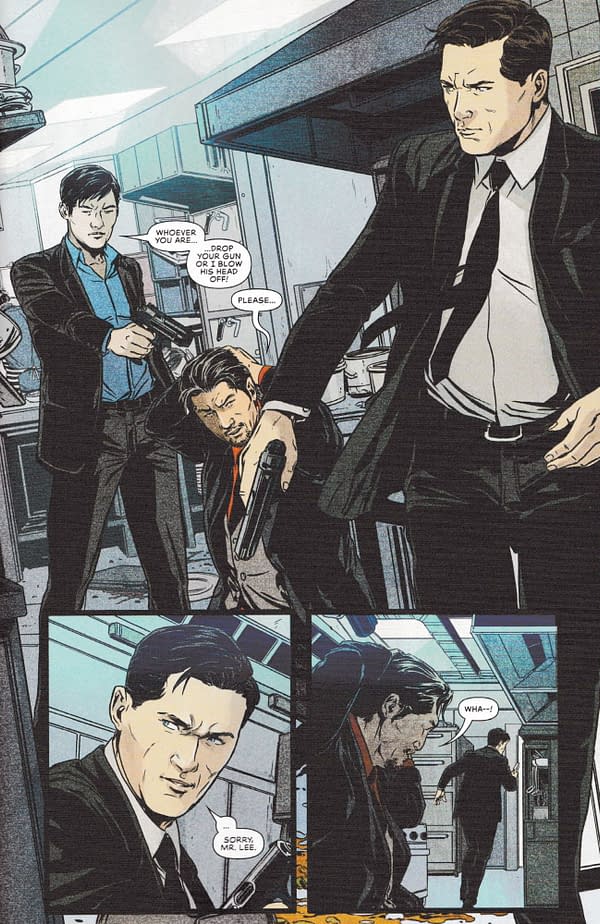 Doesn;t even uhm or ahr about it. James Bond, licenced to be a complete dick.
JAMES BOND 007 #1
(W) Greg Pak (A) Marc Laming (CA) Dave Johnson
The ODD JOB epic begins in a new ongoing James Bond comic series by superstars GREG PAK (Planet Hulk, Mech Cadet Yu) and MARC LAMING (Star Wars, Wonder Woman)! Agent 007 tracks a smuggler into Singapore to secure a dangerous case, contents unknown. But a Korean mystery man wants the case as well, for very different reasons. And if Bond and this new rival don't kill each other, the ruthless terrorist organization known as ORU will be more than happy to finish the job. In Shops: Nov 07, 2018 SRP: $3.99
Enjoyed this article? Share it!