Jamie Delano Looking For A Publisher For 2020 Visions, With Frank Quitely, Steve Pugh and More
I got chatting to Jamie Delano at Portsmouth Comic Con yesterday. Best known for his run on Hellblazer, crafting the character of John Constantine who would go on to be so lucrative for DC Comics, and taking on Animal Man for DC Vertigo, Jamie is currently working on his novels which he publishes alongside other authors, as Lepus Books, a number of which he had on display at the show.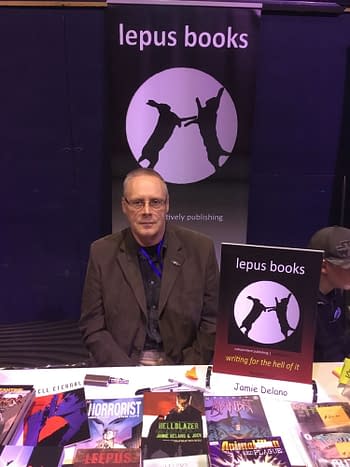 He also took the opportunity to tell me that his then-future-looking series for DC Vertigo, 2020 Visions, is currently without a publisher and Delano has full publishing rights to the comic. And it is 2020 in just seven months time.
So if any publisher would like to talk to him about putting out a volume based on this science-fiction look at the near future, the first three issues of which were drawn by Frank Quitely, followed by Warren Pleece, James Romberger and Steve Pugh. Jamie would be very amenable to such a discussion. So while I was at the show, I did mention it to one or two people there. But there's still time in case you want to have a chat as well…