Jaxxon The Rabbit – Still Awful in Star Wars #108 (Spoilers)
Tomorrow sees the release of Star Wars #108, continuing the Marvel Star Wars continuity from the 70s and 80s, written by Matthew Rosenberg (though they missed his name off the intrnal credits) and drawn by (breathe in) Giuseppe Camuncoli, Cam Smith, Andrea Croccardo, Kerry Gammill, Ze Carlos, Jan Duursema, Stefano Landini, Luke Ross, Leonard Kirk and Chris Sotomayor.
And so it's a chance to bring back forgotten continuity characters as well. Valence the cyborg bounty hunter, Domina Tagge and… Jaxxon. The green, rabbit-featured smuggler from Lepi, who so offended George Lucas when he appeared in the comic that it led co-creator and writer Roy Thomas to decide to quit the book. And the character has enjoyed a love/hate relationship with fans since. As for his appearance in tomorrow's Star Wars #108. Well, the creative team seem to love to hate him as well. With everyone badmouthing him from the get go.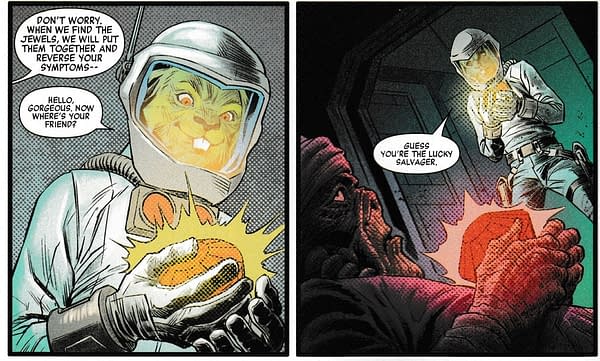 And then being given the chance to support his compatriots or…
… turn against them. And the rabbit jumps. Run rabbit, run rabbit, run run run.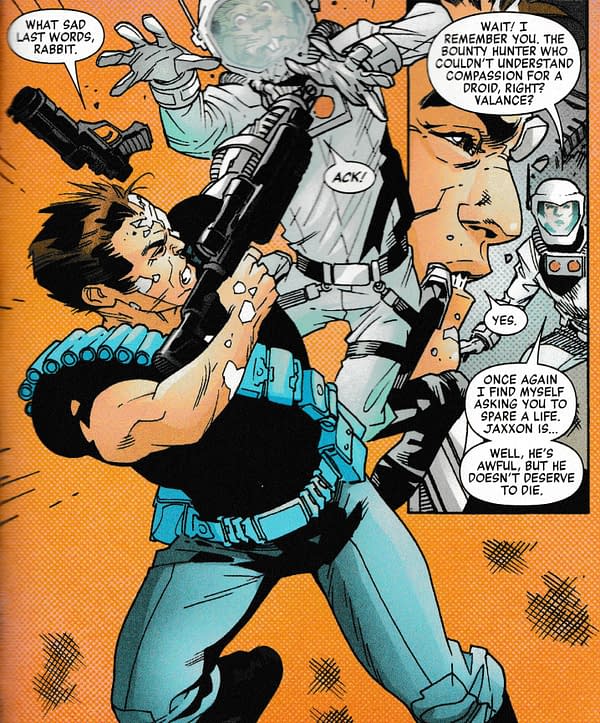 Until he's caught by the hunter. And told how awful he is as well. Again. So, for Jaxxon fans, at least you get him back tomorrow in the original Marvel Star Wars continuity. But there's going to be a lot of dissing…
STAR WARS ORIG MARVEL YRS #108
(W) Matthew Rosenberg (A) Giuseppe Camuncoli, Luke Ross, More (CA) Walter Simonson
THE ALL-NEW NEXT ISSUE TO THE ORIGINAL MARVEL STAR WARS SERIES!
A long time ago on a spinner rack far, far away…STAR WARS comics were a LOT different than they are now! With wild and intricately plotted storylines, MARVEL's historic original run introduced an array of unique heroes and villains to play alongside GEORGE LUCAS's incredibly popular science-fantasy characters. In celebration of MARVEL'S 80TH ANNIVERSARY, this Legends-era sequel to legendary comic book writer Archie Goodwin's "Crimson Forever" reunites HAN SOLO, LUKE SKYWALKER, PRINCESS LEIA, CHEWBACCA, C-3PO and R2-D2 with JAXXON, AMAIZA FOXTRAIN, DOMINA TAGGE and VALANCE THE HUNTER in a galaxy-threatening, nostalgic roller coaster! STRAP YOURSELVES IN!
Rated TIn Shops: May 29, 2019
SRP: $5.99