James Sabata writes,
I had the opportunity to sit down and chat with Jay Fotos at the recent Ace Comicon in Glendale, AZ. I've been a fan of Jay's work for years, whether it was Teenage Mutant Ninja Turtles, Frazetta, '68, or (my favorite comic series of all time), Locke And Key. Fotos has an impressive resume writer, penciling, inking, and coloring comics. Now he's launching a brand-new book, Rising Rebels.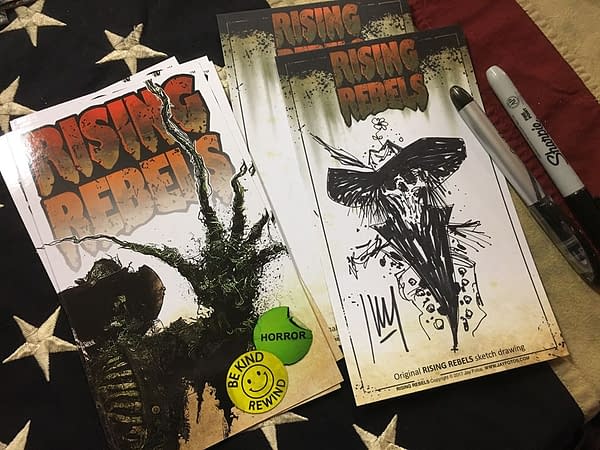 In a dusty attic corner, in an old cardboard box, young Evan stumbles upon his Dad's vintage stash. VHS…three magic letters right there on the worn sleeves that boast some of the coolest artwork he has ever seen. Machine-gun toting, bronzed bikini babes, mutated sea creatures, aliens from space…and that one tape…way at the bottom of the box. The one with the blood red lettering. "Please, Dad! Let's watch this one!" His finger presses play… and it's already too late!
A time machine ride, transporting you back to the glory days of 1980's style, over-the-top, "straight to video" camp horror by the creative team of Jay Fotos, Mark Kidwell and Jeff Zornow.
James Sabata: I've been following the updates on your Facebook page regarding your newest book, Rising Rebels. Can you tell me about it?
Jay Fotos: Rising Rebels is a love letter to the 80s monster films I grew up on, like Carpenter's The Fog. The VHS tapes. It's over the top, fun, horror. It starts off with this kid and he goes through his dad's stash and finds all these old VHS tapes and he finds the Rising Rebels video. "Let's watch this." They play the movie and the story really takes off and some pretty weird stuff starts happening. It's kind of a throwback to Tales from the Crypt and Creepshow and all that 80s fun.
James Sabata: You had me at 80s horror. Movies haven't been the same since then. Today it seems like it's so much about the jump scare as opposed to building up that story and that suspense that get you a little bit uncomfortable. But then they also spun in some of that comedy as well. Can we expect that in Rising Rebels?
Jay Fotos: Oh totally! Our whole team is goofy and we love the comedy with the monsters and the all the cool stuff that goes along with that style and that genre. We're definitely having fun with it. Each issue of Rising Rebels will have some fun features included. "Cursewords" includes editorials and news. "Making Monsters" will showcase behind-the-scenes monster making. 80s Once Upon a Time is a retro flashback to the things we loved from the 80s.
James Sabata: You've worked on some amazing books. Joe Hill's Locke and Key throughout the entire series. Spawn. Vampirella. Teenage Mutant Ninja Turtles. And, of course, '68. I got into that comic because I was at Phoenix Comicon (now Phoenix Comic Fest) and you always have the amazing booth with the life-size zombies and all the war memorabilia. The props are outstanding and completely realistic. Will you be doing anything like that for Rising Rebels?
Jay Fotos: Oh yeah. I've built a whole new prop of Colonel Knox, one of the main characters from Rising Rebels. And he's on his horse, Rosie. Both of them were sucked into purgatory and basically they rise from the dead due to a Voodoo curse. I built a life-size version of him on the horse… so it's ten foot tall. So that will be at my booth this year. You can see pictures of that and a lot of other behind-the-scenes stuff on my Facebook page. Also, for Phoenix Comic Fest, I'm making an exclusive which is basically a VHS Video Mystery Box. So it will be a VHS box and you open it and it will have some mystery items inside of it, from the 80s. Maybe you'll get Pop Rocks or a Star Wars card signed by a cast member. Or maybe a finger. Who knows?
James Sabata: And if people can't make it out to Phoenix Comic Fest in May – or they just can't wait to get this book – where can they find it?
Jay Fotos: It's available exclusively through my website, www.JayFotos.Com. The Advanced pre-sale for Rising Rebels starts today. It's a bundle package with two issues of Rising Rebels, an issue of '68, and Fantastic Worlds of Frazetta Volume 1 TPB. Everything is signed and bagged and boarded. This presale is extremely limited.
Enjoyed this article? Share it!