JH Williams III? Suit You, Sir!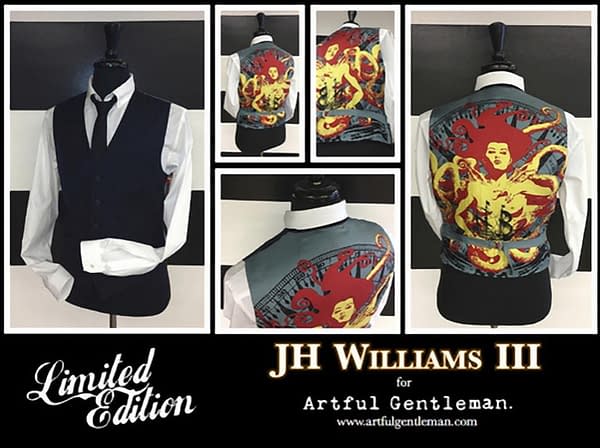 The Artful Gentleman is a San Franciscan tailor looking to Kickstarter to fund and sell bespoke suits and shirts, in all manner of designs. Including one from a certain JH Williams III.
We gave J3 full creative control… he kept asking for boundaries… we said "go for it." Be creative. Be you. And he, like there was ever any doubt, did not disappoint. He created this unique piece with deep inspirations from his painted works. It makes for an amazing suit jacket lining with the image central in the back of the jacket so that when you open your jacket… you see just the tentacles and fringe of the design creeping out from around your body…. it is the perfect "just a peak" experience that highlights there is something amazing hidden just below the surface.

But fashion does favor the bold… and as such, the images here examples of this same work of art crafted into the lining and back panel of a vest. As is the way of ARTFUL GENTELMAN., we encourage you to be bold with your linings. To make a statement about you. And this is one that does not disappoint.
The perfect thing to read the upcoming Sandman Zero in…
[youtube]http://www.youtube.com/watch?v=LT-b1qXznKI[/youtube]