Today sees the publication of Batman/Superman #3 and Joshua Williamson and David Marquez, and we finally get to see Batman go up against an Infected Commissioner Jim Gordon, turned into a Dark Dimension version of himself. And this version of Jim Gordon has a few home truths, like Alfred over in The Batman's Grave, to tell Batman. First regarding Batman's overall contribution to Gotham.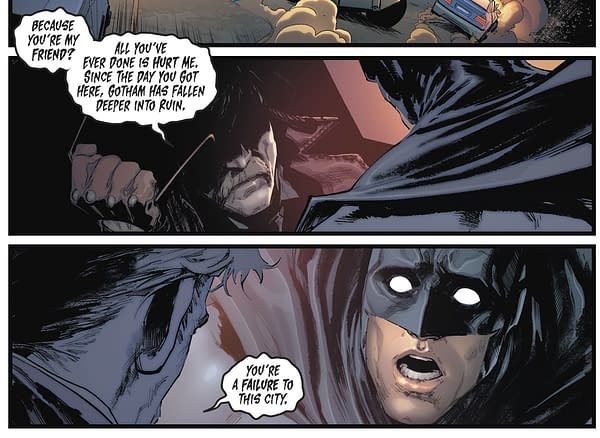 That's a strong F grade there, Bruce. But Gordon also shows his working out.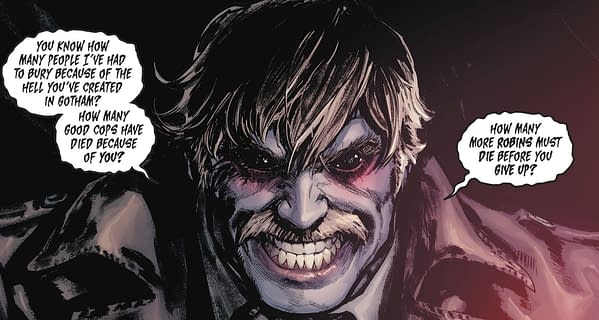 How many Robins have to die? Cuts to the quick there. Mind you, over in Action Comics #1016, Natman himself seems to be a little more jokey about it all.
He is almost completely out of Robins. How callous, Batman. Still, maybe some of those lessons will rub off on the Robins that survive (or came back)…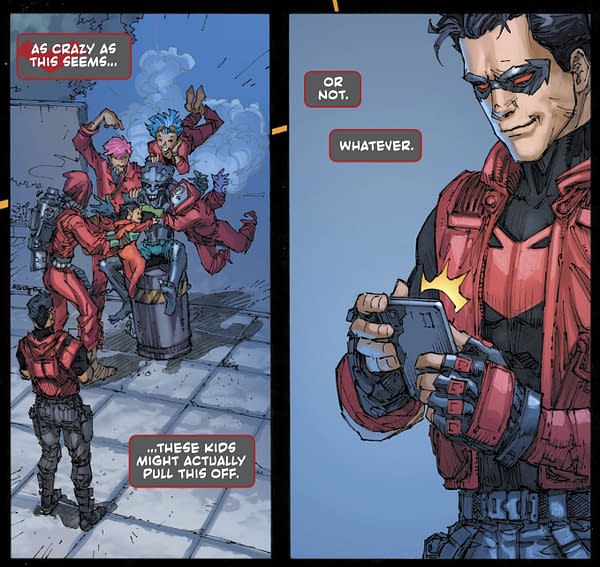 Well, he clearly learns from the best. But Gordon has more matters to raise with Batman

I mean, I know that's annoying, but worth revenge? So, can we check, which Batman is Josh Williamson writing here? Tom King Batman? Scott Snyder Batman? Brian Bendis Batman?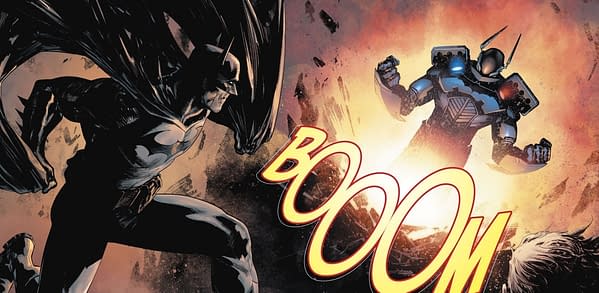 Scott Snyder Batman. Definitely.
BATMAN SUPERMAN #3
(W) Joshua Williamson (A/CA) David Marquez
"Who are the Secret Six?" part three! Is Superman the newest member of the Batman Who Laughs' Secret Six? It certainly looks that way, and Batman may be powerless to stop the Man of Steel and his own demented doppelgänger. The Dark Multiverse's most dangerous Bruce Wayne is loose in our world, and he has our world's greatest superhero at his side. Who do you turn to when there's no one to trust?In Shops: Oct 23, 2019
SRP: $3.99

ACTION COMICS #1016 YOTV
(W) Brian Michael Bendis (A) Szymon Kudranski (CA) Jamal Campbell
Clark Kent, defender of the truth! The Daily Planet is under siege as the streets of Metropolis prepare for a gang war! The invisible mafia is invisible no more-and the streets of Metropolis will burn if the truth does not get out. All this, and another dive into the secrets of DC's newest teen sensation… Naomi!In Shops: Oct 23, 2019
SRP: $3.99

RED HOOD OUTLAW #39 YOTV
(W) Scott Lobdell (A/CA) Kenneth Rocafort
"Generation Outlaw" continues! Class is in session, and Red Hood's students still have a lot to learn. With Doomed running amok, each villain-in-training decides to use the chaos in order to stake their claim as the one to beat. But while Red Hood tries to teach them a valuable lesson about power and responsibility, Doomed's actions could, well, literally doom them all!In Shops: Oct 23, 2019
SRP: $3.99
Enjoyed this article? Share it!