Jim Shooter Returns to Comics for New Series Slow City Blues at Image
Comics industry legend Jim Shooter is bringing a new comic to Image Comics in February 2020. From writer Samuel Haine, penciler Shawn Moll, inker John Livesay, colorist JD Smith, and letterer Thomas Mauer comes Slow City Blues, a series about a cop who retreats into a fantasy world in his own mind after accidentally killing a young girl. Shooter, who began his comics career with DC comics at the age of thirteen, became Marvel Editor-in-Chief from 1978 to 1987, presiding over one of the company's most creatively and financially successful eras. Shooter's tight editorial controls angered a lot of creators, but a lot of readers still pine for the days when Marvel's continuity made sense and its comics came out on time. Nowadays, the job of a Marvel editor appears to consist of tweeting a lot and occasionally pretending to be a Japanese man in order to get writing gigs. Back in the day, things were different.
In the press release, writer Haine is pleased to be working with the industry icon:
This is a dream come true. I would have never imagined in a million years that the fantastical world of Slow City Blues, that I came up with while I was slingin' beers as a bartender, would be brought to life by the caliber of talent Livesay brought together. I could gush about our team for hours if you let me! I mean for cryin' out loud, I get to work with Jim Shooter. JIM FREAKIN' SHOOTER! He's been instrumental in helping us realize a rich world full of kooky, complex characters and deep emotional resonance. Not to mention that he and Livesay were able to convince some of the greatest artists of all time to do covers for the book. It's a surreal feeling being able to put your very first comic book out into the world through a publisher as prolific as Image. A lot of blood, sweat, tears, and love have gone into these books, and I'm so grateful to everybody involved. It's been one hell of a wild ride and I am very excited to have the opportunity to share it with everyone!
Added Livesay:
I read the story, I knew it was good, so I figured the best idea was to bring in the best talent.
Here's what Slow City Blues is about:
Slow City Blues brings you everything you crave in a comic book: action, adventure, suspense, fantasy, tragedy, and plenty of humor. The story is focused on Detective John Loris, who gets trapped inside his imagination after accidentally killing a little girl in the line of duty. After trying to take his own life, John instead ends up in Slow City, a construct of his mind's eye, a place where anything and everything is possible, except a way out.

John Loris is both revered and reviled as The Creator, but in Slow City, even God is just another slob. So, he does the only thing he knows how: Be a cop. But times are changing and the wheels in his mind are in motion. And now, John and his partner, a six foot six, smart-ass skunk, must solve a double homicide and bring the killer to justice before a gang war between the Gorillas of the Devil's Backbone and the Dragons of the Midnight Syndicate destroy Slow City.

In a world of pure imagination, what could possibly go wrong?
And here's what the man, the myth, the legend himself has to say about it:
There are three aspects to creation. Analysis, which is breaking down already created stuff. Synthesis, which is recombining stuff in a variant way. And genesis, which is making something new. To accomplish genesis is rare. Sam, does genesis. He writes well. He has other great creators with him. Slow City Blues is a phenomenon. I contributed not much, but yelled at Sam a lot, and he thanked me, which speaks well of him or poorly of me. Honor this work. It deserves your attention.
Yelling at creators a lot… same old Shooter!
Slow City Blues will hit comic shops on February 19th.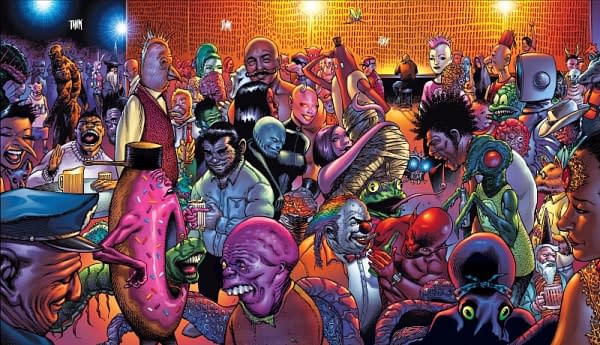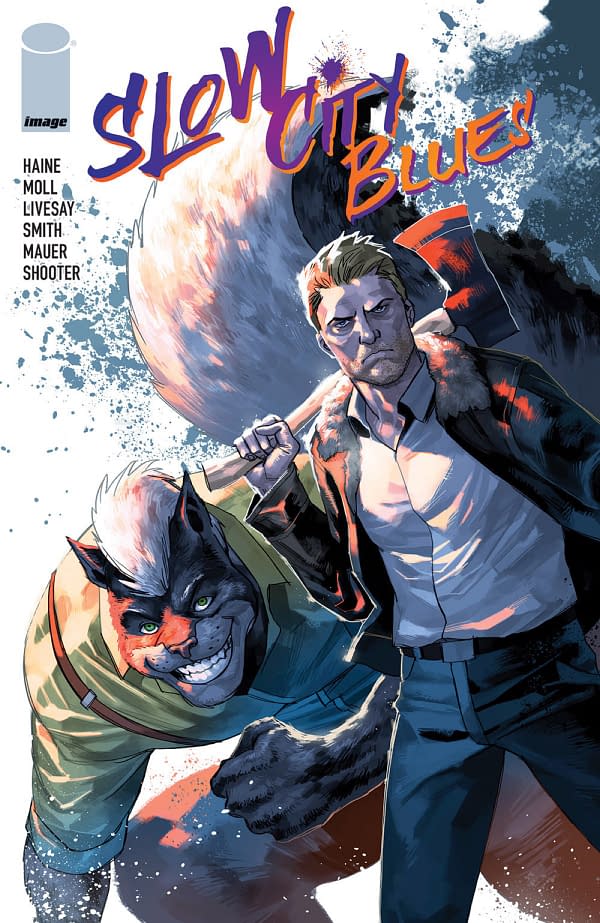 ---
---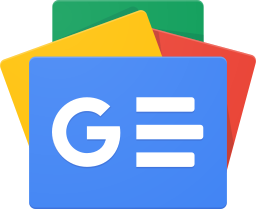 Stay up-to-date and support the site by following Bleeding Cool on Google News today!