One of America's top 3 network late night hosts is going to achieve some cross-branded Disney corporation marketing synergy next month when Jimmy Kimmel guest stars in the Marvel comic book West Coast Avengers #4. The series, by Kelly Thompson and Stefano Caselli, sees Hawkeye form a new superhero team with her boyfriend Fuse, the other Hawkeye, Miss America, Gwenpool, and mutant Quentin Quire, who brings with him a reality show film crew.
In West Coast Avengers #4, the team will apparently appear on Jimmy Kimmel Live, as revealed by a press release on Marvel.com.
The West Coast Avengers are taking the next giant leap as a Super Hero team — WEST COAST AVENGERS #4 will see them making their late-night debut on "Jimmy Kimmel Live"! The upcoming issue, which goes on sale Wednesday, November 21, will put the West Coasters in the spotlight in the midst of tons of monster-sized threats in Los Angeles.

The "Kimmel" appearance will put team leader Kate Bishop (aka Hawkeye) to the test as she and the WCA try to convince the TV-viewing audience that they can come together and save the day. Series editor Alanna Smith said, "We wanted the new West Coast Avengers to be able to debut to the rest of the Marvel Universe in a big, bombastic way—and what's a better place for a team that's courting the LA limelight to debut than 'Jimmy Kimmel Live'? (Or, at least, the Marvel U equivalent!)"
The appearance also pays tribute to the time that the original Hawkeye appeared on the David Letterman show in Avengers #239, so David Nakayama also paid tribute to Al Milgrom and Joe Sinnott's cover to that issue with the Kimmel Variant for West Coast Avengers #4. Check out that cover, a preview page from the book, and the Avengers #239 cover below.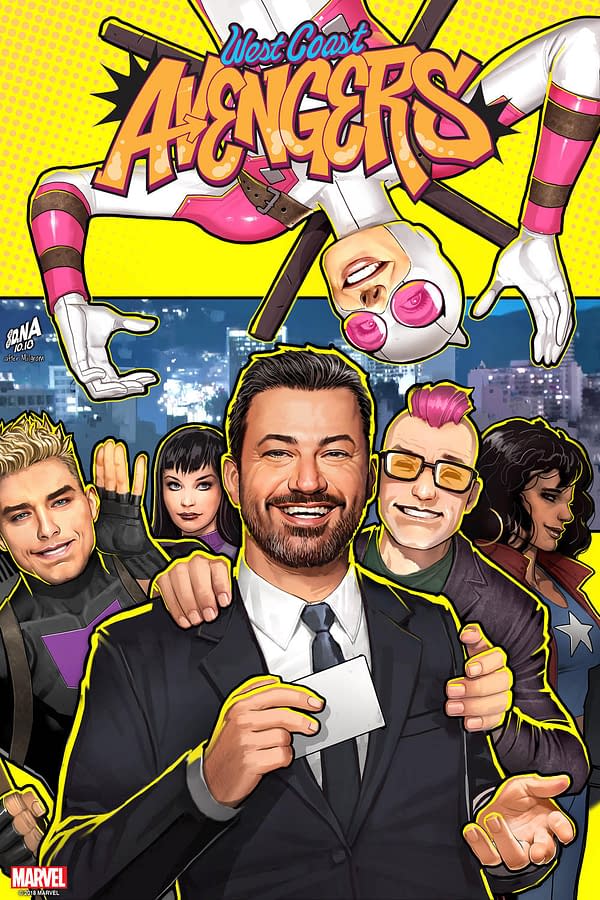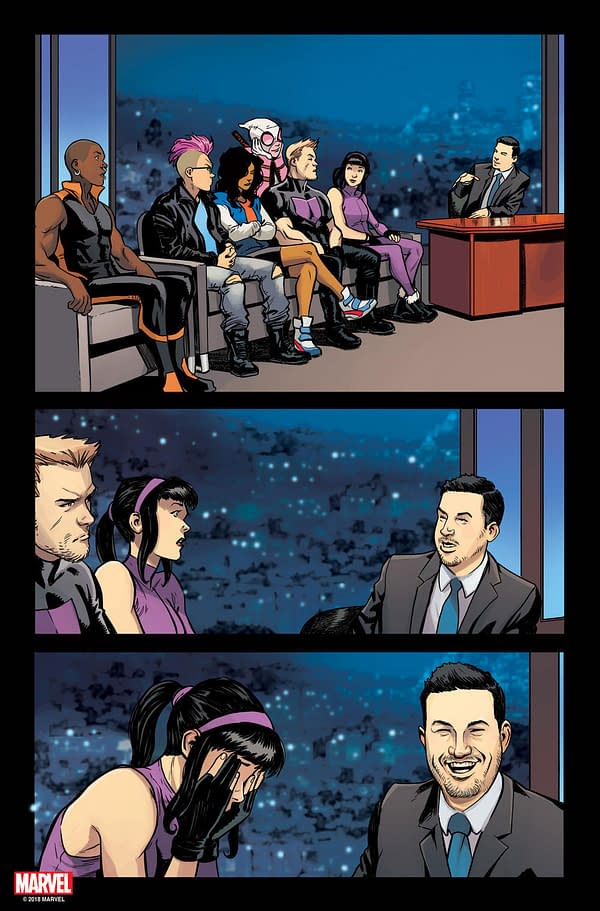 Enjoyed this article? Share it!