Joan Lee, Wife Of Stan Lee, Passes Away At 93
It is with a heavy heart we report on the passing of Joan Lee, the exceptional woman who had been married to comics legend Stan Lee for almost 70 years. Joan was 93 years young, and still had that bright spark that caught Stan's eye. He'd routinely *still* introduce her at events as his "trophy wife" with a wink and a smile.
The Hollywood Reporter first broke the news, publishing a statement from a Lee family spokesperson stating:
"I can confirm the sad news that Joan Lee passed away this morning quietly and surrounded by her family. The family ask that you please give them time to grieve and respect their privacy during this difficult time."
They go on to report that Mrs. Lee had suffered a stroke earlier this week, and had been recuperating in the hospital. Joan Lee hailed from South Shields, Tyneside, England. She met Stan when she was working as a hat model, and married to an America soldier – which didn't last long. Indeed, she married Stan in 1947 next door to the room in which she got divorced. They remained married since, had two children together, and a lifetime of creative offspring. Stan often credited Joan with inspiring him to create the Fantastic Four, as she famously urged him to "write one comic you are proud of," before quitting the industry entirely. Fans of Marvel and the Lees know Joan appeared in animated form as Miss Forbes from the Fantastic Four series and Spider-Man the animated series as Madame Web.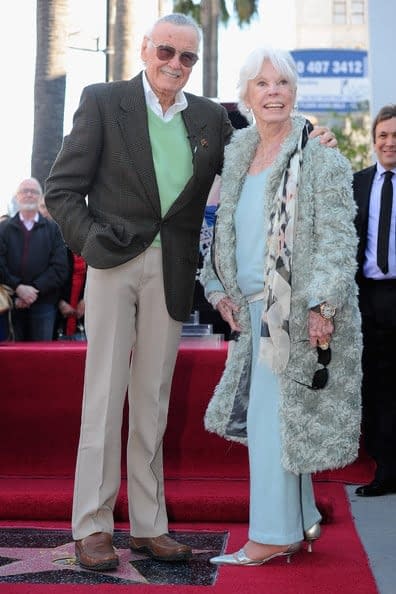 The couple was most recently seen together during the celebration for Stan's much-deserved star on the Hollywood Walk of Fame presentation, smiling and laughing.
She was a lovely person, and by all accounts possessed a wickedly sharp sense of humor that helped keep Stan "The Man" on his toes for almost seven decades. Enjoy this interview with Joan from the 2002 documentary Mutants, Monsters & Marvels:
Our thoughts are with the Lee family during this time.