John Layman and Nick Pitarra's Leviathan Delayed Till… Later
Leviathan, the comic book series by John Layman and Nick Pitarra, published last year from Image Comics, appears to have hit the schedule skids somewhat.
Leviathan #3 was a month late, out in October 2018. But there hasn't been hide nor scale since.
Well, Image Comics has made it official, with the final two issues, #4 and #5 now having their retailer orders cancelled. But Image promises they will be resolicited and published at a later date. Whether that will be before or after DC Comics publishes its own Leviathan series by Brian Bendis and Alex Maleev, we don't know.
Yeah, that's going to be a fun one. Layman tweets out,
Since I'm getting question at least one a day now: LEVIATHAN is not cancelled, but Image got (understandably) tired of pushing it back again & again, so took it off schedule until we can catch up. If you've seen detail @NickPitarra puts in you'll understand why it takes time.

— Unofficial Layman (@themightylayman) January 24, 2019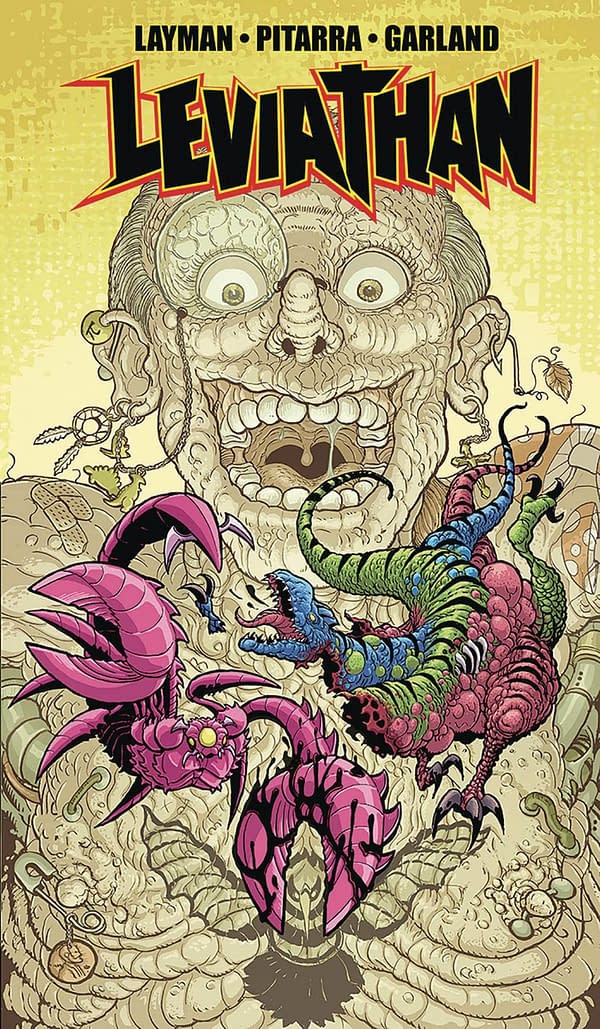 LEVIATHAN #4 CVR A PITARRA & GARLAND (MR)
(W) John Layman (A/CA) Nick Pittara, Michael Garland
"'TIL DEATH DO US PART," Part Four
Crazy Professor Avery from the Bureau of Experimentation and Advancement, Science and Technology (B.E.A.S.T.) has unleashed his ultimate weapon on the radioactive terror that's destroying the city. But which is worse: the mech, or the monster? Meanwhile, Ryan's girlfriend Vivian has just woken up from her coma. Which should be good news, right? But no: it's very, VERY bad.
LEVIATHAN #5 CVR A PITARRA & GARLAND (MR)
(W) John Layman (A/CA) Nick Pittara, Michael Garland
END OF STORY ARC
"'TIL DEATH DO US PART," Conclusion
Leviathan has returned! The end times are upon us! The apocalypse is here! The earth will perish in flames! Amid all this, who's got time for romance?