That's the thing about Omnibuses. People like them to be as complete as possible. The debates over which issues or even pages should or should not be included in the Batman Knightfall Omnibus are legendary. But this one seems to have slipped through without fuss.
The upcoming Jonah Hex Bronze Age Omnibus has increased its page count from 888 pages to 896 pages. And in doing so has added an issue, the DC self-produced fan magazine from the seventies, The Amazing World Of DC Comics #13 which spotlighted Jonah, to the contents. It also included an unpublished Jonah story by Tony DeZuniga, which may explain its addition.
Here's the new solicitation.
JONAH HEX: THE BRONZE AGE OMNIBUS VOL. 1 HC

written by MICHAEL FLEISHER, JOHN ALBANO and others
art by TONY DeZUNIGA, JOSE LUIS GARCIA-LOPEZ and others
new cover by JOSE LUIS GARCIA-LOPEZ
One of the greatest and most memorable Western characters in comics, Jonah Hex rode the high plains in search of vengeance and justice in these 1970s stories collected here for the first time. A former Confederate soldier, Hex traveled from town to town helping those in need, stopping evildoers but often exacting a high price. Collects adventures from ALL-STAR WESTERN #10-11, WEIRD WESTERN TALES #12-14 and 16-38, JONAH HEX #1-17 and JUSTICE LEAGUE OF AMERICA #159-160. ON SALE 05.06.20
Injustice Gods Among Us: Year Two Deluxe Edition also has had a page bump, from 336 to 376 pages – but that may have been a correction of a typo.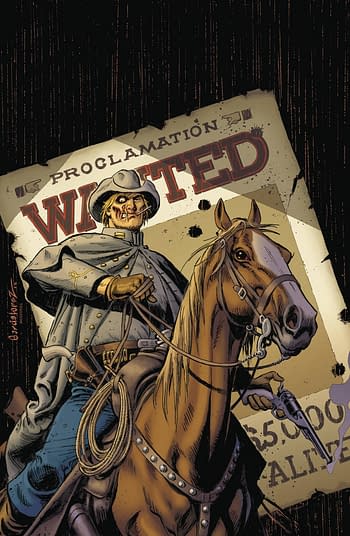 Enjoyed this article? Share it!